Sure, a can of paint or dramatic wallpaper can certainly transform a space–but some rooms, like Anne Hardock's powder room, need more intensive surgery. We chatted with the designer on what it took to get the room in show-worthy shape.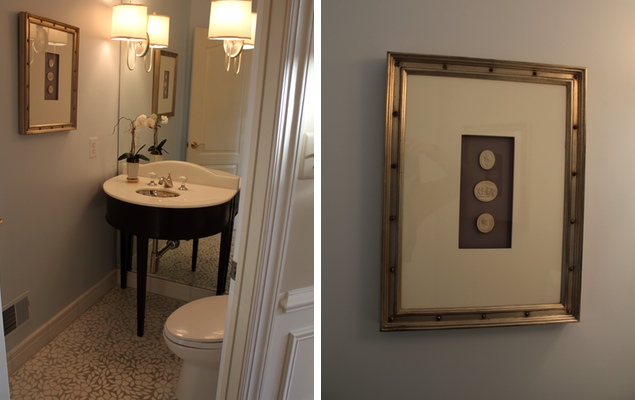 What were the major challenges of transforming this space?
It was small, angular, and windowless. These liabilities could have been crippling to the design process. In the end, they freed me from focusing on the problems and allowed me to concentrate on three main elements to build the design around: a feature wall, a striking vanity, and a marble mosaic floor.
What was the most significant design choice you made for this room?
Deciding on a floor-to-ceiling mirror behind the vanity was critical because it created the feature wall I wanted and opened up the look and feel of the space. Now when you go into the room and close the door you no longer feel like you're closed-up in a closet.
Tell us about your vanity choice.
Since the mirrored wall was now a focal point, it was important to choose a vanity that didn't hide that feature and that was a beautiful statement piece itself. Lars Hansen of McLean built a custom demilune vanity. It fits beautifully and introduces a curving shape among the angular walls. Also, because the sink's piping would be exposed, a polished nickel European bottle trap was selected instead of the standard trap.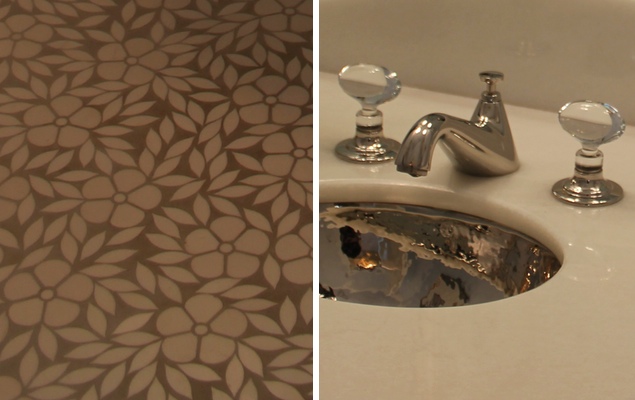 I noticed your marble mosaic floor is a curvy floral instead of a geometric.
It's Virginian-based New Ravenna's Jacqueline pattern, which is based on fabric from an antique wedding gown. I wanted to continue to bring soft curves into the space, so I chose the scalloped sconces and Waterworks' Opus faucet with the egg-shaped crystal handles. The artwork is framed intaglios from Evelyn Avery, and the circles on the frame play off the flower centers in the mosaic floor.
Can you share your paint colors?
The walls are painted in C2 Oxygen and the baseboards are C2 Architectural White.
Other sources:
All fixtures and hardware are from Waterworks in a polished nickel finish. Light fixtures are Barbary Barry scallop sconces through Visual Comfort.