If local designer Zoe Feldman's aesthetic is "continuously evolving," as she says, we can't
wait to see what's next.
We've long been fans of Feldman's seemingly effortless
style–thoughtful juxtapositions, pops of rich color, nothing
matchy-matchy–that
is as evident in her work as it is when you meet the Florida
native in person. Though she says she thought she'd one day be
a broadcast journalist, a post-college change of heart
installed her first at the Parsons design school and then at Mark
Hampton,
a premiere design firm in Manhattan. She has been designing
homes in Washington for more than ten years, and opened her own
firm, Zoe Feldman Design, in 2003.
"I'm a 'modern traditionalist,'" she says. "I take
whatever period is influencing the space and bring it up to modern
standards–reupholstering
an antique chair in a new fabric, accessorizing with
contemporary art in an otherwise traditional room."
Whether she's heading up a floor-to-ceiling rowhouse
reno or tackling a single-family redesign, Feldman keeps a few tools
in her pocket that translate from project to project. Though
she says she tries not to have too much of a signature "look,"
here are the five things she keeps at the ready.
1) Farrow & Ball paints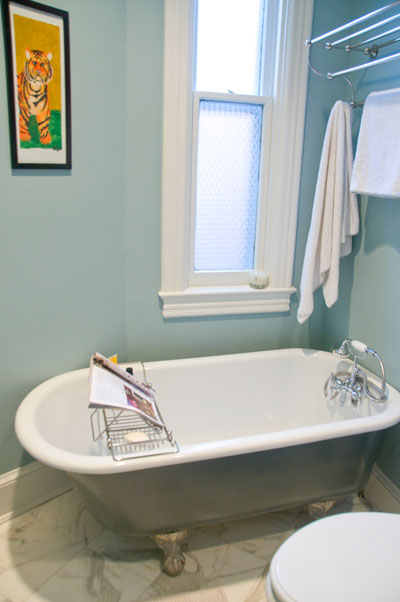 "These are our go-to paints. We adore the finishes and, above all else, the well-edited palette. Each hue is thought out and
versatile, meaning colors play off of the surroundings, picking up the complementary colors in the room."
2) Patterned carpets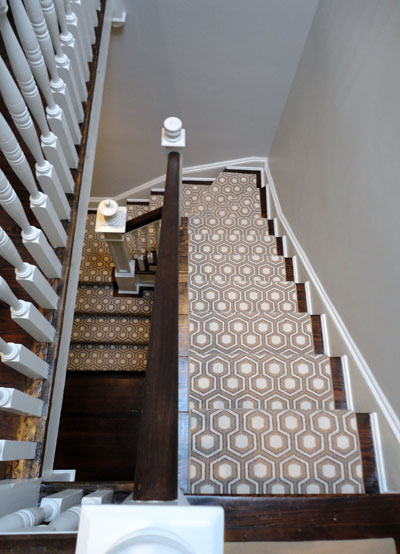 "Patterned carpets give immediate interest to any
space without overwhelming it. Unlike a busy wallpaper or fabric,
patterned
carpets give a room some "pop" while still providing the
opportunity to easily layer the space with art, accessories, and
furniture."
3) Midcentury-modern pieces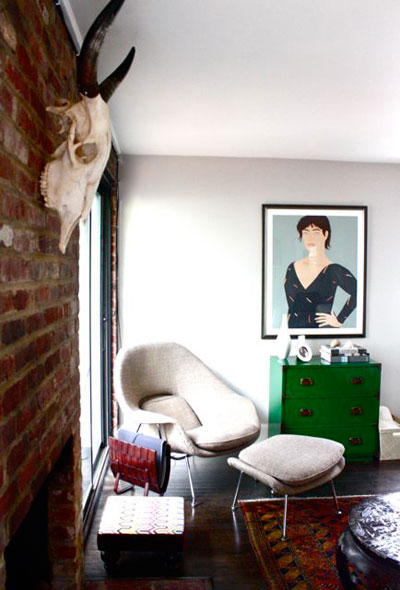 "I believe every room gets a jolt of chicness the
minute a midcentury-modern piece is added to it. Midcentury modern plays
well with almost any period–a turn-of-the-century table
surrounded by Saarinen chairs effortlessly modernizes the look."
4) Books, books, books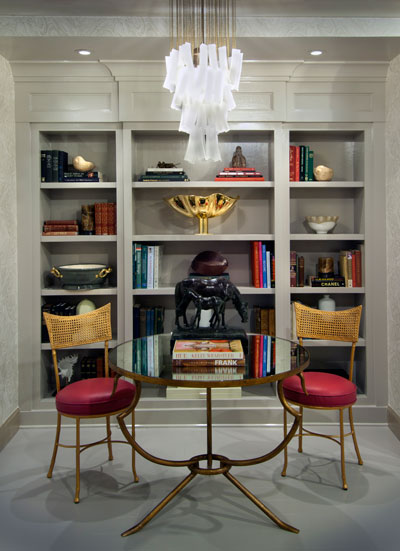 "Books are the most amazing and affordable accessory–they're so versatile. We use them in bookcases or on tables to add color.
They're also great to add height to a piece of furniture or accessorize a long console or coffee table."
5) Standout art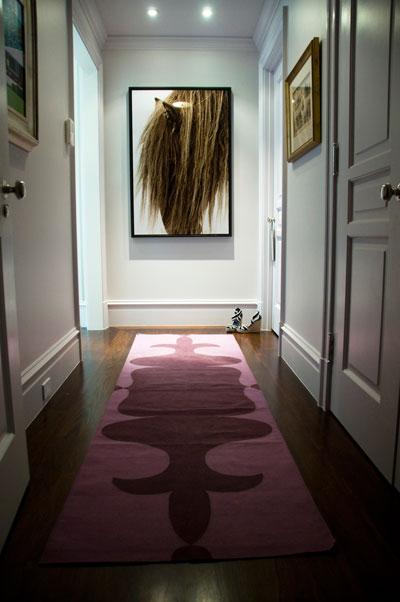 "I believe no space is complete until the art is hung.
Sometimes we purchase art for our clients, in which case we lean toward
more contemporary works, but we also love to dig through their
existing art to see how what they have can be used differently.
Small adjustments like clustering art that isn't necessarily a
series or reframing pieces will add new life and new dimension
to a space."