Born and raised in Russia, Elena comes to Washington by way of Baltimore. After graduating from art school in Charm City, she moved to DC with her boyfriend, who gifted her a "dream camera"–a Canon 7D–for her birthday. After she'd filled up her computer desktop with pretty images, an online presence seemed like a natural extension.
"I always loved photography, fashion, and traveling," she says, "and having a blog seemed like a perfect way to share my experiences and photographs."
Filled with gorgeous shots it may be, but we're hooked on Classy and Fabulous (named for the famous Coco Chanel quote) for Elena herself. From her stick-straight hair to those killer skinny jeans, everything about her style reads unfussy and seriously sleek. Read on for her take on nailing the minimalist look–and to see some fresh new outfits she styled just for us.
Describe your style in five words or less:
Minimalist, classy, chic, elegant, simple.
Favorite items in your closet right now:
Pastel yellow jeans from American Eagle Outfitters and a white jacket from Zara. I love creating fresh and summery looks with these items.
Most versatile item in your wardrobe:
Probably my AG Jeans leather pants. I wear them with everything–heels, Converse, or flats.
Favorite accessories of the moment:
I like to keep things simple. I usually just wear a watch and a few bracelets.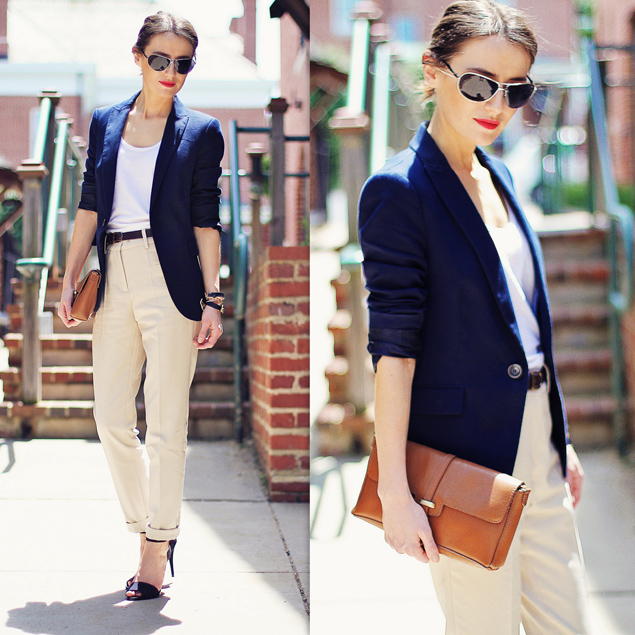 What are your go-to clothing brands?
Zara, BCBG Max Azria, J.Crew, Calvin Klein, J Brand, and AG Jeans.
What do you think of Washington style?
Although Washington is more known for its politics than its style, there is definitely a distinct flair. It's very different from New York, Paris, or Moscow. It's more preppy and polished, and I love it because it's very similar to my style.
Any favorite local style blogs?
Lovely Rosa from Rosa Loves. Though her blog is not a style blog, she always has beautiful and informative posts. And I recently found Naomi Davis's blog, Rockstar Diaries. She is such an inspiration!
What are your favorite colors?
I wear a lot of neutrals and pastels, but sometimes I like to add a splash of color to my outfits.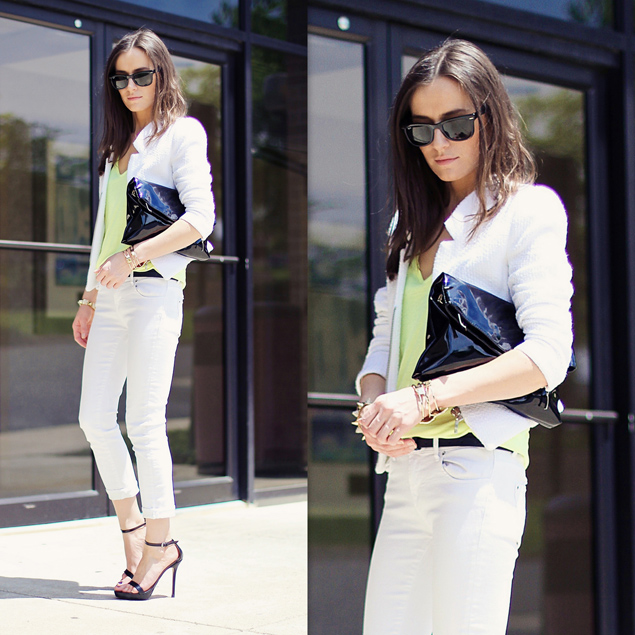 Name four things on your summer shopping list:
Karen Walker Super Duper Strength sunglasses, J.Crew Panama hat, J.Crew Collection pleated blouson dress, and Calvin Klein Vivian sandals.
Favorite places to buy skinny jeans:
I love J Brand and AG Jeans. I used to have trouble finding the perfect pair of pants . . . [but] these brands always fit me perfectly.
Warm-weather styles you're looking forward to wearing:
I can't wait to wear summer dresses and flowing skirts. I'm quite tired of wearing jeans/pants all the time.
What's the inspiration for your minimalist aesthetic?
My mom and grandma used to always say "less is more." I definitely think they passed their sense of style on to me. It's perfect for me because I like to keep things simple and classy. That's what I feel the most comfortable in.
You have five minutes to get dressed but need to look and feel totally fabulous. What's your go-to outfit in a pinch?
Without thinking of where I'm going? I would throw on a T-shirt, skinny pants, a blazer, and a pair of heels.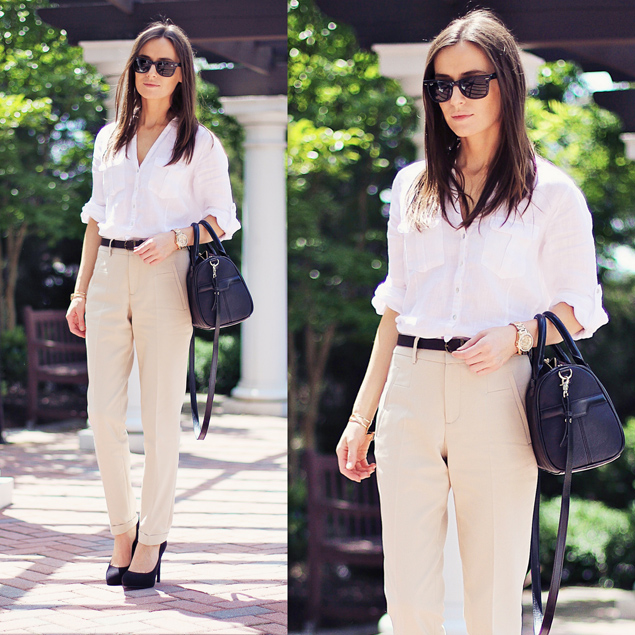 Who are your Washington style icons?
Michelle Obama–she never goes overboard and always stays true to her classic, elegant style. I especially love the beautiful bold colors in her outfits. Holly Thomas, Refinery 29 DC editor–she also has quite an elegant style and somehow manages to make leopard print and hot pink look very chic. Finally, Naomi Davis of Rockstar Diaries. I admire her colorful and charming outfits. Her style is adorable.
Now for the lightning round:
Leather jacket or boyfriend blazer?
Boyfriend blazer.
Black tights, shorts, and booties or leather leggings and stilettos?
Leather leggings and stilettos.
Red lipstick or black eyeliner?
Red lipstick.
Oversize watch or hat?
Oversize watch.
Denim shorts or maxi skirt?
Maxi skirt.
White button-down or patterned tank top?
White button-down.
All photographs courtesy of Elena/Classy and Fabulous.