Surprisingly you can mix several bright colors together and still create a calm and classic space. The bold abstract painting
"Small But Deadly" by
Erica Rukin, currently available at Aaron
Gallery near Dupont
Circle, inspired a bedroom
incorporating a few of the colors from the work but still
giving the space a sense of tranquility with style. This is achieved
by gathering items in the muted tones of the paintings, using
solid colors, and not including too many bold patterns.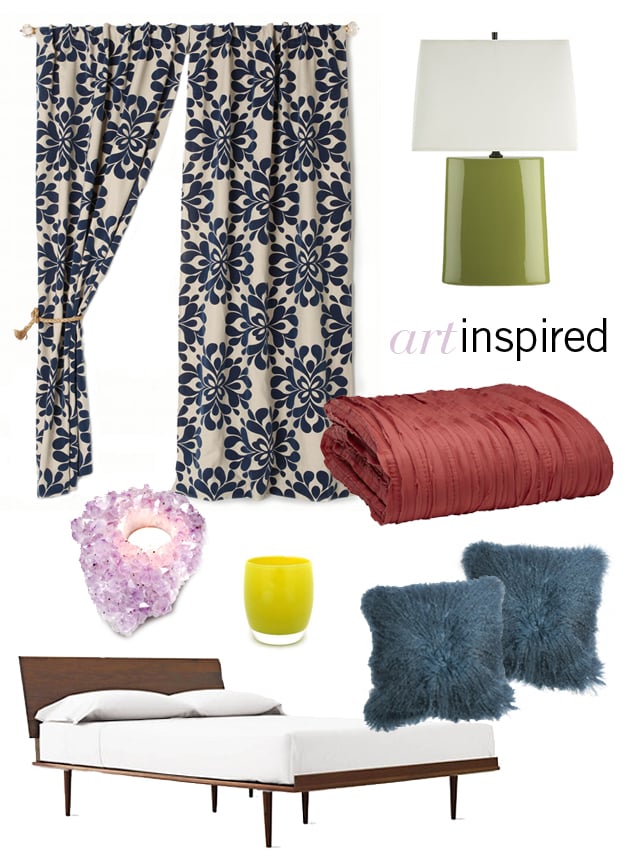 Inspired items (clockwise from top left): Anthropologie
Coqo floral curtain; Crate & Barrel
Boca lime table lamp; West Elm
frayed-edge
quilt in poppy; Shop Ten 25 Mongolian fur pillow; Design
Within Reach
American modern bed in walnut; Leif
amethyst tealight holder; Glassybaby
tealight holder in roots.
Meg Biram writes about interiors, art, and fashion on her blog, Mimi + Meg.