Kips Bay in New York City is arguably the Olympics of show houses, and this year, its 40th anniversary, DC-based
Raji Radhakrishnan joined 30
other top designers in transforming two adjacent duplexes in a West Side
high-rise. Radhakrishnan
termed the space she designed "Le Bureau Privé," and imagined
the room as the private home office of the head curator at the
Metropolitan Museum of Art. In keeping with the style of the
apartment and the interests of her muse, Radhakrishnan deftly
curated an artful mix of objects and furnishings from the
secessionist, art deco, and modernist periods along with contemporary
pieces. The final result is a stunning and sophisticated space.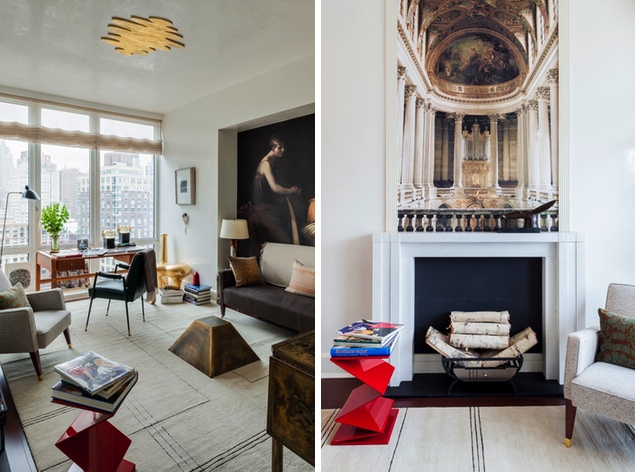 Beginning with a blank contemporary slate, Radhakrishnan
enveloped the space with a white Venetian plaster that adds depth
and character to the room. The luminescent finish is a
beautiful contrast to the two prominently featured wall murals. The
first one, a photograph of the King's Chapel in Versailles, is
centered over a fireplace mantel originally designed by Sir
John Soane. The second is a photograph Radhakrishnan took
herself of a painting by Pierre-Paul Prud'hon, which currently hangs
at the Met. The George Smith sofa picks up on the deep colors
of the photographed scene and is adorned with a Casa Blanca
pillow by former DC resident D. Bryant Archie. Inspired by Line Vautrin compacts,
Radhakrishnan crowned
the room with a custom-designed gilded plaster ceiling
medallion.
Other pieces include a Tilt bookshelf by Sebastian
Errazuriz, a flower offering chair by Satyendra Pakhalé, a vintage bar
cabinet and pyramid table by Philip and Kelvin Laverne, and
art-deco chairs by Jules Leleu. Finally, on hearing the news of
the recent passing of renowned designer Albert Hadley,
Radhakrishnan decided she would pay homage by including a red zig-zag
table similar to the one Hadley had in his own apartment.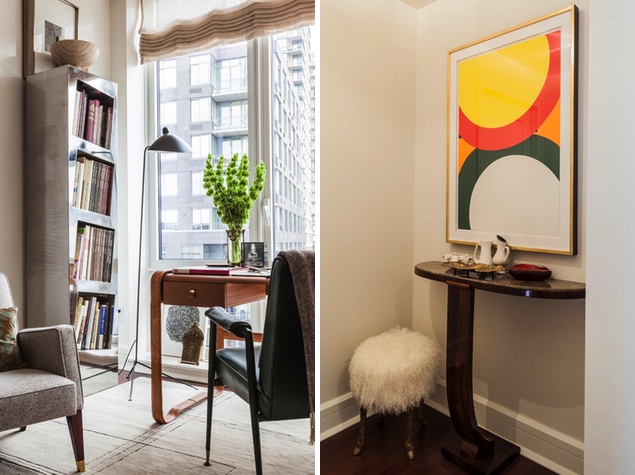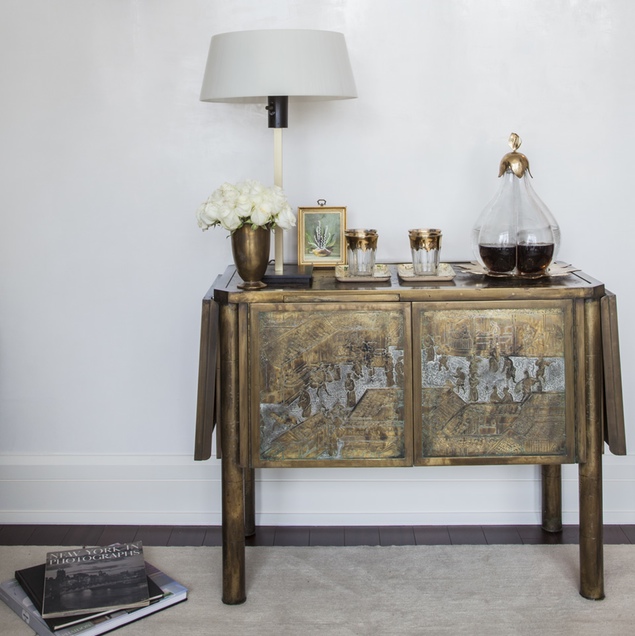 The Kips Bay Decorator Show House will be open through June 14. See the
website for address, hours, and ticket prices.