While most designers are called upon to implement their own vision to decorate a space,
Christopher Patrick doesn't do it alone. "I like
to bring the client out with me to embark on an adventure
together," he says. "It's an entirely collaborative process."
Patrick's designs are informed by his abiding wanderlust and are drawn from a variety of sources during his travels, whether
an unusual piece found at an antiques show or a shade of color in a muddy barn.
That love of exploring stems from a childhood spent
moving from place to place, starting with North Carolina and followed
by Ohio and Texas. He then made it to DC, where he got his
degree from Marymount University. He has since honed his contemporary
aesthetic at various design firms, and opened Christopher
Patrick Interiors in 2011. Here, he shares the tools he relies on
to help liven up any space.
"Custom doesn't necessarily mean more expensive, and
we try to encourage our clients to use custom pieces to create a look
that is uniquely theirs. It can be anything from an upholstered
headboard to a custom vanity; it can be as simple as using
your own fabric or as extravagant as designing a piece of
furniture and having it built. We typically work with KALA Studios to create custom furniture for
clients."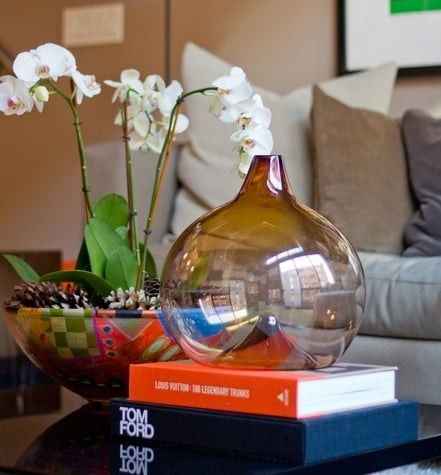 "Design books are decorative and can add visual
interest to a home. They're great to mix with accessories to create more
dynamic
vignettes. It's a way of having access to your favorite
designers at all times without the huge price tag. We like to turn
to specialty publishers like Abrams and Phaidon."
Lucy Smith Vogue Round Tables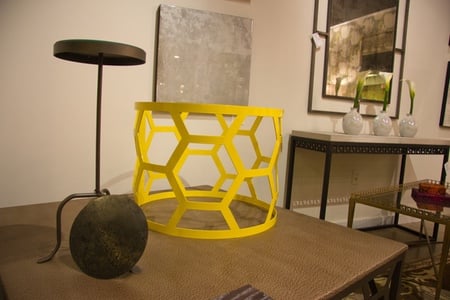 "We love Lucy Smith's Vogue round table for its flexibility and
versatility. It comes in two
sizes and a multitude of finishes to fit a variety of design
aesthetics, and is the perfect accent table for furniture groupings.
The contemporary pattern paired with the right finish can give a
traditional space a modern edge. We also love the fact that
Lucy Smith is a unique artisan specializing in handcrafted
metal furnishings. We're always on the lookout for new and unexpected
craftspeople, and Smith's entire line of furniture has been
such a find."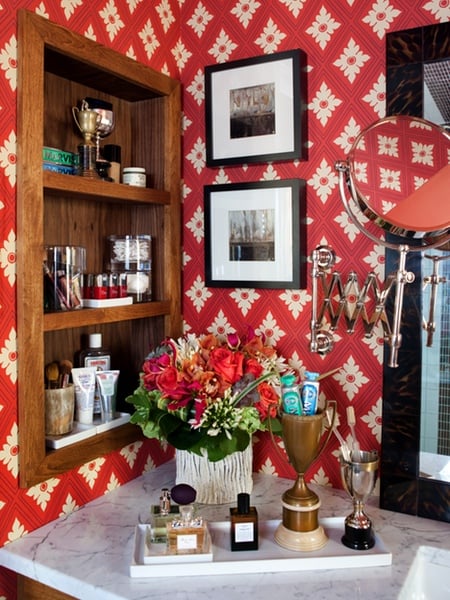 "Flowers should be an everyday luxury. Fresh
flowers add life to a space and bring in color and texture. It's an easy
way
to change the mood of a space. We particularly love H. Bloom's
arrange-your-own subscription service,
where loose stems are delivered to your door, and the company's
clever blog gives you tips and teaches you how to design your
own arrangements."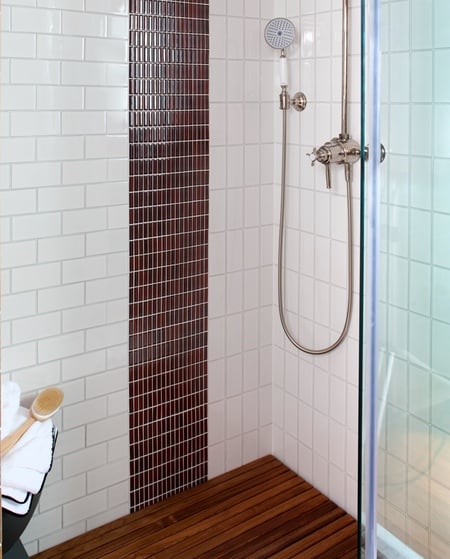 "We like to bring the warmth of wood into
unexpected places, and wood tones soften contemporary spaces. A great
way to do
this is to add teak accessories to your bathroom. We recently
used a custom-size teak shower tray from MTI Baths in our DC Design House bathroom."