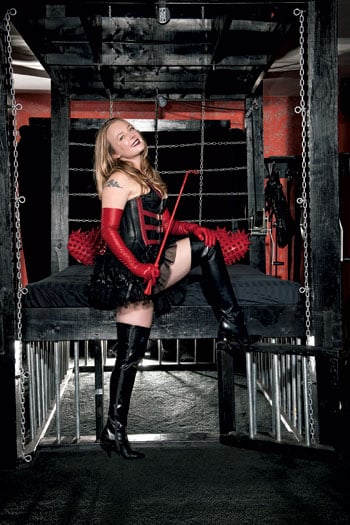 The notion of the girl next door takes on new meaning when she's Shamaine, a girl next door like no other. Over lunch at Georgetown's swanky Bourbon Steak, Shamaine ("No last name, please") blends in with the other customers. The 33-year-old is dressed conservatively, looks fit, and has some attitude in her step. Don't be fooled, though—demure is not her demeanor. In work mode, she becomes Domina Vontana, the self-described "premiere professional dominatrix" in Washington.
Of course, selling sex is nothing new here—ask Eliot Spitzer,
Wayne Hays, and countless others—but Domina Vontana insists that what she does is as legal as a legitimate massage therapist's work. She's providing a service, not selling sex. Her website shows her in full leather—thigh-high boots, tight black dress, three-quarter-length gloves—walking near the Lincoln Memorial, the Washington Monument in the background. Clearly the site of a good businesswoman, it includes her calendar, showing when she's available or booked. Here's a conversation with her.
You started when?
Two weeks after my father died—January 27, 2006. I put my first ad on Craigslist and had my first client February 3. I'm a Craigslist-generation dominatrix. I wouldn't be here without them. Craigslist was good until they got on the radar of the police and closed down the adult-services page.
Were you nervous at the beginning?
Clueless. There was zero exposure to this lifestyle in northwest Montana, where I grew up, but I knew I had it in me. I had a background in the ministry through my work in the church. At 14 I began medical training and later did some nursing school and was certified as a medic. So I'd been working with people in vulnerable, intimate, emotional situations since I was a child.
How did you learn the tricks of the trade—were you self-taught?
I always had it in me. The first couple of months, though, I would get 20 minutes into an hour scene and be done with 40 minutes to go, and I didn't know how to fill it. I'd made him undress, I'd made him kiss my shoes, I'd spanked him and there was still 40 minutes to go.
How did you spiff up your game?
Nine months after I started, I went to San Francisco and did a three-day intensive course for female dommes.
When did you feel you had a steady clientele?
I took a year off at the end of 2007 and went home to Montana. When I returned, not only had I grown but the scene in DC had grown. I had regular clients. Also, there were parties. People were coming out as kinksters in droves. It was no longer something to be ashamed of. It was like coming out as queer. For kinky social life, Washington is probably number one in the country. San Francisco has a longer tradition, Chicago and New York have a strong scene—but Washington is the hottest.
Why Washington?
The intensity of this city. The people who are my clients help make decisions that affect the world. We're in the capital of the most powerful nation. And the men who come to me for release live under great pressure. These are men who never stop working. That's why one or two hours with me is so important. I help them let it all fall off their shoulders for a piece of time.
What do you offer your clients? Why do they come to you?
Relief. I get paid to dominate someone in a one-on-one situation. Every experience they have with me is sincere. They pay me for time, attention, and touch. Not sex. It's domination, not prostitution. I don't have sexual intercourse with my clients. I don't have sex of any nature with them. People don't get this, but it's true.
If it's not sex, then what is it?
Intimacy and vulnerability. Submissive men, even the most high-powered and professional, are always living for somebody or something else. Everything they do in their "vanilla" life they do to please somebody else. The ones who are most driven to please others are the most successful. They come to me for two hours in which they don't have to be in control. What they show to me they don't show to anyone else. But it's fun—so fun. Laughter is a big part of my scenes.
Where do you do your work?
Private dungeons. I do outcall but only to K Street and Georgetown. I don't touch the suburbs. If a client is not at a four- or five-star hotel, I'm not going.
Who are some of your clients?
I have a celebrity chef. I have a celebrity physician. I have a systems engineer who is an entrepreneur. Lawyers, lobbyists, top- or second-tier political advisers, people who are standing in the room with Obama. A lot of Jewish men. I get military men, but it depends on where we are with the war. A lot of accountants right after April 15.
Is there a Washington "type" you see?
Here's my hierarchy of DC—regardless of political affiliation, I see this when I look at Washington: interns (slaves), staffers (submissives), senators (doms/dommes), representatives (kinksters). For a submissive, look for a person who works the hardest and takes the least credit. If you want to find the dominant, look for the one who works the longest hours.
Do you take female clients?
Women don't have to pay for attention. Women don't have to pay for touch. If I got a call from a woman, I'd be happy to take it, but I've never received one.
What do you charge?
Two hundred fifty dollars an hour, with a minimum of an hour and a half. It's a flat fee.
And taxes?
I am an events specialist and entertainment author and a private independent consultant, and I pay my taxes.
How often do you work?
Actual face time with a client? About 15 hours a month. Quadruple that with the online time I spend garnering clients.
Are there men in your private life?
My boyfriend is director of sales for North America for a major tech company. It's a three-year relationship, and we've started to talk about having children. He's the only man who has always been supportive of my work and never been jealous. It doesn't even faze him. We live together in Cleveland Park. I also live on a farm in West Virginia with my submissive. He's my daily companion. He drives me around. I don't have a cell phone; I use his. He does whatever I want him to do.
What do you tell your neighbors you do for a living?
I believe in honesty and authenticity. I say I am a professional dominatrix. Typical reactions are reserved and polite. Occasionally, I'll meet a submissive man and wish I hadn't answered the question because he's going to pester me all night with questions.
What's your advice for couples who want to spice things up?
Start slow, communicate constantly, and read as much as you can about consent and safety. There's much more to it than running out and buying a pair of handcuffs. I also strongly recommend attending a local social event such as a happy hour to meet like-minded individuals. While kink is amazingly fun, sex is inherently political.
This article appears in the June 2012 issue of The Washingtonian.