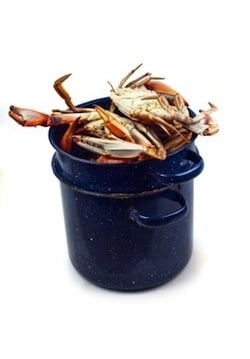 Art and Soul's Patio Crab Boil
Wednesdays on the street-front patio at Art and Soul, chef Wes Morton is serving up a crab boil with beer specials. Beginning at 4 PM, Flying Dog seasonals are $4 per glass, $16 by the pitcher. Crabs—which come sprinkled with Morton's own version of Old Bay seasoning—are available beginning at 5:30; they're three for $21, six for $40, and 12 for $72. Sides include corn on the cob, potatoes, and sausage.
Black Market Bistro's Summer Box Lunch Series
Weekdays this summer, Jeff Black's Garrett Park restaurant provides all you need for your picnicking purposes with a $12 three-course lunch box. Pick a cup of soup or salad followed by a sandwich or entrée salad and a cookie or brownie. A fountain drink comes with the meal, too. You can call ahead or order at the restaurant between 11 AM and 2:30 PM.
Regionally Inspired Menus at the Bombay Club (June Only)
Don't be daunted by construction-related messiness out front—the Bombay Club is very much open. Through June, chef Nilesh Singhvi is tackling regional cooking from around India. From today through June 16, he'll present a menu inspired by the arid Rajasthan area in the northwest. After that, it's on to the Mughlai (June 18 through 23), followed by Hyderabadi dishes (June 25 through 30). Check the restaurant's website for menus.
Ice Cream Socials at Bar Dupont
Wednesday through Friday from 5 to 8 PM, the bar in the Dupont Circle Hotel will be offering homemade ice cream in cone and sandwich form during happy hour all sumer long.
Coast-to-Coast Summer Dinner Series at DC Coast
On offer Thursdays through Saturdays, it's a regionally focused four-course dinner menu for $55. The June menu focuses on the West Coast and the Pacific and features Olympia oysters with cucumber, salmon roe, and fennel pollen; and king salmon with tatsoi (Chinese cabbage), morels, and a cioppino-shellfish broth. In July it's all about the Gulf region, with a mixed fry featuring oysters, shrimp, crawfish, bread-and-butter pickles, and spicy Creole mustard; and pan-roasted snapper with grits and tasso ham. The restaurant returns to the Mid-Atlantic in August with fried Chesapeake oysters and sweet-corn-and-bacon salad; and pan-seared skate with corn polenta, Sungold tomatoes, arugula, and brown butter.
Half-Price Sushi Happy Hour at the Hamilton
Every day from 3 to 6 PM, sushi is half price at this very large restaurant and music venue from the Clyde's Restaurant group. The offer is good throughout the restaurant and includes individually priced rolls, nigiri, and sashimi along with larger platters designed for groups.
Backyard Bash at Hotel Helix
Summer Wednesdays from 5 to 7, the Hotel Helix hosts a patio party featuring $7 burgers. Fear not, vegetarians and poultry-tarians—there are burgers that meet your needs, too.
Global Tapas and Craft Cocktail Pairing Guide at One Lounge
Too exhausted to decide which cocktail to drink with your dinner? Dupont's self-described "resto-lounge," One Lounge, has a new summer menu that does the work for you, matching up a cilantro-lime gin gimlet with a pulled-chicken sandwich with cilantro and marinated cucumbers, a strawberry mojito with crispy fish tacos, and so on.
1789 Summer Series
Georgetown institution 1789 turns 50 this year, and is celebrating with a five-course menu for $50 through September 13. The deal is available Sunday from 5:30 to 10 PM, and Monday through Thursday from 6 to 10 PM. Guests choose three dishes from the soup, salad, pasta, and cheese menus, plus an entrée and a dessert.