One of the first blogs I followed upon moving to Washington was Starr Struck,
a lifestyle blog penned by Arlington resident
Mary Catherine Starr,
a talented yogini and painter. While she is incredibly dedicated to her
workout
routine (she is a yoga instructor, after all!), she's even more
devoted to following her passions in life. Starr shares this
outlook in her blog's mission statement: "My goal is to inspire
you to create a bit more space in your own life in order to
make time to do whatever it is that nurtures you most. Because
what's left in life if we don't pursue what we love?"
Along those lines, Starr's painting, "Wheel," inspired
me to create a calm, mellow space that could be used for yoga or
meditation.
I was drawn to this lifelike painting not just for its
monochromatic colors, but because that very yoga pose is something
I've been working on in my own practice. I've gathered a fresh
look below to complement Starr's painting, and think it's the
perfect space in which to finally master that pose.
Inspired by Starr? You can see more of her work on her
website or
at Artomatic in Crystal City, the
pop-up gallery where her works will be exhibited until June
23.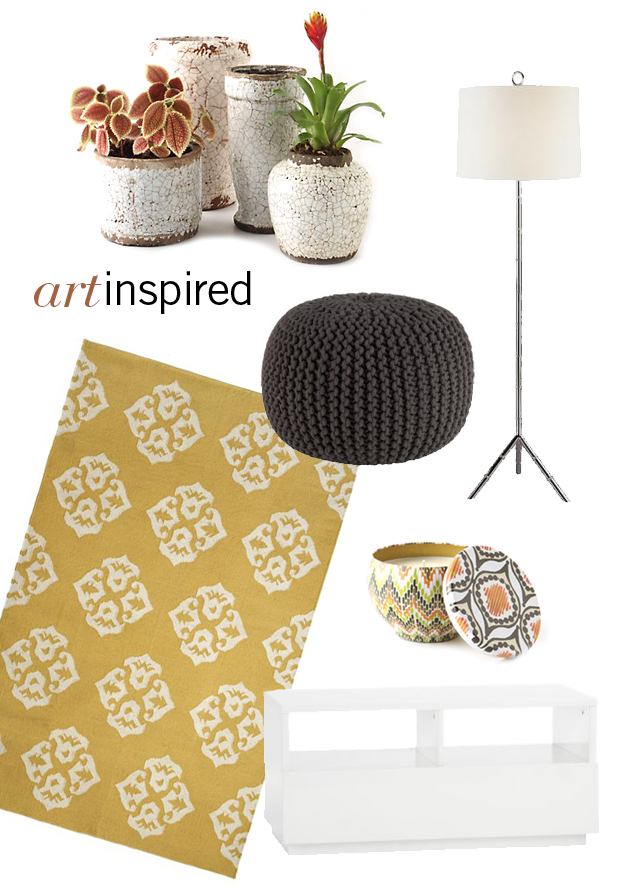 Inspired items (clockwise from top left): Ivory Epoch pots
from Anthropologie;
Jonathan Adler floor lamp from LampsPlus;
Tapestry bubble candle tin from Anthropologie;
Chill
media console from CB2;
Andalusia dhurrie rug from West
Elm;
knitted graphite pouf from CB2.
Meg Biram writes about interiors, art, and fashion on her blog, Mimi + Meg.