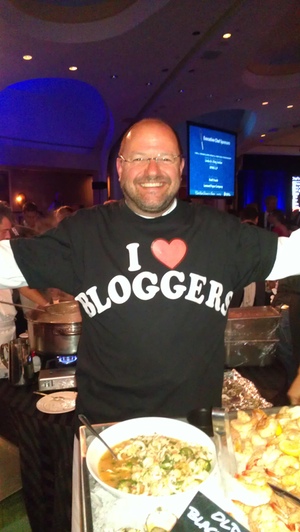 Update: Per the City Paper, Martell's T-shirts (plus trucker hats and onesies!) are now available for purchase.
Chef Jeff Black rocked the food news this week, and not just because he and his employees took away three RAMMY awards on Sunday. It was comments Black made at the ceremony that really stirred the virtual pot.
"It's not the bloggers" Black said, in a speech thanking his staff, then repeated the line before leaving the stage. Nevin Martell, a local writer—and blogger—responded on Twitter with this: "I am selling Jeff Black Hates My Blog T-shirts to any food bloggers who want them."
Monday, Washington Post writer—and blogger—Tim Carman contacted Black. The chef told Carman that his speech had been aimed at anonymous Yelpers and other Internet trolls. Tuesday, Black sent a letter to the local food media. "Countless times, nameless, faceless 'posters' on food blogs deride waiters, bartenders, and other restaurant employees without thought of the consequences or the commitment these people make every day." Black also called out "people who come to the restaurants and make threats of negative posts for 'freebies' or to skirt the rules."
Then a few hours later, Black showed up to the Chef's Best Dinner and Auction—held at the Hinckley Hilton—wearing this T-shirt (see photo). So you see, bloggers, Jeff Black doesn't hate you. He loves you. Unless you deride his employees anonymously and/or blackmail his restaurants for freebies. In that case, it's not about you. Also, you should probably stop doing those things.