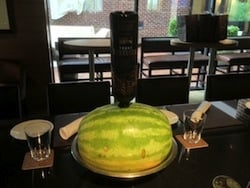 It's not likely to show up on the bar menu any time soon, but ask nicely while reserving your table–and at least three days in advance–and Bourbon Steak bartenders might be able to prepare slices of vodka-filled watermelon for you and your dining companions, says head bartender Duane Sylvestre. Sylvestre and his fellow head bartender Jamie MacBain recently served a more refined version of this frat-house favorite during a cocktail class at the bar, and we thought it would make a great centerpiece for a Fourth of July picnic. It works like this: You poke small holes in the melon, allowing its juices to drain, and vodka fills in the liquid space. It takes about three days to fully infuse the fruit—the best way to do it is in the fridge, but if space is an issue, cover your project with foil or plastic wrap and keep it stored in a cool space.
One final word of warning from Sylvestre: "Sometimes the melon tastes like there's no booze in it at all, until you take a step. Have no more than two slices, and drink water, water, water, with your watermelon."
Vodka-Filled Watermelon, Bourbon Steak-Style
Ingredients
1 basketball-size ripe watermelon
1 liter bottle of quality vodka, such as Belvedere
Special tools
1 large bowl, big enough to hold the watermelon and escaping juices
An apple corer
An ice pick or long knife
Drain the melon. Place the watermelon on a cutting board lengthwise and stab one side about 16 times with the ice pick or knife, creating small holes so that juices can drain out.
Put the watermelon in the bowl, hole side down. Make a hole at the top of the watermelon with the apple corer and clear out about a cup of the meat below with a knife so it doesn't fill the neck of the bottle.
Gently tip the open vodka bottle into the hole and push it down so that the bottle stands upright on its own.
Wait three days. If the infusion has occurred properly, the bottle should be completely empty. Slice and serve as usual, making sure to keep the melon out of the reach of minors.