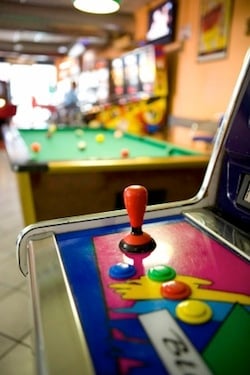 Bars with vintage games seem to be kind of a thing. In August, Bedrock Bars is scheduled to debut a board-game bar on Connecticut Avenue, and now word comes from Erik Holzherr that he's putting an '80s-themed arcade bar in the former Fruit Bat space at 1236 H Street, Northeast, below his cocktail spot Church and State. Holzherr is currently at work collecting old-school video games like Ms. Pac-Man and Donkey Kong. (Fear not, Galaga fans, he's working on that one too.) He ripped out the Fruit Bat kitchen to make room for a pool table.
Holzherr—who also owns Capitol Hill cocktail lounge Wisdom—says he's "trying to avoid cocktails" at BARCADE (not to be confused with club-kid corral Barcöde downtown), focusing instead on beers. There
will be craft and value brews, he says, and he'll offer a happy
hour—details on that are yet to be determined. Events are also in the works
and will include competitions and "maybe something with Twister."
What the bar won't have is new games. Holzherr says BARCADE is aimed at thirtysomethings nostalgic for their Atari days along with the younger hipster crowd. "I'm basically trying to build a bar that would make my 14-year-old self
think I grew up to be the coolest adult in the world," he says.
BARCADE's grand opening happens Tuesday, July 10.