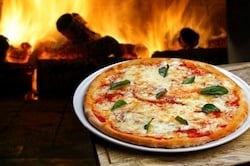 As the Washington City Paper reported back in April, Ari Gejdenson (along with partner Ralph Lee) is opening a restaurant at 1610 14th Street, Northwest, formerly home to jazz club HR-57. The Acqua Al 2 duo took over the project from the Hilton Brothers (who recently opened the Brixton at Ninth and U). In fact the "Italian gastropub"—as it has hitherto been referred to—was briefly a collaboration between the Acqua Al 2 guys and the Hiltons. That fell through, according to chef Gejdenson. Here are a few more details he shared with us:
The place will be called the Ghibellina: The namesake is Via Ghibellina, the street in Florence, Italy, where Gejdenson and Lee once shared an apartment. The two friends owned a nearby diner called Ari's.
It's really two restaurants and a music venue: The space will comprise an upscale Venetian-style seafood restaurant upstairs, a more casual Tuscan gastropub on the main floor, and a small live music venue and bar below that. The seafood restaurant and gastropub will operate separately—Gejdenson says a Venetian chef whom he can't yet name will be in charge upstairs, while Gejdenson will split his time cooking between the first-floor restaurant and Acqua Al 2. Wines upstairs will be mostly Italian with a few exceptions; downstairs, the focus will be on Italian craft beers (thus "gastropub"). "Indie bands and jazz acts" will play on the bottom level.
The Italian gastropub part is like a Tuscan trattoria with a lot of Italian craft beers: Along with wood-fired pizza—four standards and two revolving specials—the menu will include salads, charcuterie, ravioli and other fresh pastas, osso bucco, and bistecche alla Fiorentina.
A lot of "young, talented people" will be involved: We just can't know their names yet, says Gejdenson, since they're all currently employed elsewhere. The aforementioned Venetian chef, who Gejdenson says currently lives in the States but not in DC, has been working on the concept for about a year. The Ghibellina has also hired a pizzaiolo, as well as a mixologist to put together the cocktail program. "I'm really excited about the team," says the chef. "It's a lot of very young, talented people."
The neighbors are making a stink: A few Logan Circle residents have been fighting the Ghibellina's liquor license, says Gejdenson. "It's become a very challenging process." He is asking supporters to lobby the Alcoholic Beverage Regulation Administration. Still, he hopes the Ghibellina will by open "by winter."