An outdoor work event definitely calls for a loosening of the collar—just don't loosen it too much. Come Monday these people become your colleagues again, so you still want to look put together. A sleeveless collared blouse is a classy way to stay cool, and pairs perfectly with whimsical cropped trousers, rich-looking cognac accessories, and simple gold accents. By sticking with professional shapes in fun colors and patterns, you'll appear polished but still unstuffy.
The Original Flea tote, $440 at Fleabag; K/ller brass bangles, $92 and $128 at Ten Over 6; Signature sleeveless blouse, $168 at the Shirt by Rochelle Behrens; Houpla leather strap sandals, $36 at Topshop; Slim belt in Rhum, $40 at Everlane; and Chelsea cropped print pants, $78 at Ann Taylor.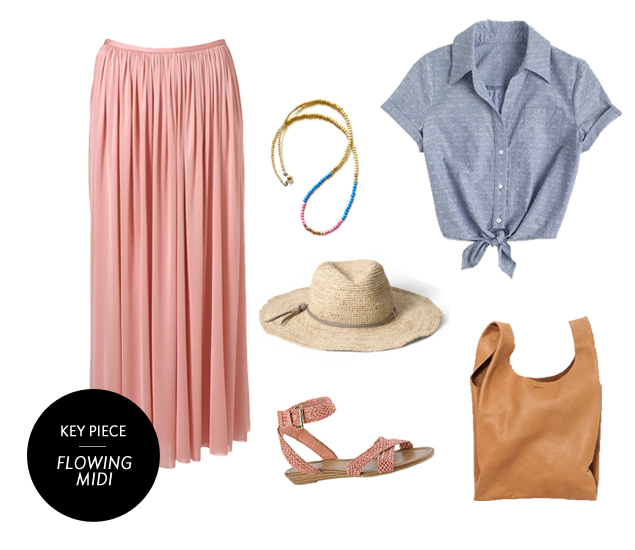 Casual settings are not necessarily an excuse to abbreviate hemlines. If you wouldn't wear it in front of your boss at the office, don't wear it in front of your boss in his or her backyard. Play it safe with an easygoing midi skirt and low-heeled sandals. Have a bit of fun up top with a tie-front chambray blouse, and keep accessories simple—a simple beaded necklace and a sunhat are all you need.
Silk midi skirt, $240 at Topshop; chambray tie-front top, $34.50 at Delia's; Fortune beaded necklace, $37 on Etsy; leather bag, $120 at Baggu; Raffica crochet hat, $54 at Theory; and Hembre sandal, $24.49 at Aldo.