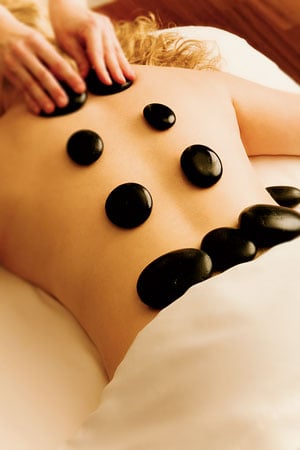 HOTEL SPAS
Bliss Spa
Bliss Spa is all chic sophistication: The decor is the signature white and blue, low-key R&B plays throughout—no Enya here—and the spa lounge features its now-famous brownie tray (from local bakery Bread & Chocolate) as well as cheese and olives. Indulge in such treatments as the skin-dewifying Triple Oxygen Facial ($165) or the Double Choc pedicure ($70). The waxes ($75 for a full Brazilian) are among the least painful we've tried. The changing room has only one toilet and a small shower that doubles as a steam chamber, but you'll get to play with the Bliss toiletries to your heart's content.
W Hotel, 515 15th St., NW; 202-661-2416; blissworld.com/spa. Metro station: Metro Center.
Boutique Spa at the Ritz-Carlton
Although the very intimate Boutique Spa at the Ritz-Carlton Georgetown has just four treatment rooms, it offers such amenities as a steam room and changing area plus a relaxation lounge where you can curl up with a magazine and enjoy a piece of chocolate or a glass of tea. We liked the Blueberry Facial ($225 for 80 minutes), done with extracts of  blueberry, raspberry, and pineapple and said to tighten skin. A 50-minute massage is $125. Valet parking is free with any treatment.
3100 South St., NW; 202-912-4175; ritzcarlton.com. Metro station: Foggy Bottom.
Red Door Spa at the Willard InterContinental
This Red Door Spa by Elizabeth Arden is in one of Washington's grande dame hotels, and mixes old-world service with modern touches. If you book the Signature Stress Melter Ritual ($230), a 110-minute massage and body scrub, you can rinse off in the spa room's private multi-head shower, which adds an extra dose of luxury. Or spa with a loved one in one of the private saunas or steam rooms; Aqua Therapy baths range from soaks to longer treatments with exfoliation and moisturizing full-body masks ($50 to $200).
1401 Pennsylvania Ave., NW; 202-942-2700; reddoorspas.com. Metro station: Metro Center.
The Spa at the Four Seasons
You don't need an entourage to enjoy A-list treatment at this boutique spa and newly revamped fitness center. This is the only area spa to offer facials designed by celebrity aesthetician Kate Somerville as well as cult-favorite French line Carita—including $600-a-bottle Diamond Cream. Splurge on the spa's Gold and Diamond facial ($450), featuring ultrasonic exfoliation, microcurrent ­therapy to lift and tone sagging muscles, and LED therapy to calm redness and stimulate collagen production; or try the Basic Kate facial, a 50-minute, $140 to $160 treatment that leaves skin glowing. Three hours worth of valet parking comes free with any treatment.
2800 Pennsylvania Ave., NW; 202-944-2022; four­seasons.com/washington/spa. Metro station: Foggy Bottom.
The Spa at Mandarin Oriental
The Mandarin Oriental hotel's spas are known for being luxurious and beautiful, and the Washington location is no exception. Guests are encouraged to arrive at least an hour early to enjoy the facilities in the men's and women's lounges: oversize lounge beds, hot- and cold-water "experiences" including showers and an ice fountain, and fantastical steam rooms. Our new favorite indulgence is the Bamboo Massage ($215 weekdays, $235 weekends), an 80-minute treatment that's similar to a hot-stone massage but done with warmed bamboo rods about 5 to 12 inches long. Valet parking is free with any half- or full-day package.
1330 Maryland Ave., SW; 202-787-6100; mandarin­oriental.com/washington/spa. Metro station: Smithsonian.
BOUTIQUE SPAS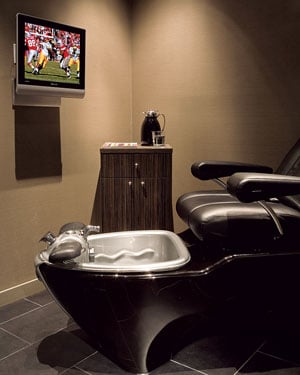 Grooming Lounge (For Men)
The Grooming Lounge is a "guy's guy" kind of place, and it manages to be neither informal nor stuffy. While you wait for your treatment, you can relax in one of the leather seats and enjoy coffee, ice water, or soda. We got the Super Stoner Massage ($150 for 90 minutes), which is less intense than a sports massage but also more relaxing. The therapist did a thorough back rubdown and then massaged individual muscles while palming heated flat rocks.
1745 L St., NW, 202-466-8900; grooming­lounge.com. Metro station: Farragut North/Farragut West.
Hela Spa
This med spa offers some of the area's best facials. You can begin with an optional Visia skin scan ($100, or $50 with a facial for new clients only), which uses a special camera to reveal sun damage, wrinkles, oil production, and more (the results may scare you into wearing some serious SPF). From there, the staff can determine which facial is best for you. Botox, photorejuvenation, and ­laser hair removal are also offered, as well as ­massages. The med-spa environment doesn't encourage you to linger, but the treatments are effective enough that they don't feel like an unnecessary splurge.
3209 M St., NW; 202-333-4445; helaspa.com. Metro station: Foggy Bottom.
Nectar Skin Bar
A new sister "skin salon" to nearby Ipsa for Hair, this boutique spa and beauty store tends to face, nails, and body. The chandeliered rowhouse features a plush couch pedicure bar, a retail space filled with Paul & Joe makeup and GlamGlow mud masks, and three treatment rooms upstairs for facials and waxing. Spray tanning, microdermabrasion, manicures, and semipermanent mascara treatments—the LashDip procedure is exclusive to Nectar—are also available.
1633 Wisconsin Ave., NW; 202-333-4332; nectarskinbar.com. Not Metro accessible.
Nusta Spa
Want to be green? Consider Nusta. The downtown DC spa is LEED-certified, meaning it's met certain eco-building requirements, and also uses recycled materials and renewable energy sources wherever possible. Boasting a sleek relaxation lounge and a changing room with showers and lockers, this spa offers more amenities than many larger suburban spas. What else would you expect from a place whose name means "royalty" in the South American language Quechua? The Interpretive Touch Massage ($120 and up) is a variation on deep tissue treatments but uses a customized approach to tackle tough knots.
1129 20th St., NW; 202-530-5700; nustaspa.com. Metro station: Farragut North/Farragut West.
SPA/GYM COMBOS
Aura Spa
There are two DC locations, both inside Vida Fitness centers. This one, its flagship, is inside the Renaissance Hotel. Finding it is a bit tricky, and it's small: four treatment rooms and a two-chair sitting area. What made the 60-minute, $105 massage a better value is that any service over $100 allows you use of the gym. All spa-goers can use the sauna and steam room as well as the luxe locker room. The rainfall showers, equipped with lemongrass body scrub, were a highlight. Another nice touch: Valet parking is just $4.
999 Ninth St., NW; 202-742-1940; auraspa.net. Metro station: Gallery Place-Chinatown.
SomaSpa
Formerly called SomaFit, this spa and fitness center was bought by Balance Gym two years ago, and the orange-and-blue facility is as sleek as ever. An appointment here grants you access to the workout center and locker room, which means a plush robe and unlimited time in the steam room, sauna, and showers. The low-lit spa area upstairs has a waiting room with orange-scented water, snacks, and magazines. We recommend the 50-minute Swedish massage ($110): Massage therapist Rosanna Casu had an expert touch, and after the massage she showed our tester some useful lower-­back stretches.
2121 Wisconsin Ave., NW; 202-965-2121; soma­fit.com. Not Metro accessible.
The Spa at Mint
At the boutique gym Mint, the chic relaxation room offers tea and a good selection of magazines. Spa-goers can also enjoy the gym's steam, shower, and sauna facilities (offerings depend on location), and the gym itself during their visit. We recommend booking one of the Tuesday specials: a half-hour massage or facial for only $49. Or try the sports massages ($105 for 50 minutes, $150 for 80 minutes), in which therapists who have worked with NBA, WNBA, and NFL players get rid of all the knots.
1724 California St., NW, 202-328-6468; 1001 16th St., NW, 202-638-6468; mintdc.com. Metro station: Dupont Circle.
The Spa at the Sports Club/LA
This is among the area's largest gyms—100,000 square feet—and perhaps the poshest. Located just off the gym's changing facilities, the spa offers a calm oasis. Spa-goers enjoy full access to the gym's facilities, including the sauna, steam room, and pool. We suggest one of the spa's reasonably priced seasonal specials, usually a 50-minute wrap or facial for $99; they may involve peppermint in winter, cherry blossoms in spring.
1170 22nd St., NW; 202-974-6601; thesportsclubla.com. Metro station: Foggy Bottom.