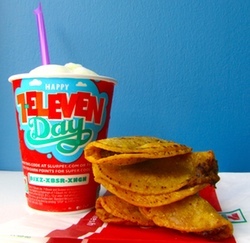 Today is not just the 11th day of the seventh month of the year—it's also 7-Eleven's birthday. What does that mean for you? It means free icy goodness: at most 7-Eleven outlets, a small (7.11 ounces—get it?) Slurpee is yours for the taking all day today. But that's not all. The megachain also just released a new line of spicy beef mini tacos. For the bargain price of $1, you can get four lilliputian pockets stuffed with picante beef filling. This, naturally, we had to try.
And here's the thing: They're pretty good. As one Washingtonian taster noted after our mini taco breakfast this morning, "That would totally pass for an hors d'oeuvre at a fancy event."
The crunchy, pleasantly greasy corn tacos are so seasoned that they make your mouth tingle with spice and what may be the after-effects of the described "other flavorings." The 7-Eleven material notes that they're also stuffed with more specific ingredients like "shredded beef, green chilies, jalapeño peppers, cilantro, spices," though we'd advise against dissecting the shells to find out. As with raw oysters, it's best to take these beauties down whole without poking around the insides. Our pairing suggestion? A free half pint of Mountain Dew Blue Shock Freeze. As they say over at the convenience store, Viva La Snack Attack.