Day 1: The Mall and the White House


Breakfast: Le Bon Café
Grab a seat at one of the outdoor tables at this small Capitol Hill cafe for a plate
of French toast, a waffle, or a made-to-order egg sandwich; or pick up a croissant
or bagel to enjoy on your walk to a day full of sights.
Touring the Capitol takes a little planning. Tour slots are free and can be booked
online as late as the day before; a small number of same-day tickets are available
at the information desks on Emancipation Hill.
The basic tour includes a short history lesson and an introduction to the building.
The House and Senate galleries are also open to visitors, but you'll need to arrange
separate passes ahead of time through your senator or representative. The Visitor
Center is also open 8:30 to 4:30 Monday through Saturday, and you can stop in to the
exhibit hall, the cafeteria, and the gift shops any time.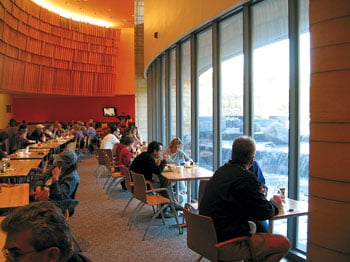 Lunch: Mitsitam Cafe at the National Museum of the American Indian
We know, a museum cafeteria isn't what you had in mind—but the stations here serve
up dishes inspired by the ingredients and cooking of five Native American groups.
Sample bison strip loin or
mole-braised chicken prepared with herbs from the museum's garden, or grab some chicken
tenders for the kids. The full menu (including beer and wine) is available until 3
PM.
PM: The National Air and Space Museum
The most popular museum in the country, Air and Space holds the world's largest collection
of air and spacecraft along with interactive flight simulators, a planetarium, and
an Imax theater. Just beyond the Mall entrance is the Milestones of Flight entry hall,
which runs through the history of aviation with Charles Lindbergh's
Spirit of St. Louis, the Bell X-1 in which Chuck Yeager broke the sound barrier, and the North American
X-15—the first aircraft to break Mach 4, 5, and 6—as well as the Apollo 11 Command
Module
Columbia.
Don't miss the Golden Age of Flight gallery, which includes Howard Hughes's H-1 racer,
or the Barron Hilton Pioneers of Flight wing on the second floor, which celebrates
people who achieved significant "firsts" in flight.
If You Have Time: Ride the Smithsonian's Carousel on the Mall
This oldest carousel in DC sits in front of the Smithsonian Castle on the Mall, and
is open 10 AM to 5:30 PM daily. Rides on this beauty are a fun way to give your legs
a rest.
Before Dinner: Walk Past the White House
Tours of the White House are hard to come by and must be planned well in advance,
but anyone can walk by, marvel, and snap a photo in front of the famous home without
prior arrangements. And across Pennsylvania from the northwest corner of the President's
lot, you'll find the Blair House, which plays host to visiting dignitaries. Check
for a foreign flag hanging by the door to figure out who might be staying inside,
and maybe even catch a glimpse of his/her motorcade.
Dinner: Old Ebbitt Grill
This Washington institution provides a bit of history along with excellent oysters,
a solid cocktail list, and a $7 kids' menu. In business for 156 years, Old Ebbitt
is famous in equal parts for having the best Bloody Mary in Washington and for hosting
presidents Grant, Cleveland, and Theodore Roosevelt.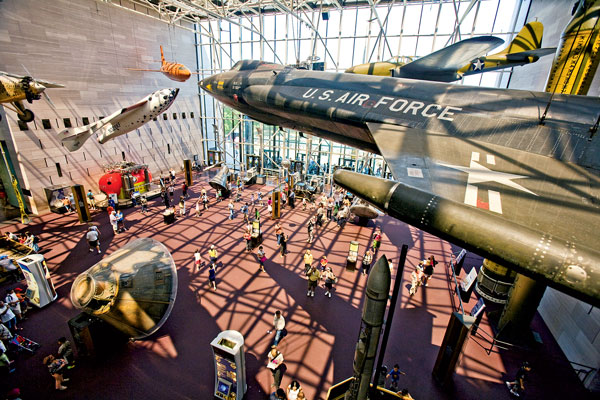 Day 2: Monuments, Museums, and the Tidal Basin


Breakfast: On the Move

Grab a light breakfast at or near your hotel before getting ready for some serious
sightseeing. It's worth packing some snacks, too, since you'll be walking a fair amount.
AM: Monuments Tour
A 1.5-mile stroll from the paddle boat dock around the west side of the Tidal Basin
will take you past the Jefferson, FDR, and Martin Luther King Jr. memorials. After
that, choose from the following for pictures and glimpses of the country's history:
• Korean War Veterans Memorial
Tip: Though the monuments look close together on a map, the walk can turn from enjoyable
to exhausting in a hurry. Consider stopping by the Washington Monument or the World
War II Memorial during one of your other visits to the Mall to keep from making any
particular sightseeing experience too long for the kids to handle without complaint.

Lunch: Paul
Casual French cafe and patisserie Paul opened its US flagship in Penn Quarter in May
2011. The order-then-sit-down eatery offers mostly sandwiches, soups, and salads along
with a huge variety of house-made breads and pastries.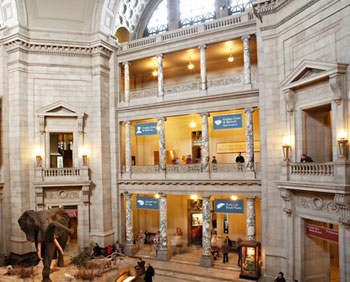 Next: Explore the National Museum of Natural History
Nearly as popular as the Air and Space Museum, Natural History sits on the Mall and
houses more than 126 million items. Highlights include a 13-foot Fénykövi elephant
from Angola that sits under the central dome of the rotunda, the 45.52-carat Hope
Diamond in the Gems and Minerals gallery, and a Imax theater that shows nature movies
on a six-story-high screen.

Admission, as with all Smithsonian museums, is free; for $6, you can also visit Butterfly
Pavilion to view hundreds of live butterflies and moths.
If You Have Time: Head to the Museum of American History
For everything from Dorothy Gale's ruby slippers to the original Star-Spangled Banner
and Thomas Edison's 1879 lightbulb, stop by this museum of all things American. The
first floor focuses on transportation, technology, and innovation, and includes the
first car ever driven across the country. On the second floor, don't miss the original
Greensboro lunch country from the 1960 sit-ins, and on the third floor, make sure
to stop by the "American Stories" gallery.
Take a Break at the National Gallery of Art's Sculpture Garden
Give your weary feet a rest while taking in the art at this picturesque spot on the
Mall. Vendors nearby sell water and ice creams, and adults can enjoy art by Joan Miró,
Louise Bourgeois, and more.
Dinner: Hill Country
This buzzing barbecue spot offers child-friendly clamor, as well as juicy spareribs,
baked beans, and crumbly cornbread. Kids can feast on Texas sheet cake for dessert,
while adults can indulge in some of the spicy signature cocktails.
If You Have Time: Take in City Views at the Old Post Office Tower
The Old Post Office Pavilion was built on Pennsylvania Ave in 1899, and part of the
structure is a 315-foot clock tower which offers 360 degree views of the city, including
the Capitol, the Washington Monument, and others. National Park Service Rangers give
free tours every day, and no reservations are necessary. The tower closes at 8 PM
daily.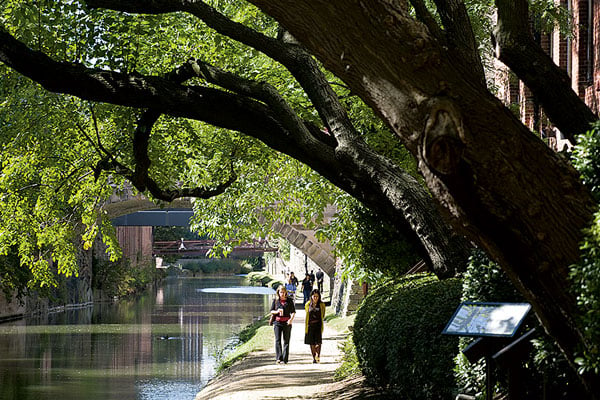 Day 3: Visit the Zoo and Spy Museum

Breakfast: Firehook
Begin your day with coffee and baked treats at this Washington mini chain by Cleveland
Park Metro. More than ten different kinds of bread are baked fresh daily, and the
menu includes everything from flaky cinnamon bear claws to blueberry-studded muffins.
There's even a spacious patio out back for breakfast al fresco in fine weather.
AM: Explore the National Zoo
Just down Connecticut Avenue from Firehook is the Smithsonian National Zoological
Park, home to 2,000 different animals from 400 species. The indisputable stars are
the two giant pandas, Mei Xiang and Tian Tian, who are on loan from China through
2015. Other highlights include the Great Cats exhibit featuring Sumatran tigers and
African lions, a Great Ape house, and Amazonia: a 15,000-square-foot rainforest exhibit
with a 55,000-gallon aquarium. The Kids' Farm also offers opportunities for little
ones to touch and learn to care for animals.
Lunch: Ella's Wood Fired Pizza
Take the Red Line to Gallery Place and visit this cozy spot, where the kids' menu
includes healthy options (red pepper and carrot strips with Parmesan dipping sauce)
alongside miniature versions of the house specialty: cheese and pepperoni pizzas.
On the grown-up menu: sliced melon with prosciutto, calzones with sausage and peppers,
and pizzas with pesto, shrimp, and roasted pine nuts.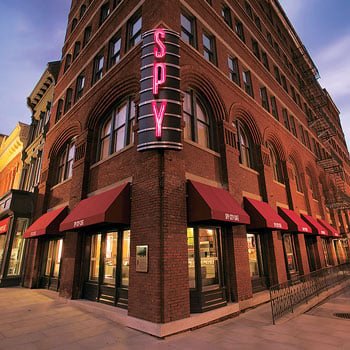 PM: Visit the International Spy Museum
The International Spy Museum—founded by a Korean War codebreaker to provide some insight
into the spy trade—includes an hour-long interactive experience called "Operation
Spy," during which visitors become US spies searching for a device that triggers a
nuclear bomb. Tickets to the Spy Museum are available at spymuseum.org and are $19.95
for adults and $14.95 for kids (though children six and under are admitted for free).
Dinner: Ping Pong Dim Sum or Rosa Mexicano
The sharing plates at Ping Pong Dim Sum mean kids can pick and choose as they please,
sampling crispy duck spring rolls, fluffy potato cakes, and steamed pork buns. Rosa
Mexicano's Young Amigos menu offers child-friendly chicken fingers, shredded beef
tacos, and quesadillas.
Dessert: Grab a Cupcake at Red Velvet or Gelato at Pitango
You've had three days of full-on activities, so you've earned a treat or two. Red
Velvet's signature cupcakes include cookies and cream, devil's food, and peanut butter
cup, while the gelato at Pitango can be souped up for adults with a shot of espresso.