Last month, we reported that a massive, adult-friendly bounce house would be inflating near DC. Now it's here, and we went to give it a try ahead of its opening on May 20. 
The colorful, plump behemoth of a bounce house—the world's largest, apparently—is currently basking in a field at Fort Washington's Rosecroft Raceway (6336 Rosecroft Dr., Fort Washington).
Donning our stretchiest yoga pants and socks (note: they're required), my co-worker and I visited Big Bounce America this morning—purely for journalistic purposes, of course—to see if it was worth the hype and the $45 ticket price for adults.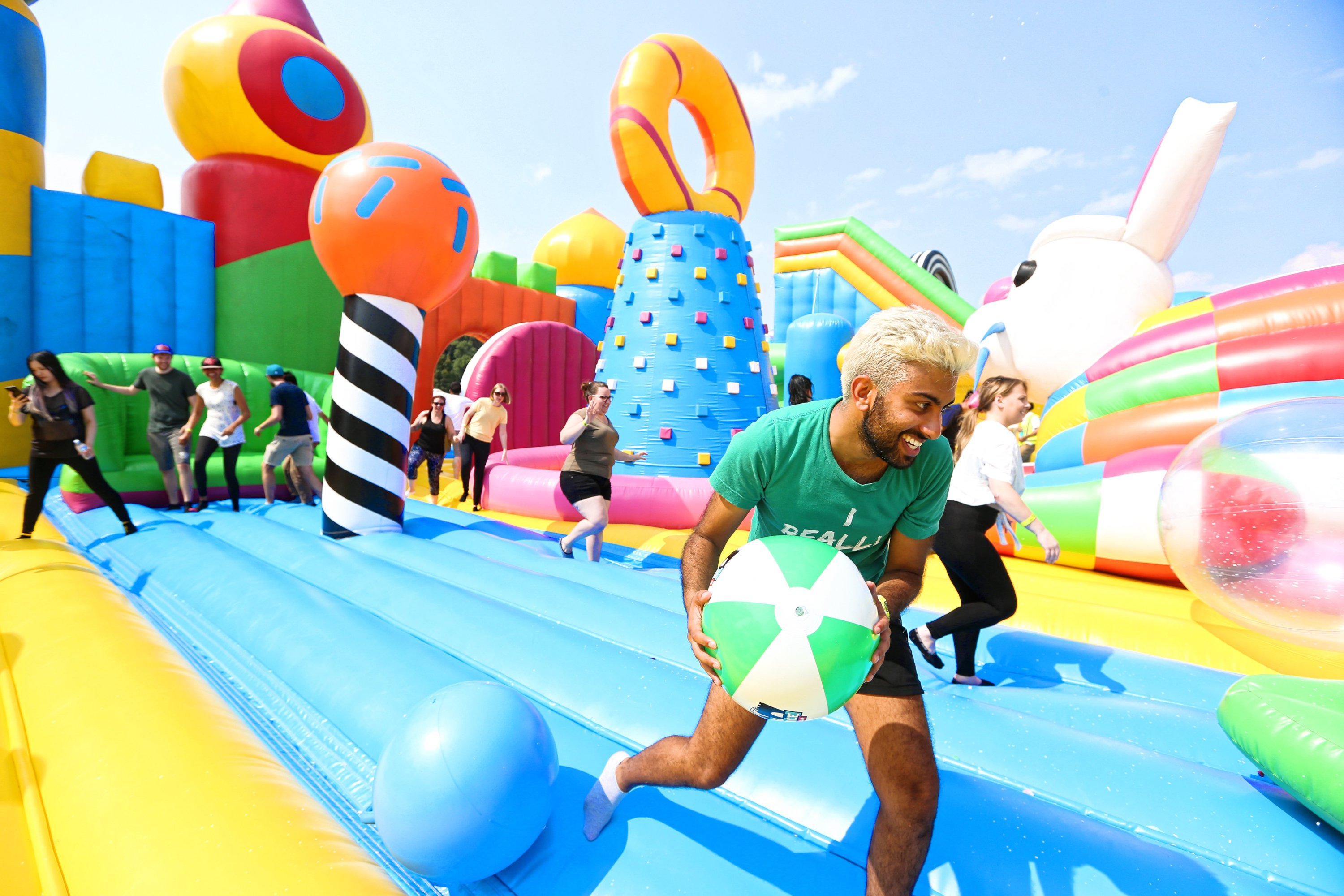 We weren't exactly sure what to expect when our Uber driver pulled up to the Rosecroft Raceway. We had imagined the world's biggest bouncy house would be visible from the road, but at this point in the journey we couldn't see anything besides an eerily empty racetrack and a just-as-vacant parking lot. "Is this it?" our driver asked, clearly confused by where we had led him. 
I was beginning to worry that I entered the wrong address when a lone man walked out of Rosecroft Raceway. "Have you seen a bouncy house around here?" we asked before realizing how absurd it sounded. He paused briefly before silently pointing toward a large field off into the distance behind us. We turned around, and there it was, in all its primary-color glory: Big Bounce America.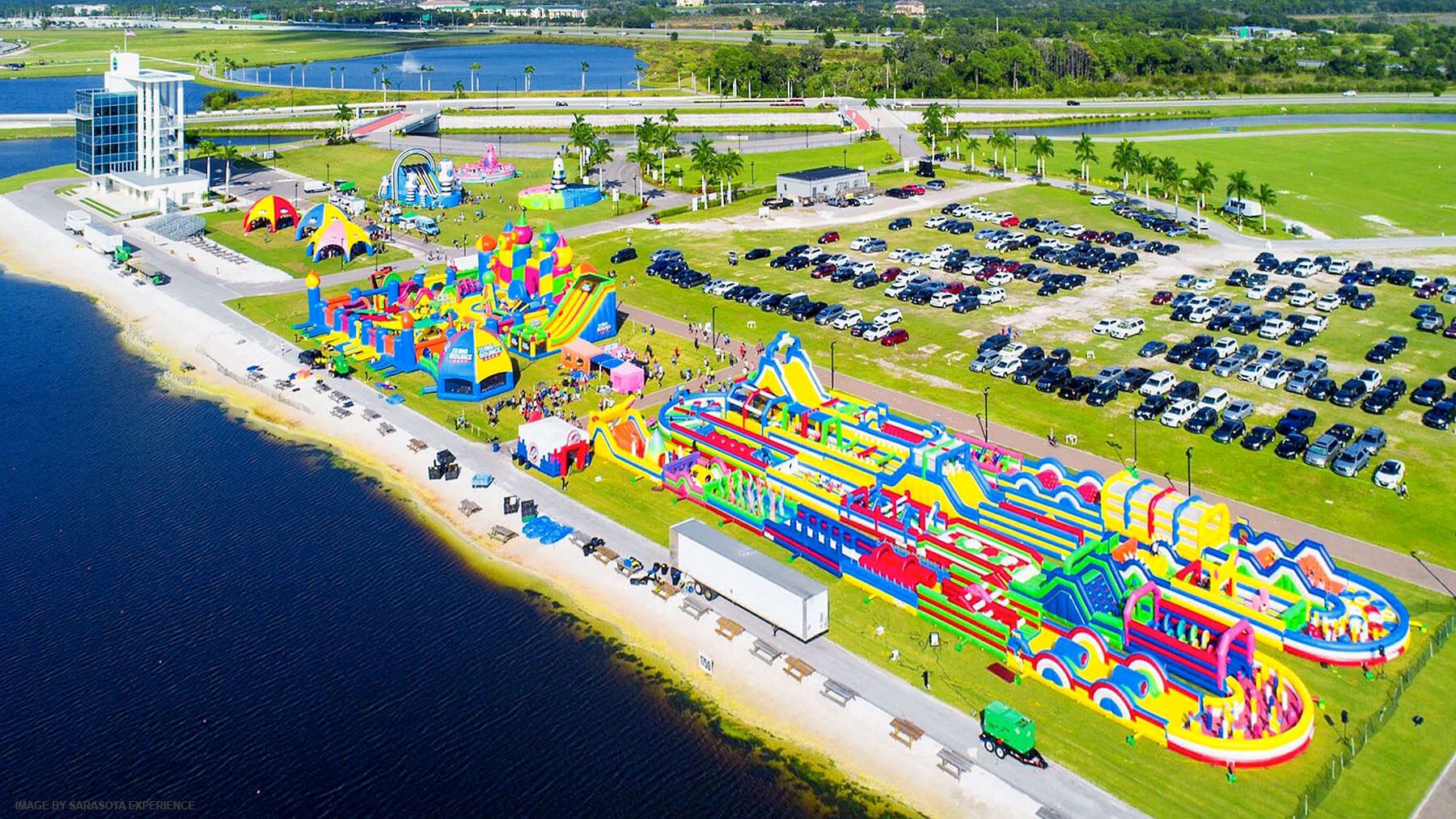 As it turns out, the reason we hadn't spotted Big Bounce America is because it's actually a sprawling complex of multiple inflatables and the largest one—the 16,000 square foot world-record-breaker—had yet to be inflated when we arrived. 
So while waiting for our Goliath to blow up, we ventured through other zones in the park, beginning with the "airSpace" section, which is comprised of three giant inflatables: a five-lane slide that is surprisingly slick and fast (though, I have to imagine, potentially painful in shorts on a scorching day); a star-shaped inflatable with bouncy "moon craters" and a giant astronaut at its center; and three ball pits around a 25-foot-tall bright pink alien creature, whose octopus-like legs create whimsical obstacles to jump over and through. We frolicked through it and, yes, we felt like kids again. 
Behind airSpace is what's rightfully called the Giant, a 900-foot-long obstacle course featuring 50 different "challenges" to navigate through. If you can, imagine every possible shape in existence and it's probably an obstacle inside the Giant—there were big X's blocking paths, criss-cross bars to leap over, spheres almost as tall as we were, and hanging cylinders throughout the entire inflatable. 
We spent about 30 minutes crawling and leaping our way through it before we were told that the Giant is technically a race and that the record time for completing it is around two minutes and twenty seconds. Well, kudos to whoever that was. As for us, we had to stop to catch our breath at least a dozen times—mostly because there was lots of laughing involved.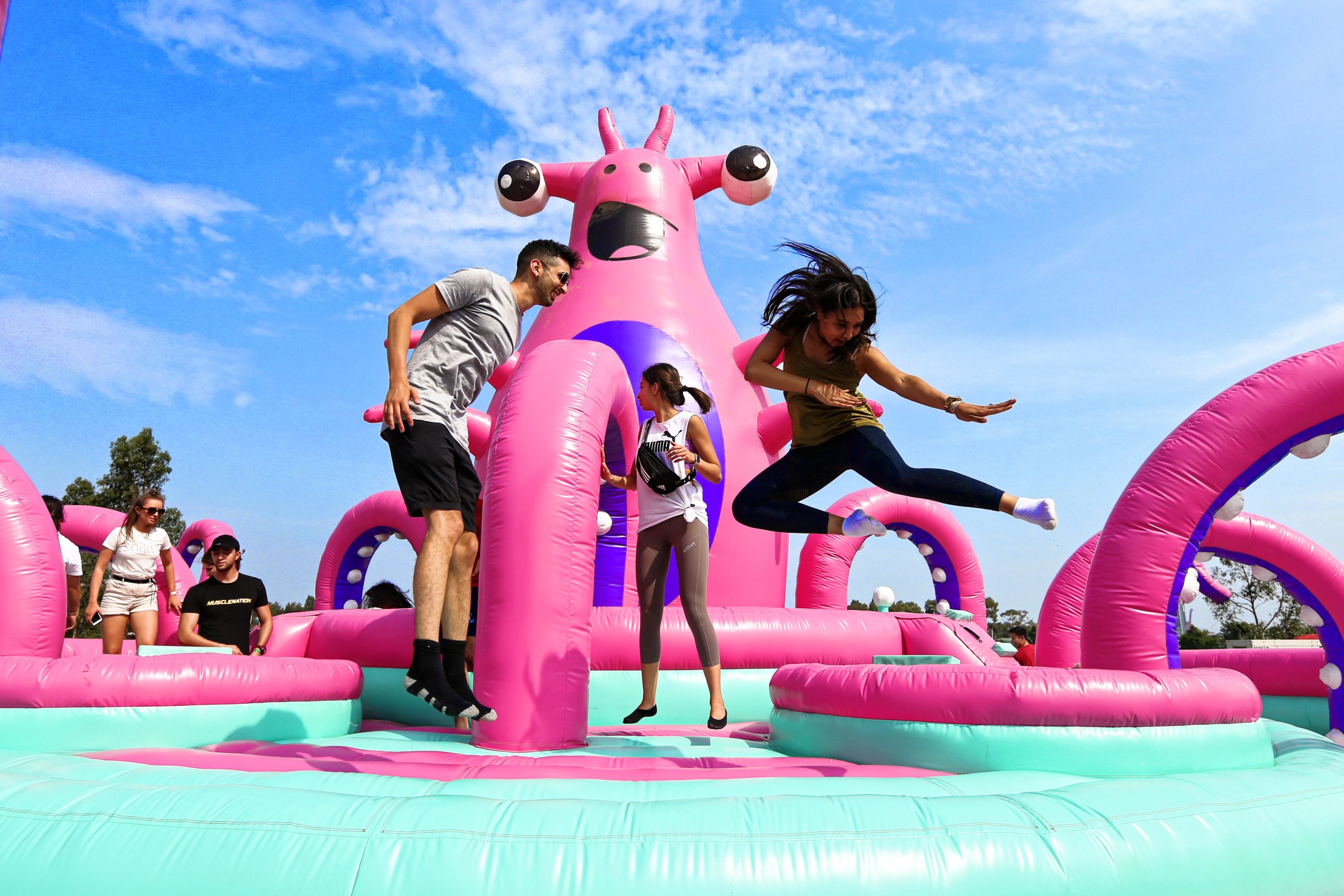 While we didn't have the chance to hop inside it, there is another zone within the park called the Sport Slam. It's an arena-like inflatable with nets, hoops, goals, and balls for just about every pick-up game imaginable. Inside it is a "battle zone" where two people duke it out with what look like giant inflatable Q-Tips until one falls off their podium.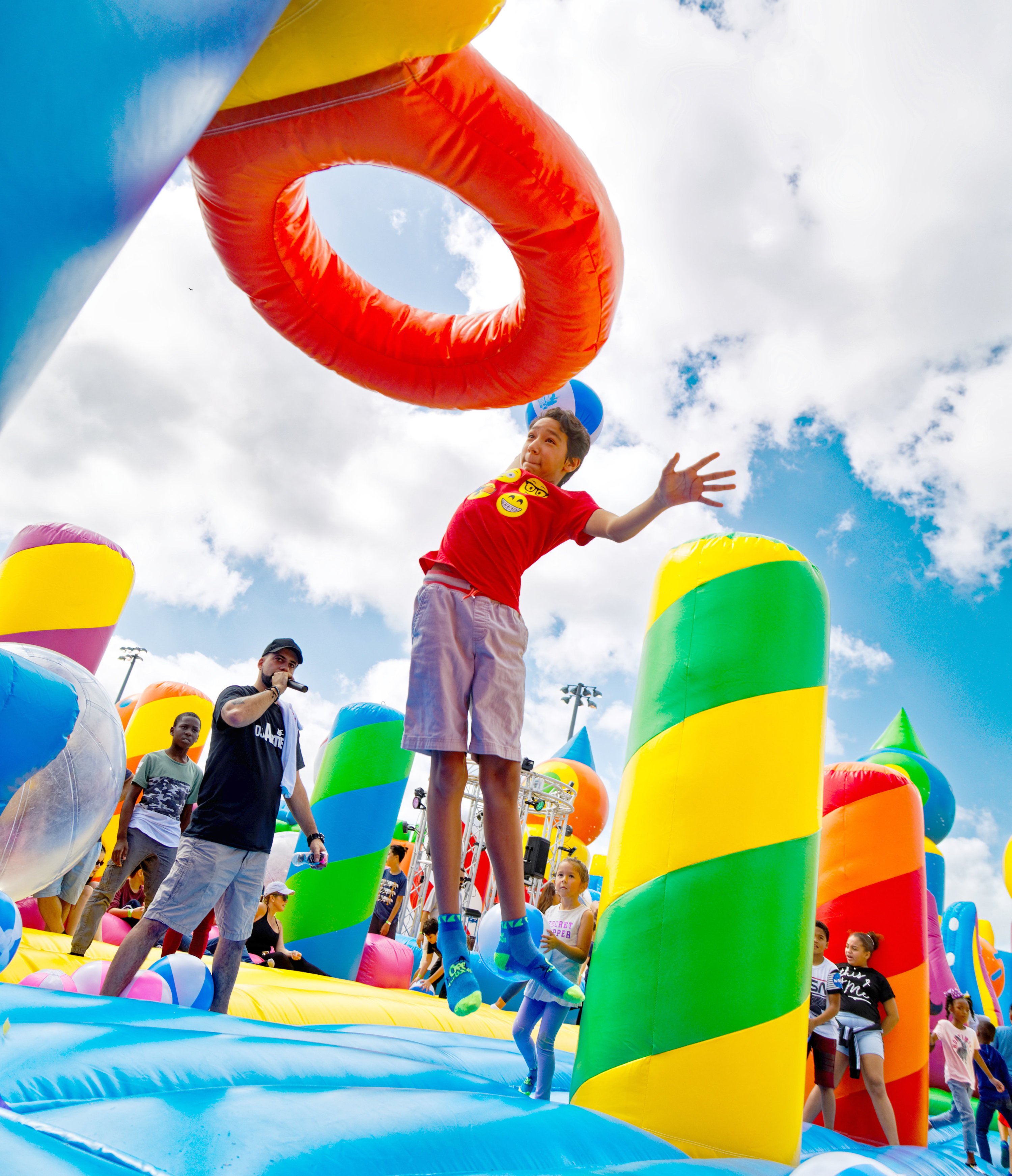 Eventually, the world's largest bounce house—which took all of six minutes to inflate but clearly far more time to unfold and piece together—was ready for us. The inflatable, as advertised, is massive. Someone told us it's new, too. After Big Bounce's previous 12,000-square-foot bounce house was certified by the Guinness Book of World Records in 2018, another one in Dubai beat them out with its 13,500 square foot bounce house. 
Clearly, Big Bounce had to create a bigger inflatable. Hence, its current 16,000 square foot bouncy house, which reaches 32 feet at its highest point. The colossal inflatable has a central DJ stage, even more ball pits, giant inflatable couches, as well as colorful candy canes and toadstool mushrooms to leap beneath. We're told there will also be confetti, bubbles, and fake snow once the park opens to the public.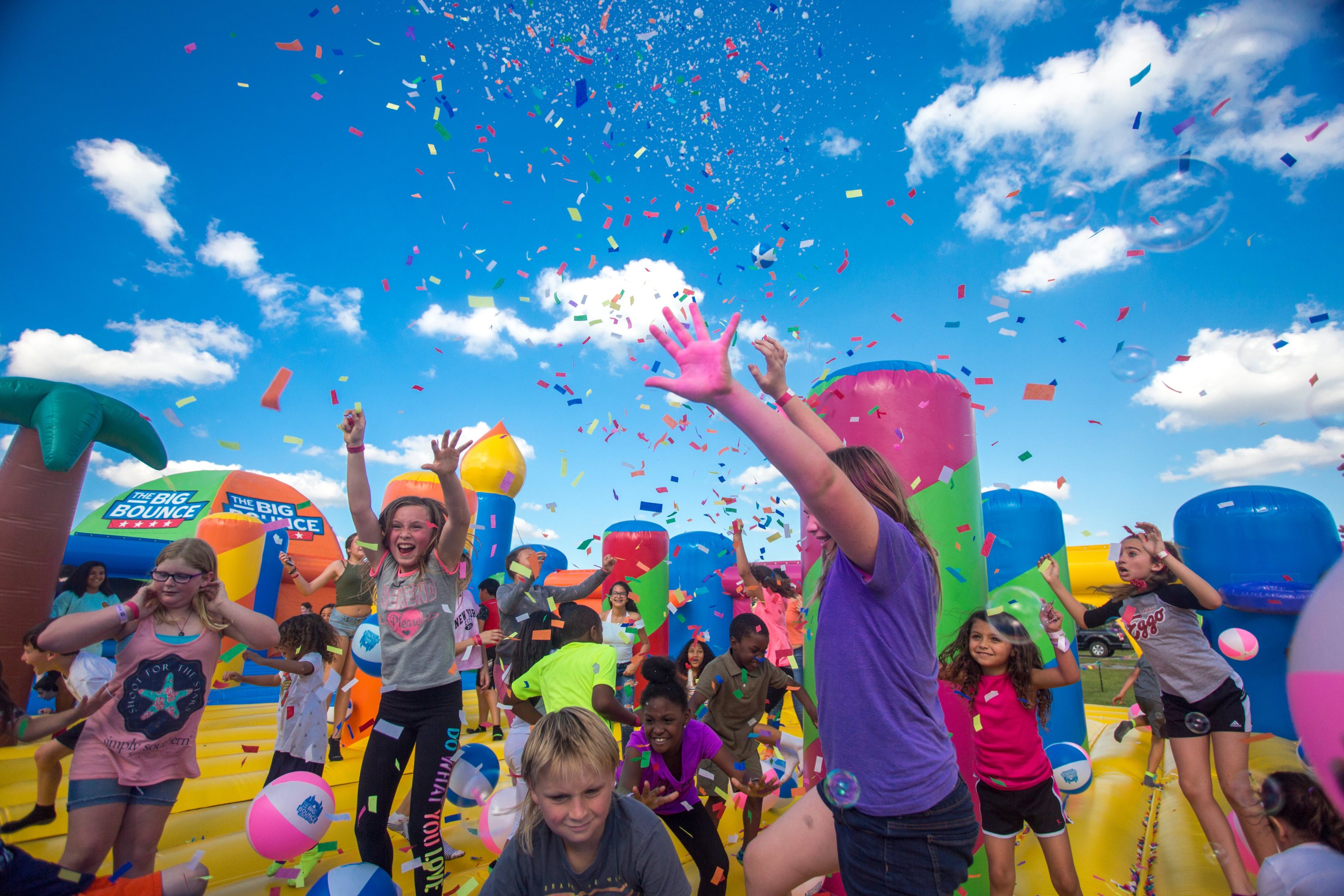 Did it feel like a fever dream to be the sole two adults inside the world's largest bouncy house on a weekday morning? Yes, of course it did. Was it fun? Also, yes.
That said, it was slightly overcast and 74 degrees when we were there. If you're planning on going on a sunny day in the 80s, then you'll want to slather on sunscreen, bring lots of water (there is a free water station there, though), and perhaps pack some healthy snacks if the idea of jumping around after eating carnival-like fare (think corn dogs and snow cones) isn't your cup of tea. Oh, and definitely use the bathroom before you go, as accommodations at the site are modest (read: porta potties).
So here's our verdict: If you have kids and can afford it, you should unequivocally go. It's a kid's paradise. And to make it friendly and safe for the little ones, there are separate time blocks for toddlers, kids, young teens, and adults. Each ticket (starting at $22 for children) guarantees three hours of access to the bouncy empire, which also has a medic tent for any injuries.
As for the adults: If you have at least an ounce of childlike whimsy inside of you—and also don't mind getting sweaty, a little grimy, and constantly reminded of how out of shape you are—you'll probably have some fun too. Because while it's impossible to rewind the clock back to childhood, this does get you pretty close.