By the time they got married on May 18, Alexis Rudakewych and Andrew Moch had been a couple for nearly a decade. After their initial meeting, sparks flew, and their first date was eating disco fries at a New Jersey deli and hanging out at the mall (hey, they were 19!). They continued to date, and date, and date some more, moving in together in Arlington in 2005 after graduating college, she from Boston University and he from the University of Massachusetts at Amherst. They'd always known that they would tie the knot—someday—but it wasn't until 2010 that they got down to business.
On the way to Rhode Island for a friend's wedding, Andrew, a Web developer, arranged for an evening stopover in Cape May, New Jersey, never letting on his big proposal surprise, including the ring Alexis's cousin and uncle, who are jewelers, had custom-made for her at Andrew's request. After dinner at the Peter Shields Inn, the same place Alexis's parents dined before they got engaged nearly three decades before, Andrew suggested a long walk on the beach. "We were barely five feet onto the sand when he got down on one knee. It's all a blur after that, but evidently I managed to squeak out a yes," says Alexis, who works as a lobbyist.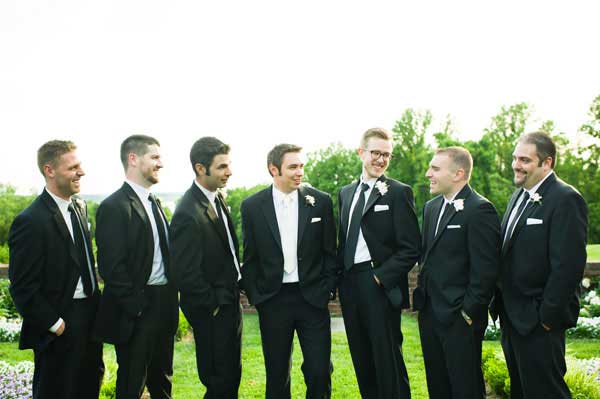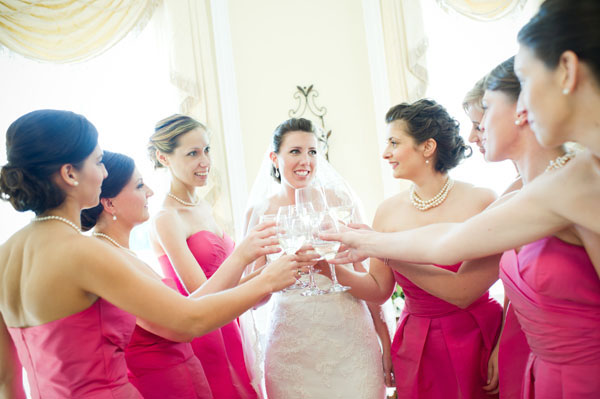 An 18-month engagement followed, and, finally, the wedding. The couple, both raised in the Ukrainian Catholic faith, held a ceremony and reception that blended cultural and religious traditions honoring family and friends, living and deceased. The ceremony, conducted in both English and Ukrainian, included a "crowning" with myrtle wreaths. Alexis, who lost her mother to cancer when she was 18, also made sure to incorporate her memory into both the ceremony and the reception. "Andrew always knew how much I wished she could be there on our wedding day, so he encouraged me to find subtle ways to incorporate her memory into the ceremony and reception," she says.
One thoughtful touch came from her bridesmaids, who surprised Alexis with tiny framed photos of her mother to affix to her bouquet. "It was the most beautifully unexpected gift I could have imagined," she says. The couple also placed a bouquet of her mother's favorite flowers, daisies, in an empty chair at the ceremony. At the reception, Alexis's godmother and aunt told the story of how she finished a piece of Ukrainian embroidery Alexis's mother had begun for the wedding but was not able to finish before she passed; the symbolic korovai was placed on display throughout the evening.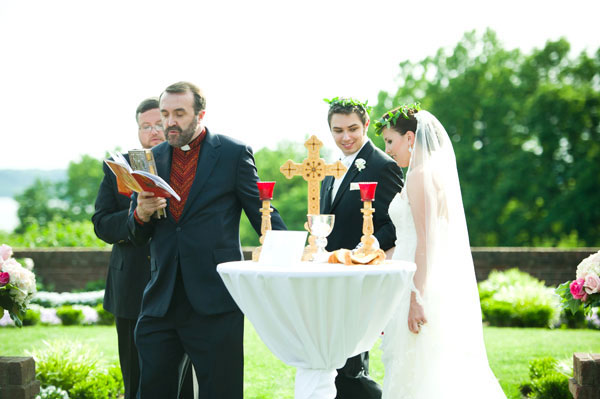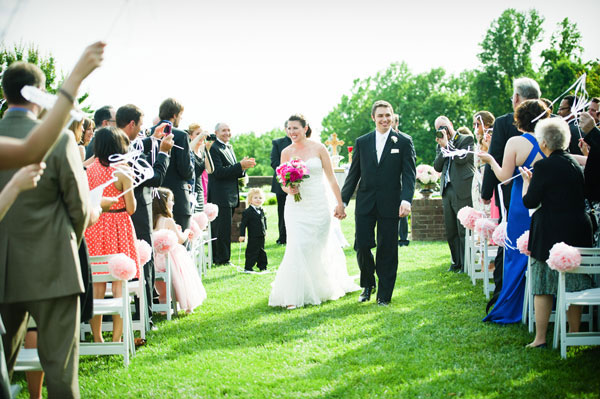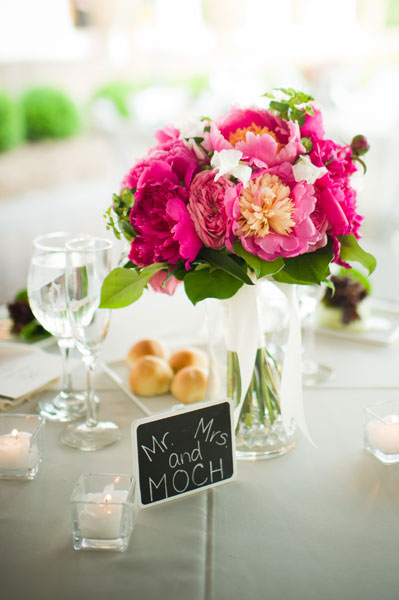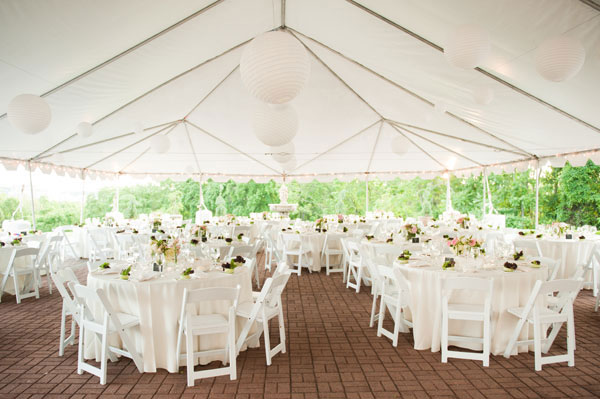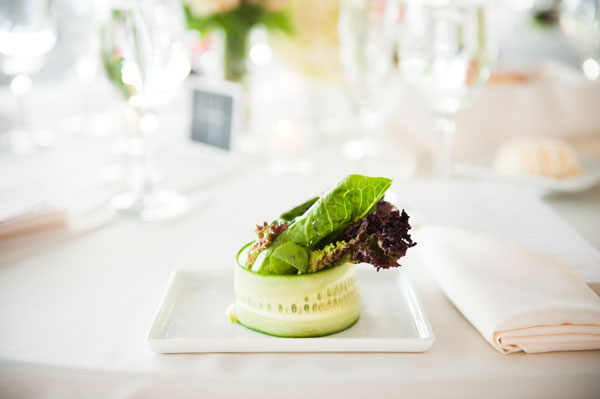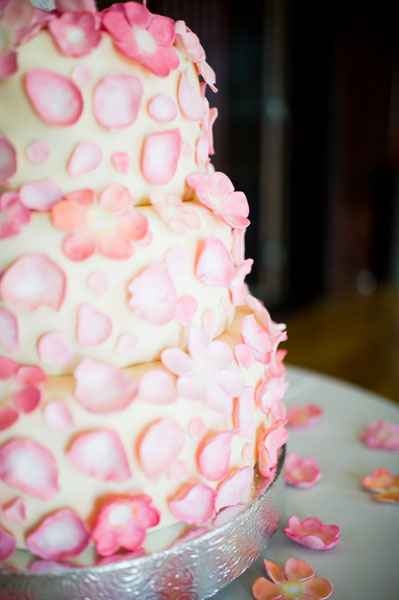 After the garden ceremony and poolside cocktail hour, guests headed to the tented reception area, where the party got underway. Late-night revelers enjoyed an after-hours pierogi bar and a dessert table with brownies and cake pops.
The best part? "We had all of our friends and family in one place, and everybody was getting along as if they had known one another their entire lives. It makes you feel great to know you've picked all the right people in your life, and that they want to share your day with you as much as you do," says the bride.
Vendors
Gown: Justin Alexander
Tuxes: Men's Wearhouse
Bridesmaid Dresses: Alfred Sung
Florist: Growing Wild
Wedding Planner: HJ Planners
Photographer: Lisa Boggs Photography
Venue: Oxon Hill Manor
Caterer: Roundz Catering