Fried chicken is having a highly controversial moment in Washington (and everywhere else), but there's some great news for lovers of crispy poultry: Fried chicken specials are on the rise in local restaurants.
Two new birds to look out for: ChurchKey, which officially launches its off-menu four-person platters when the doors open this evening. We checked out a test run last week at a media preview, and stumbled down the stairs after downing three styles of chicken, warm biscuits, crazy corn, doughnuts, and the suggested pairing of Schneider Weisse Aventinus beer. Tip for the wise: Wear loose clothing.
We also just received great news from Dan O'Brien at Seasonal Pantry, who says he'll start rolling out fried chicken on Tuesday evenings as of next week. All of his recent fried chicken supper clubs sold out, so to give everyone a fair chance at the thighs and drums, he'll have pieces ready and available to take home. Read on for full details on both, plus seven other fried chicken specials to try.
Late-Night Chicken at Bar Pilar
When: 11 PM to 1 AM on Fridays and Saturdays.
Bucks: $14 per plate.
The bird: Two pieces of the regular delicious lard-fried buttermilk chicken.
Sides: House-made pickles.
Perk: Chef Justin Bittner just launched a full late-night menu, so you can pad your belly with fried goodness before passing out (or partying more).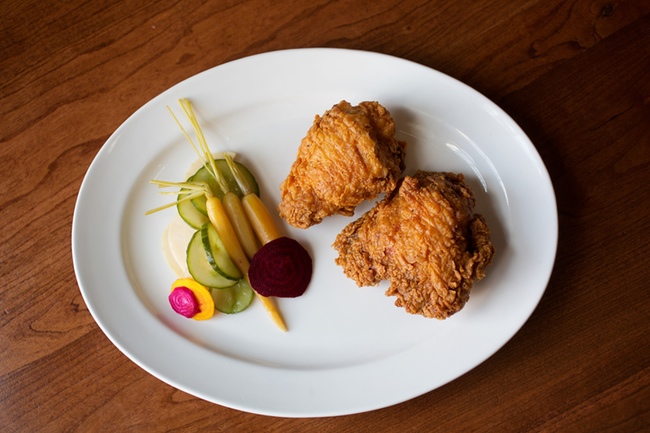 Blue-Plate Special at Black Jack
When: Sunday evenings.
Bucks: $15 per platter.
The bird: Similar to the daily fried chicken dinner offered downstairs at Pearl Dive, you'll find four pieces—two thighs and drumsticks—of a Pennsylvania hen.
Sides: Roasted fingerling potatoes, bacon-braised greens, and creamy slaw.
Perk: Work off the calories with a round of bocce afterward.
The Ultimate Fried Chicken Dinner at ChurchKey
When: Starting tonight and continuing every Wednesday, while the ten or so orders last.
Bucks: $42 for a family-style platter that serves four (that's $10.50 per person for all you non-mathletes).
The bird: A whole hen fried up three ways: classic buttermilk legs and thighs, General Tso's-style wings, and seasoned chicken tenders.
Sides: Warm biscuits with honey butter; spicy corn coated with sambal mayo, panko, and cilantro; and burrata and heirloom tomato panzanella salad. For dessert: four freshly fried doughnuts from pastry chef Tiffany MacIsaac, such as strawberry-glazed brioche stuffed with passion-fruit curd.
Perk: The chicken is an off-menu item, so you'll look cool ordering it amongst unknowing friends. Also chef Kyle Bailey's house-made hot sauce.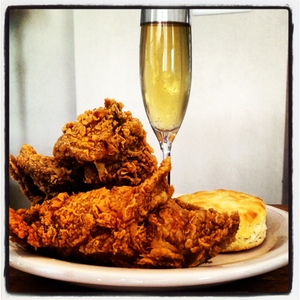 Fried Chicken and Champagne at Cork Market & Tasting Room
When: One Sunday per month, 6 to 8 PM. The next one is slated for August 12 (if there're enough folks in town) and then again on September 9.
Bucks: $75 a couple for a family-style platter (about half a chicken per couple), sides, and two glasses of sparkling wine.
The bird: Half of one of chef Kristin Hutter's garlic and herb-marinated birds.
Sides: Coleslaw and biscuits.
Perk: You can always snag tasty cold fried chicken from the Market, but here you get it fresh-fried, plus bubbly.
"Winner! Winner! Chicken Dinner" at District Commons
When: A dinner bell rings at 9 on Sundays, signaling the start of fried chicken night (in the bar and lounge only).
Bucks: $12 per plate.
The bird: Two pieces, one dark and one white, of a Crisco-fried free-range chicken.
Sides: Collard greens and old-school Velveeta mac.
Perks: Plenty of restaurants stop serving by 9 on Sunday, whereas you'll just be starting the night.
Plat du Jour at Green Pig Bistro
When: Monday nights.
Bucks: $20 for a TV dinner-inspired platter.
The bird: Half of a brined, cornmeal-fried chicken.
Sides: Collard greens, creamy mac, and a buttermilk biscuit.
Perk: Chef Scot Harlan has some pretty tasty items on the menu, so you can happily bookend your chicken with fried pimiento cheese and Key lime pie for two.
Meat & Two at Hank's Oyster Bar
When: Two styles per week: Austrian on Wednesdays and Southern on Sunday nights.
Bucks: $19 to $20 for the entrée and choice of two side dishes.
The bird: Chicken schnitzel night midweek brings a crispy, pounded breast with fried capers and lemon-butter sauce. Sundays see a nod to Hank's watery roots, with Chesapeake-style chicken fried with Old Bay and lots of black pepper.
Sides: Up to you. Pick two from the ten-plus options, such as buttermilk onion rings, sesame snow peas, or summer tomato salad.
Perk: Three locations to pick from, including the recently opened Hank's on the Hill with new cocktails from Gina Chersevani.
Skillet-Fried Chicken at Jackie's
When: Monday evening on the pared-down cafe menu.
Bucks: $15 for a plate.
The bird: Three pieces—a breast, thigh, and leg—from a plump Amish chicken.
Sides: Potato salad, collard greens, and house-made hot sauce for dipping.
Perk: Want more bird? The Monday menu also features duck tacos.
When: Tuesdays from around 3:30 until close. Check the Facebook page or Twitter for exact times.
Bucks: Still TBD, but O'Brien estimates in the $9 to $10 range.
The bird: Two brined, buttermilk-battered thighs and drum sticks. "You don't fry white meat," says O'Brien.
Sides: Not included, but you can nab tasty mac and cheese from the fridge.
Perk: Tuesday is the perfect day to eat fried chicken on your couch.
See also:
9 Summer Drinking and Dining Deals
Imbiber's Agenda: 5 Cocktails to Try This Weekend