This week, Shake Shack's PR machine brought word that the burger-and-hot-dog juggernaut would open a location in the Spy Museum's Spy City Café space at Ninth and F streets—Washington's third offshoot of the über-popular chain from New York restaurateur Danny Meyer. To celebrate the news, here are ten bits of Shake Shack trivia to bust out next time you're eating burgers.
1) Shake Shack grew out of a fundraising food cart Meyer debuted 11 years ago in Madison Square Park. When New Yorkers queued up in droves for his high-end hot dogs, the dining mogul knew he had a winner.
2) When Meyer opened his first restaurant—Union Square Cafe—in 1985, he was so freaked about a forthcoming Times review that he developed face-paralyzing Bell's palsy. All for naught, as it turns out. "The review was a rave," per the New York Times itself.
3) In 2011, Meyer's fastidiousness was on full display when he told the chef at a new project to lay sandwich bacon so that it stuck out on both sides of the bread. "That's called turning up the 'home' dial," he told the NYT.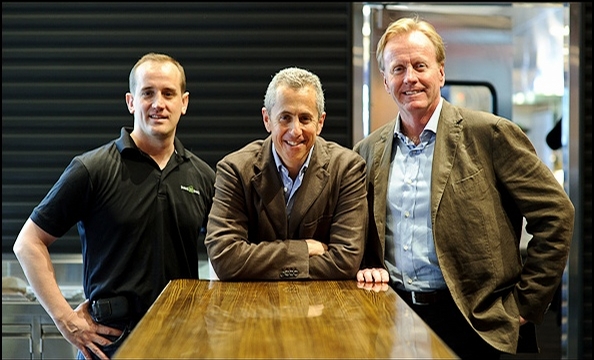 4) Michelle Obama is not the only famous female to fall for those burgers in a bag. In a 2009 Vanity Fair profile, Tina Fey revealed that her perfect day ended with a visit to "Shake Shack on the Upper West Side for shakes and burgers and fries."
5) Unlike West Coast counterpart In-N-Out Burger, "we will never do a drive-through," Shake Shack CEO Randy Garutti once told the Connecticut Post.
6) A much publicized Persian Gulf outpost opened last July in Kuwait. In June, Meyer told Eater that at least five more Middle Eastern Shake Shacks are in the works.
7) When Shake Shack opened its first DC location last year, naughty WaPo writer Alex Baldinger baited loyal locals with the following headline: "Shake Shack finally puts DC on the map."
8) The chain's 18th Street, Northwest, location has an average rating of 3.5 stars on Yelp. Here's an excerpt from one two-star review that we found amusing: "I was sick and tired of eating burgers left and right so i got the Shack-cago dog, which was something I could of made at home—not bad, but not good either! We also got the squiggly fries, which were whatever, nothing special. I have to say though, the decor is nice and different! We were sitting at a table made out of a bowling lane—SAYY WHAT!?"
9) While giddy anticipation tends to follow the announcement of a new Shake Shack here in Washington, Nolita no likey. In 2010, denizens of the Manhattan 'hood fought against, and thwarted, a planned location near St. Patrick's Old Cathedral­—those opposed described the chain, to the New York Post, as "an upscale McDonald's" and—our favorite—a "touristrat [sic] clusterf***."
10) When Shake Shack opened at Nats Park last year, it ousted Virginia-based Five Guys—once Washington's favorite source for juicy beefwiches. Easy come, easy go, we suppose—but for now, Meyer seems to be on top of the Beltway burger heap.