Liz Levin of Liz Levin Interiors is known for creating stylish
yet livable spaces for Washington families. After being unable to find child-friendly
furnishings for her own home, the Georgetown-based designer launched Nesting,
an online resource for parents and pet owners. The site offers everything from round-edged
tables—including the Oly resin table featured here—to stain-resistant fabrics. We
caught up with the designer to learn how homeowners can accommodate growing families
without sacrificing style.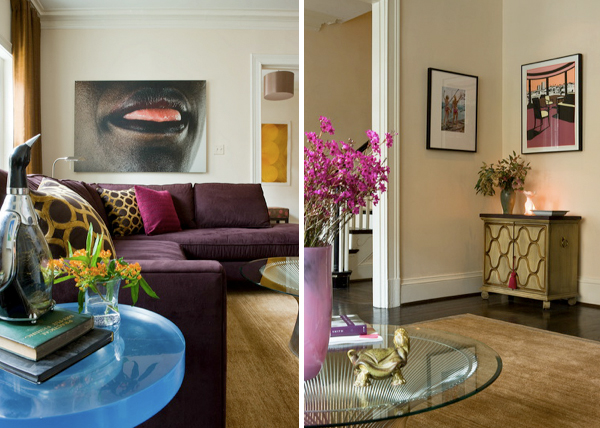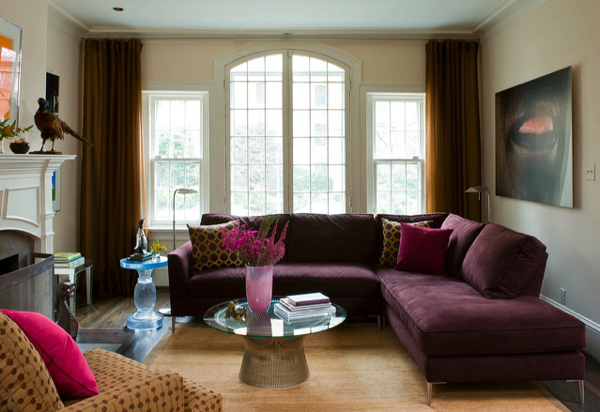 This is a far cry from what we're used to seeing in Washington homes.
It certainly is. The clients are involved in the local art scene, and I made sure
their living room reflects that. It's not the boring beige room we've seen a thousand
times. I used a juicy palette of rich, saturated amethyst, copper, and fuchsia. I
could almost bite into it.
Did your clients come to you with a particular design dilemma?
My clients had a beautiful living room that was not functioning well for them. It
was too formal and upright, and although it was pretty to look at, they realized they
used the space more for reading and relaxing with their puppy, Lucy.
So this room stands up to four-legged friends?
The sectional is upholstered in Sensuede, which is virtually indestructible. The chair
is also upholstered in a high-performance commercial-grade fabric, so go ahead—spill,
shed, and drool on it. This room was designed for carefree living.
What inspired you to use such daring fabrics and colors?
My inspiration came from my clients' fantastic and bold art collection. Their aesthetic
and personal collection can be described as vintage modern meets edgy kitsch. I felt
the living room furniture and overall design had to stand up to the graphic impact
of their art, but not compete with it. I also wanted some flow and color relation
between the dining and living rooms.
What was the most challenging aspect of this project?
The biggest challenge was redefining the seating arrangement to be more comfortable.
Previously there was just a small sofa and a pair of upright chairs. The Jamaican
Rum sectional became a nice counterbalance to the eggplant walls in the dining room,
and the fuchsia accents served as the perfect splash of color. The result is eclectic,
modern, and sexy at the same time.