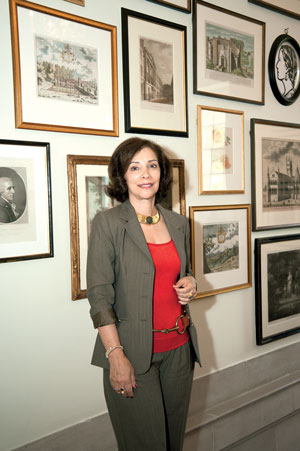 Visitors to the British Embassy in Washington usually come away with one distinct image in their heads: the Andy Warhol screenprint of Queen Elizabeth II that hangs over the fireplace in the main reception room. In the context of the Queen Anne-style building, the work is both surprising and quirky—a modern, almost lighthearted contrast to the rest of the house's formal elegance.
The print, like much of the art in the embassy, belongs to Britain's Government Art Collection (GAC), a state-owned repository that dates to the 1890s.
The arrival earlier this year of a new ambassador in Washington, Sir Peter Westmacott, and his wife, Susie, a former curatorial assistant at the Smithsonian's Sackler Gallery, along with the recall to London of four of the embassy's most prominent paintings by John Piper, allowed for a major revamping of the building's walls.
In addition to the Warhol, two other works remained where they were—oil paintings of King George III and his wife, Queen Charlotte, by Allan Ramsay—but everything else was flexible.
"The French have a wonderful word, which I learned when we were based there—it's called 'relooking,' " says Lady Westmacott. "We did a relooking here, so that even things that were here before have been spruced up, on different walls, with different lighting and surroundings. It makes everything look new."
The most dramatic reshuffling was along the grand staircase, where the four recalled Piper paintings had hung. GAC deputy director Julia Toffolo had a new idea for the space: an homage to the 18th-century print room, where prints of flowers, fruit, topographies, and portraits were pasted directly onto walls. That couldn't be done here because the works are old and valuable, so they're hung in frames but arranged in a way that evokes a print room.
In all, the two "relookers"—Toffolo and GAC collection technician Chris Christophorou—hung 118 prints in the staircase. They mostly date from 1707 to 1820, except for two central laser-cut, cameo-style prints by contemporary artist Julian Opie, famous for his cover of the 2000 album Blur: The Best Of, which depicted the British rock band's four members with dots for eyes. "We wanted to give it a contemporary edge," says Toffolo, who also worked with the Westmacotts on redecorating their previous post in Paris.
For Lady Westmacott, who studied history at Harvard before getting her MFA at George Washington University, the "relooking" process has been extremely satisfying: "I think I'm going to have an endless fascination with looking at it all."
This article appears in the August 2012 issue of The Washingtonian.