Todd Gray and Ellen Kassoff-Gray—the husband-and-wife team behind Equinox and Watershed restaurants—are working with a local television producer on a reality-show concept with the working title Re-cre-ate. The idea for the Project Runway-style show (Kassoff-Gray's) was born out of a class this summer at the Corcoran.
The Grays, who also own Muse at the Corcoran, a sort of permanent pop-up cafe on the main floor of the gallery, challenged a group of Corcoran College of Art and Design students with revamping the concept for a better customer experience and overall look. Working with their teacher Darlene Molnar, the budding designers tweaked the cafe layout and created new logos and other branded items like aprons and to-go containers to go with Muse's rustic-but-modern aesthetic.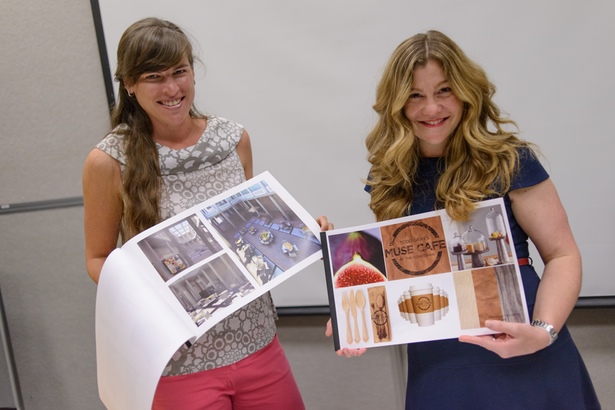 The
eight students in the class, working in pairs, presented their final
projects last week to a panel of judges that included the Grays, food
writer and Foodie and the Beast cohost Nycci Nellis, chef Roberto Donna, Doron Petersan of Sticky Fingers Bakery, Corcoran president and director Fred Bollerer, and Jason Reaves of Market Salamander in Middleburg. DC on Heels blogger Vanessa Camozzi was on hand shooting intro and outro segments for cameras. Producer Michael Holstein (he also owns Quench
in Rockville) said the reel for the show will feature Camozzi as a sort
of emcee, and that he is in talks with radio deejay Tommy McFLY to be the host. If picked up, Re-cre-ate would
team competing designers with restaurants around the country in need of
a revamp. While the network that picked up the show would have the
final say on casting—along with just about everything else—Kassoff-Gray
says she selected the judges with the program in mind.
The winning team from the Corcoran, Whitney Hansen and Michelle Kenderish, presented a polished, detailed project. The judges lauded their creative solutions to problems such as paper menus that get dirty throughout the day (the team affixed them to clipboards crafted from old wine crates), and innovations like durable table covers that feature photos of popular food items as well as art from the gallery—the table wraps will be visible from the gallery's mezzanine level. Their ideas should be fully implemented at Muse in about four weeks. Along with the prize of having their design come to life at Muse, they were awarded gift certificates to local businesses. Should Re-cre-ate get picked up, they may end up on TV, too.