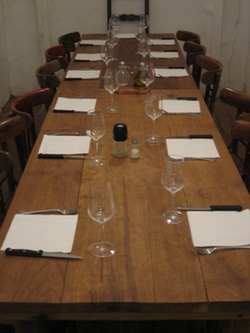 Two weeks ago we reported on a new fried chicken special at Seasonal Pantry—where chef Dan O'brien is cooking up brined thighs and drumsticks for takeout on Tuesday evenings. That's just the beginning, as it turns out.
For starters, the fried chicken night is on hold due to O'Brien's new partnership with erstwhile PS 7's pastry chef and James Beard nominee Naomi
Gallego. On Tuesday, August 28, it will return as a chicken and
donuts night featuring doughy offerings by Gallego. The week after,
O'Brien is planning on adding a Wednesday night version of the supper
club he currently holds Thursday through
Saturday. He also hopes to increase the very limited seating to include
14 guests. Market
hours will vary through the transition—O'Brien says a Thursday to
Saturday schedule is expected—as will the supper club; there will be no
dinners during the second week in September.
In the background is A&D, the bar currently in the
works
for the space next door. O'Brien says it isn't equipped with a kitchen, so you may find what he describes as "simple things that are
also guilty pleasures." Those may include a riff on poutine with potato chips—remember, no fryer—smothered in curds, bacon, and homemade
cheese sauce. Permits are still in the works, so much will evolve in
the coming months. Check back for details.