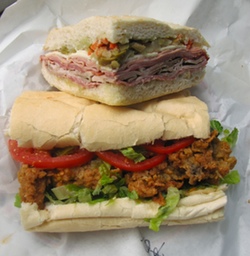 And you thought the Greek Deli across the street had long lines. After a few hiccups in the licensing process, downtown DC finally has its own New Orleans Po Boy Shop. Owners Cam McNair and Justin Snyder opened Wednesday morning at 1205 19th Street, Northwest, and by lunchtime the place was inundated with customers. By 12:30 the line outside stretched down the block and moved at a glacial pace as the brand new shop struggled to keep up with hungry downtowners seeking new sandwich thrills.
About an hour earlier, however, we breezed right in and picked up an oyster po' boy dressed with lettuce, tomato, and remoulade sauce; a roast beef po' boy cooked debris style and sloppy as hell (that's a good thing); a muffaletta (on offer every Wednesday); and some turtle soup. McNair has worked at Commander's Palace and Mr. B's—two New Orleans fine-dining destinations known for the classic Crescent City soup. A quick swirl through the thin broth revealed lots of tender chunks of turtle meat.
If you go, go early. Otherwise, you may want to give the shop a week or two to sort itself out.
New Orleans Po Boy Shop. 1205 19th St., NW; 202-621-8118; dcpoboyshop.com

See also:
Is New Orleans Po' Boy Shop the Real Deal?
10 Places for Po' Boy Sandwiches