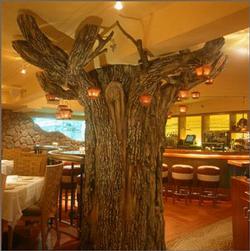 Well, Citronelle will be dark for at least the next five months or so, and the hard-working staffers at Little Serow are currently on summer break (returning September 5). Then, of course, there's the Toledo Lounge, which will reopen as some place else entirely in a month and change. Now word comes that Firefly—the Southern-leaning restaurant at 1310 New Hampshire Avenue, Northwest—will shut its doors on September 10 for a remodel.
The makeover will create a clearer division between the dining room and bar
area and expand the bar itself to include ten more seats. A bar top fashioned from recycled
glass will also be installed. The lounge area will be updated to
include new "banquettes, a tree root and wire sculpture, and [an] ivy wall
facade," according to press materials. Guests will wait for their tables on a porch swing that
will hang from the restaurant's central design element—a
candle-festooned faux tree that lends a certain Berenstain Bears woodsiness to the Firefly vibe. Other new elements include recycled-wood
tables, updated upholstery, and sound panels. Also, "the kitchen façade will be transformed to look like the outside of a cottage, featuring salvaged windows through which guests will be able to see Chef Daniel Bortnick and his team at work in the kitchen."


If all goes according to plan, Firefly will reopen for dinner on Saturday, September 29. The updated concept is the work of District firm Grizform Design Architects.