Ah, the "work party" outfit. In our opinion, it's one of the hardest things to plan. What clothes simultaneously say, "Yes, it makes absolute sense that I'm holding this glass of Champagne" and, "You should totally give me that promotion"? Is it okay to go strapless? What about false eyelashes? Ahh! Thirty seconds in, and we're already stressed.
Enter Annie Evans. The 33-year-old special events planner/PR consultant (she and partner Martina Stritesky are the team behind White Bow Events) spends the bulk of her working hours planning and putting on parties. Her current project: overseeing five after-parties for the DC Shorts film festival, running through September 16. In addition to generating buzz for and overseeing the soirees, she's also hosting them, which means outfit planning for a bunch of different locales and dress codes. Here, Evans dishes some absolutely indispensable advice for looking polished, presentable, and memorable—and models a few options for the shindigs she's hosting this week, styled with Marlene Hu Aldaba of Hu's Wear.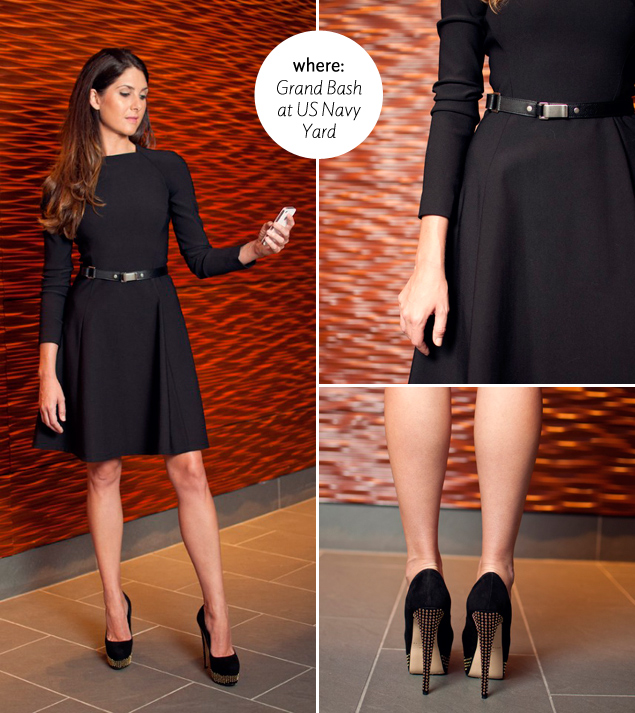 I love this fresh, modern take on the LBD. When I need to get down and dirty setting up the event, I can push up the sleeves and dive right in. The gold studding on the shoes adds a bit of glitz—perfect for a party called the Grand Bash. Proenza Schouler dress, Donna Karan belt, and Brian Atwood shoes, all available at Hu's Wear.
What guidelines do you follow when dressing for a work party?
Plan ahead and lay out your outfits prior to event day so getting dressed isn't a stressful scenario. I usually get a few new pieces to feel special at the event—even if it's something smaller like a clutch or a necklace—and mix them with my closet staples.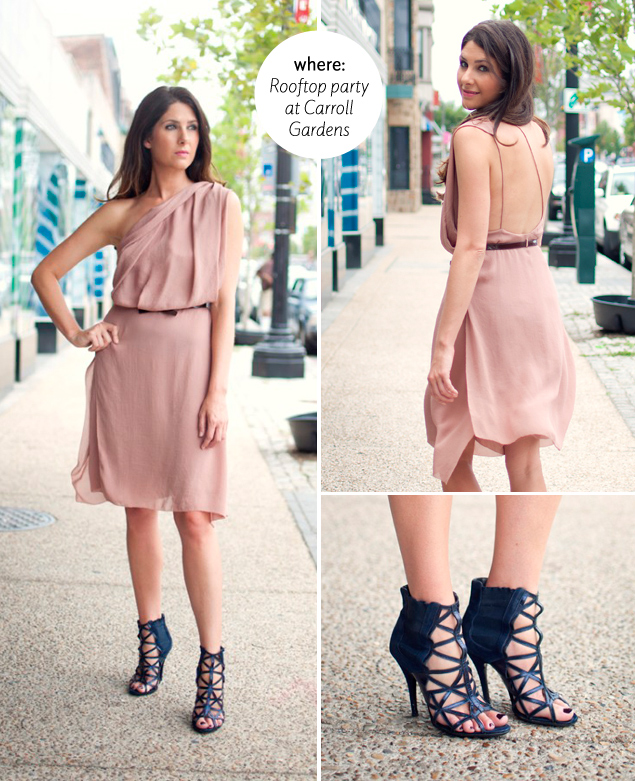 I fell in love with this Acne dress in a Soho shop window, but knew it was meant to be when I wandered in and found out the style name is "Annie." The backless cut will keep me cool during an outdoor party. Because the dress is so feminine and girly, I added a bit of edge with Givenchy gladiators shoes. Acne dress and Givenchy shoes.
What's your event beauty routine like?
I love to treat myself to a blowout for a work event—glitches are always easier to handle with good hair! My go-to DC salon is Ipsa in Georgetown.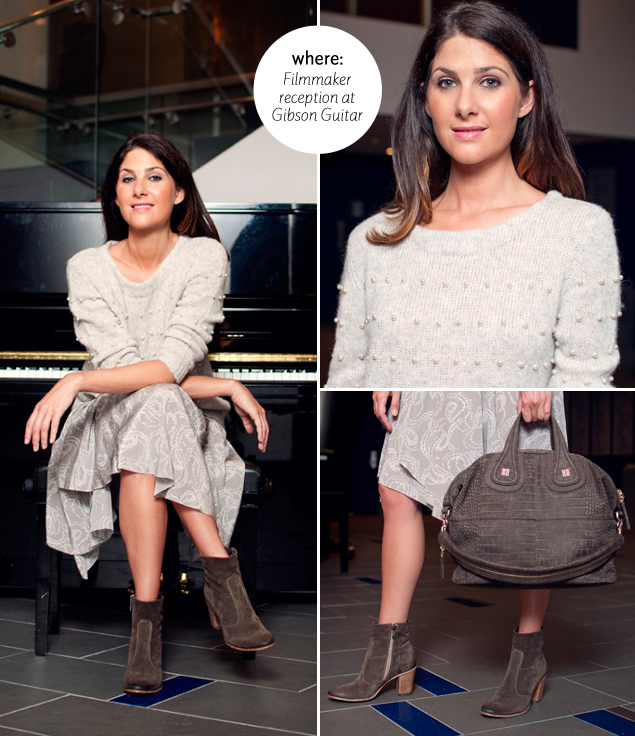 I love the laid-back cool factor of this outfit. It's perfect for a low-key cocktail party surrounded by the most talented short-film directors in the world. Girl by Band of Outsiders sweater and skirt, Alberto Fermani boots, and Givenchy Nightingale bag.
What are your go-to pieces?
I steer clear of the trendy things everyone else is sporting and instead buy pieces that express my individual style—"bohemian with an edge". I also gravitate toward dresses that have an element of surprise. My most treasured pieces are a white sequin Naeem Khan dress and a Halston gold sequin cape dress.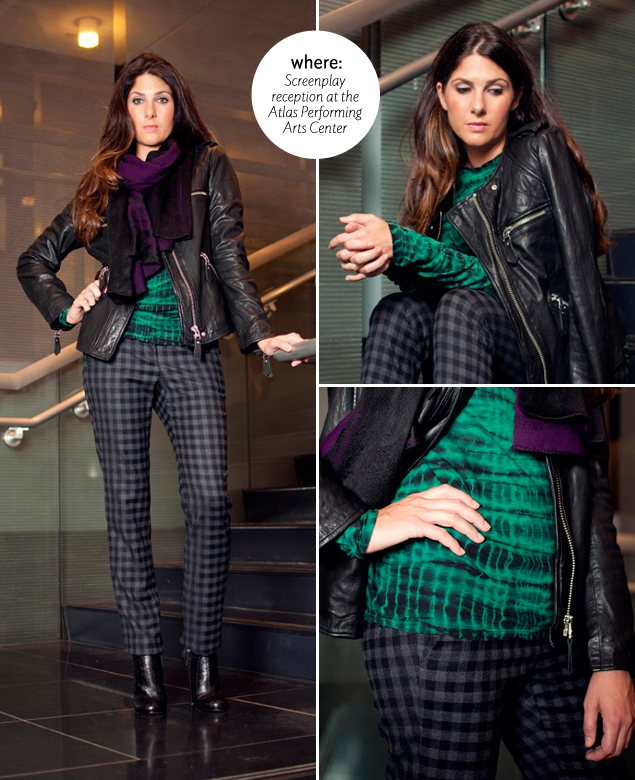 I feel fierce in this outfit. It screams "I mean business"—important when setting arrival times with caterers, florists, and deejays. Dianora Salviati scarf, Proenza Schouler tie-dye top, Isabel Marant leather jacket, ALC pants, and Fendi boots, all available at Hu's Wear.
How do you get noticed without looking garish while you're working an event?
Instead of going for a plunging neckline, opt for a killer heel that keeps your work attire from feeling too corporate. My favorites are from Alaïa, Alexander Wang, and Zara.
Photographs by Sebastian Marin, shot on location at the Atlas Performing Arts center. Hair by Ipsa Salon.