Pleasant Pops officially made the transition from food truck to brick-and-mortar this weekend, as co-owners Roger Horowitz and Brian Sykora opened the 23-seat Farmhouse Market & Cafe in Adams Morgan on Saturday morning. Here are five things to look for in the new location.
Local Pride
"Local" isn't a trendy selling point when it comes to the shop. Horowitz and Sykora got their start selling popsicles at Washington farmers markets in 2009, where they made connections with farms such as Bigg Riggs in Virginia and the Pennsylvania-based Quaker Valley—the same farms that now provide the produce and dairy for their menu. In the market section, offerings from small area producers like Gordy's Pickles, Capital Kombucha, and Langdon Wood Barrel-Aged Maple Syrup line the shelves (the latter soaks its syrup in whiskey barrels from Catoctin Creek in Purcellville, Virginia). The shop was funded by donations from friends, family, and strangers who contributed through the funding website Kickstarter.
"We were blown away by how generous people were," says Horowitz. "Being local is really important to us . . . we want to be a place that can help smaller businesses start selling."
Vegetarian and Vegan Savories
While the focus up until now has been popsicles, you'll find the makings for lunch or dinner in the cafe. The seasonal menu has two salads and three sandwiches, all made to order, including farmhouse greens with sunflower seeds, apples, and herb vinaigrette, and the "PBNJ" sandwich with peanut butter, Nutella, and Bigg Riggs Farms plum preserves on Lyon Bakery challah. An intrinsically diet-conscious operation—Horowitz keeps kosher—the Farmhouse will also stock gluten-free pastries, cookies, and other sweets.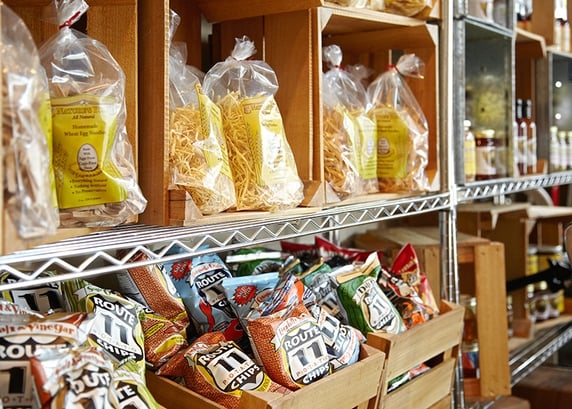 Interesting Wood
Yes, the requisite reclaimed barn wood from Virginia and Pennsylvania forms part of the design. But there are less common, and equally recycling-conscious, tree parts to be found. You can get cozy on a church pew purchased on Craigslist for $75 from a Presbyterian church in Vienna, and set your laptop on a table fashioned from 120-year-old pine donated from the Columbia Heights home of one generous Kickstarter backer.
Hot Drinks
Nothing wrong with a popsicle for breakfast, but the daily 7 AM opening calls for something a little more caffeinated. You'll find drip and espresso drinks from the Annapolis-based Ceremony Coffee Roasters, best paired with a breakfast pastry and the shop's free wi-fi. Once the weather cools, snag warm cider and hot cocoa pops—a spin on hot chocolate in which a solid chocolate lollipop get swirled into steamed Trickling Springs Creamery milk.
And, Of Course, Popsicles
Pleasant Pops is sticking to its roots, offering a rotating selection of popsicles, and keeping the truck and farmers market stands up and running. You'll see a lot of peach-based flavors over the next few weeks, and one of our favorites in the fall: Honeycrisp apple.