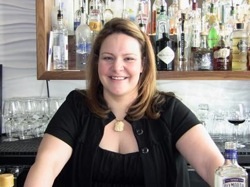 One more thing to look forward to when Gina Chersevani's Buffalo & Bergen makes its debut in Union Market: knishes. Chersevani's business partner, chef Jamie Leeds—the two women also run Hank's on the Hill together—has created a menu of knishes both traditional and original to pair with the homemade sodas and other tasty beverages on offer.
Chersevani says she and Leeds have wanted to do a knish concept for a while now but didn't have a good venue for it until the soda fountain idea was born. "A soda fountain and knishes—what two more New York and Jewish things are there?" says the former PS 7's bartender.
Each of the revolving flavors will come with its own dipping sauce—there's a noodle-filled Thai knish with chili soy sauce and a bacon, potato, and cheese knish with sour-cream-and-chive sauce. A breakfast knish is filled with cheese grits and egg, while the Indian knish is like a less-dry version of a samosa, says Chersevani, who adds that Leeds is currently working on a Chinese turnover as well. Buffalo & Bergen will stock five flavors at a time, and among them always will be a classic knish made with potato and sweet onion.
With a pending liquor license and a classic soda fountain counter in the process of being shipped, Buffalo & Bergen is still a few weeks away from opening. Meantime, there's some fun stuff going on in the space. Stop by Chersevani's station at 1309 Fifth Street, Northeast, tomorrow to try her grape and orange sodas and eat a roast beef and provolone sandwich made by fellow Union marketer Nate Anda of Red Apron. She says they'll be there all day.