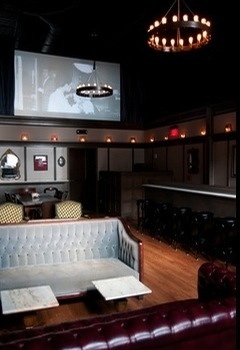 The Hilton brothers have engineered a little switcheroo at their popular 14th Street spot Marvin, Prince of Petworth first reported yesterday. They've moved the Marvin lounge into what was previously the second floor of their adjacent restaurant, Blackbyrd Warehouse. Meanwhile, the old Marvin lounge has been converted to a private dining room that can be booked for parties of up to 40 people.
We chatted with a rep for the Hilton brothers this morning, who said the restaurateurs have long been lamenting their lack of a larger space for private parties. They'll use the new room to accommodate convention center groups, birthday parties, wedding rehearsal dinners, and so forth. Additionally, they now have a good place to host brewers'
dinners, wine tastings, and other events. The change-up won't involve
any construction—some tables and chairs have been replaced, but nothing
major.
Famous for opening spaces that draw crowds right from the get-go, the Hilton brothers are also responsible for the Gibson, American Ice Company, Chez Billy on Georgia Avenue, and the new U Street rooftop attraction the Brixton. Having dropped plans for new spots on H Street and at the former HR-57 space (the latter building ultimately went to the duo behind Capitol Hill restaurant Acqua Al 2, who are planning a multi-level project called La Ghibellina), the brothers still have a number of new eateries in the works. Next up is Satellite Kitchen, a diner at 2047 Ninth Street. That should be open in the first week of October, the rep told us today. He promised to have more details soon; check back here for those.