Ten years ago, a man and a teenage boy brought Washington to a
standstill over the course of 23 days by randomly killing people engaged
in everyday activities such as pumping gas. Only a year earlier, the area
had weathered the September 11 terrorist attack on the Pentagon, which
killed 184; shortly after that, mysterious letters with anthrax spores
were mailed to two US senators and several media outlets, killing five and
infecting 17. Then the snipers.
The shooters turned out to be John Allen Muhammad, an angry man
who had lost his three kids in a custody case, and Lee Boyd Malvo, a
17-year-old Jamaican immigrant. The pair spread terror from Richmond to
Baltimore, making residents afraid to go grocery shopping, walk down the
street, attend school sports events, live their lives.
By the time Muhammad and Malvo were captured at a Maryland rest
stop on Interstate 70, they had killed ten people in the Washington area
and wounded three more between October 2 and 24.
Prelude: September 2002
Paul LaRuffa of Hollywood, Maryland: "It was
September 5. I owned a restaurant in Clinton. We closed at 10, and I left
with two people about 10:20. I got in my car and shut the door. Seconds
later, the driver's-side window exploded. All I saw was the flash of light
from the gun. Then it got quiet. I was bleeding out of my chest and said
to my friend, 'Dial 911.' The shooter grabbed the briefcase and computer
and ran down the road.
"That was the start of the sniper, but we didn't know it. There
was $3,500 in my briefcase from receipts that ended up financing their
operation. I've always said it didn't start in October. Some guy came up,
shot me, and left me for dead. Malvo later admitted it."
The snipers went to New Jersey and bought a 1990 blue
Chevrolet Caprice for $250. LaRuffa's restaurant was only a few blocks
from where Muhammad's ex-wife, Mildred—with his three children—lived in
fear that her husband would track her down and kill her.
"What's Going On?"
On October 2, Muhammad and Malvo began terrorizing the
Washington area when they fatally gunned down James D. Martin, 55, a
program analyst with the National Oceanic and Atmospheric Administration,
at 6:02 pm at a Wheaton Shoppers Food Warehouse.
Nancy Demme, then Montgomery County Police
spokeswoman: "I started as media director two weeks before Mr. Martin was
killed. I was surprised Chief [Charles] Moose put me in that position—I
had been seven years in vice. On the day Mr. Martin died, I asked the
chief if I could go to a two-week training on being a public-information
officer.
"I met with the chief that day. He said, 'You are going to be
out there with the press 90 percent of the time; I'll be there 10 percent.
I'm going to give you two mantras: Maximum disclosure with minimum delay,
and feed the press or they'll make it up.' I had no idea what either of
them meant. I left the meeting, went home, took off my uniform, got a
call, and put my uniform back on.
"Mr. Martin was on his way to get something for a church
function. A lot of people saw him go down, but no one saw the assault.
It's always hard when you have nothing to give the media, but I couldn't
explain what had happened."
See Also
A Sniper's Ex-Wife Speaks
Mildred Muhammad was married to John Allen Muhammad for more than ten years. They divorced before the attacks because of his abuse.
Read more >>
23 Horrifying Days
A timeline of the snipers and victims.
Read more >>
On October 3, four people were gunned down in daylight by a
Bushmaster XM15-E2S, a high-powered .223-caliber rifle. The day began with
the murder of James "Sonny" Buchanan, 39, who was mowing the lawn of
Fitzgerald Auto Mall in North Bethesda when he was shot at 7:41 am. At
8:10 am, Premkumar Walekar was killed in Aspen Hill while pumping gas at a
Mobil station. Twenty minutes after that, Sarah Ramos, 34, was killed at
the Leisure World plaza in Silver Spring while reading on a bench. At 9:58
am, Lori Ann Lewis-Rivera, 25, of Silver Spring was murdered while
vacuuming her minivan at a Kensington Shell station.
Vickie Snider, victim Sonny Buchanan's sister:
"I'd gone to my exercise class and had my niece's daughter with me. We
were told there was a Code Red and to be very careful. There had been a
shooting at Aspen Hill. We were told to walk to our cars together and go
home. When I got home, I turned on the TV and saw there were a lot of
shootings.
"I should have connected it. I saw the lawn mower and the
telephone pole. We were going to meet when Sonny was done, so I kept
calling to tell him to be careful.
"I was trying to get my niece's baby to sleep when the police
came. Then I had to call my parents. My oldest son was a freshman in
college, and he found out via the news. No offense to you, but some in the
media are so insensitive. They tried to interview him. He and Sonny were
very close."
Dr. Caroline Namrow, physician, who was
getting gas when Premkumar Walekar, 54, was killed: "I had one kid with
me; he was almost two. I was in the car, and there was another parked
parallel to me, facing a different direction. He was filling his car from
underneath his license plate, which I had never seen. He looked at me. I
smiled. I had opened my passenger-side window to get some air. I looked
down to get a credit card, and there was a big bang. I looked up, and the
man was coming to the passenger-side window and he collapsed. I jumped out
and saw blood down the side of my minivan. I called 911 but didn't
understand why no one was coming out to help. Obviously, they were
listening to the radio or TV.
"The man had agonal breathing—the last breath before someone
dies. I checked for a pulse but didn't feel one. I began mouth-to-mouth.
Then a policeman came. I said, 'I'm a doctor—I'll do the mouth, you do the
chest.' The victim vomited, but he wasn't alive.
"Two ambulances came, but nobody was getting out. I ran to one
and yelled, 'Get out!' Apparently, they'd been told not to until they
received an all-clear—they thought it was an act of terrorism. Everything
happened fast, but it felt like a really long time. Finally, they took him
to the hospital."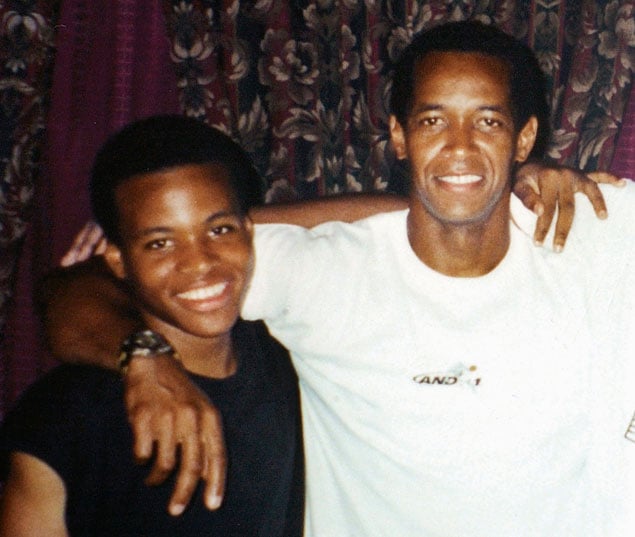 Andrea Walekar-Hempstead, Premkumar Walekar's
daughter, who was 24 when her father was killed: "One of my friends called
me because I was at home getting ready to go to work in the shopping
center at Leisure World. One lady was killed there. So I turned on the
news. I recognized my dad's cab because it had American-flag stickers on
it. I tried to call his cell phone. No answer. Me and my mom drove to the
gas station. They didn't tell us much, just that he was rushed to the
hospital. He was pronounced dead before we got there."
Brian J. Porter, then Montgomery County
Schools spokesperson: "In the middle of the first group of shootings that
Thursday morning, we went into Code Blue. It meant the schools were
shutting down outside operations, locking their doors, moving inside. All
the while, the school district was attempting to keep itself open amid
rising fears. We were wrestling with closing the schools versus keeping
them open. Keeping them open is what the superintendent did. This was
tough for a district with more than 100,000 children and 11,000 teachers.
Remember, this occurred after 9/11 and anthrax. It was a very traumatic
time."
Marion Lewis of Mountain Home, Idaho, father
of Lori Ann Lewis-Rivera: "I was working for a concrete company, running a
mobile rock-crusher out in the desert. We knocked off that day and went
back to the hotel. At about 7, I was in the shower when the phone started
ringing. It was my wife telling me about our daughter. [He begins
crying.]
"Lori decided she was going to become a nanny in sixth grade.
After high school, she got a loan to go to nanny school in Oregon. She
came to DC to work for a family with two boys. During that time, she met
Nelson and they decided to get married. They have a daughter. Jocelin is
with Nelson in California. It has been a little while since we've seen
her. Nelson got remarried. The pain of Lori's death has not gotten any
less."
Nancy Demme, then Montgomery County Police
spokeswoman: "There was a funeral for one of our officers that day, and we
had to wear our dress uniforms. I got a page to call the office. They told
me about a situation where a guy was killed while mowing a lawn; [they
thought] something jettisoned out of the machine and hit him. I continued
to get dressed and then went to pick up another officer. At her house, I
got another page. They said, 'It looks like we have a suicide down by the
Crisp & Juicy near Leisure World.' [It turned out to be a sniper
attack.] Then I got a 911 page. They said, 'You have got to get in here,
and you better wear your vest. We have a man pumping gas who was
shot.
"The media was amassing at a nearby gas station. All we could
do was tell them what we were doing and what we knew, which wasn't much. I
went to step on the curb, and they started coming at me; I fell backward.
As the day progressed, the media became very fearful for
themselves."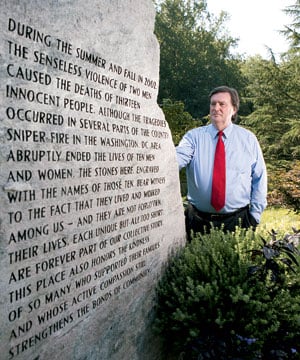 Douglas M. Duncan, then county executive of
Montgomery County: "I remember Premkumar Walekar getting killed at a gas
station. People doing nothing wrong, living their life. I said at the time
it was the most sustained terror that any community went through since the
Civil War."
"Fear was Beyond the Beltway"
At 9:15 pm on October 3, the sixth shooting took place, the
only one in the District. Pascal Charlot, a 72-year-old retired carpenter,
was walking on Georgia Avenue at Kalmia Road when a bullet ripped a
three-inch-long wound, shattered his collarbone, and opened a vein and an
artery. He died an hour later.
Greg Guise, Channel 9 videographer: "I have
always had a vehicle loaded with police and fire radios. I was driving
south on Connecticut Avenue with reporter Gary Reels when we heard
something on the radio. We'd done live shots at Aspen Hill an hour before.
There was another shooting. By this time, it was clear there was a sniper.
There were several 'lookouts' saying to watch for a dark-colored,
older-model Ford LTD or Chevy Caprice with the lights off. I said to
Reels, 'I wonder if the sniper is driving a hooptie,' a slang term for an
old car."
Charles Ramsey, then DC police chief, now
Philadelphia police commissioner: "The fear and the way it impacted the
public is what stands out. The fear was beyond the Beltway. My father, who
lives outside the area, was ill. At some point, I had to fly back to
Chicago, where he was hospitalized. I stopped and got gas. As I pumped
gas, I was looking around before it dawned on me: I'm not in DC.
It just played on your mind.
"My thought on why there weren't more killings in the District
is the snipers tended to shoot from a bit of a distance. Even with Mr.
Charlot's killing, they shot from a church where there was some signage
that was used as a sniper's nest, if you will. They were able to shoot him
as he crossed Georgia Avenue. In an urban environment, it's more difficult
to get away cleanly."
By nightfall on October 3, five people were dead and
Montgomery County police had no concrete leads. Someone had reported
seeing a white box truck speeding away from where Sarah Ramos was
killed.
Greg Guise: "This was a hugely competitive
story. Every newsroom opened the budget in terms of overtime. I spent 16
hours a day picking up a little video here and there, but most of the time
monitoring the radio. Cops were doing the same thing. They were assigned
to different locations to monitor traffic and look for the white van. I
would tell every cop the story about three DC police officers discussing
an old-model Ford LTD with its lights out. But because of the complexity
of the hierarchy and command posts, that ground-level information was
never shared.
"I could not understand why everyone was so transfixed on
citizens—not trained observers—saying they saw a white box truck.
Remember, DC cops are the best at giving lookouts on the radio while
responding to a shooting. It's something that, sadly, they are very good
at. I kept telling people they would find an old-model LTD or Caprice
connected to this."
Charles Ramsey: "Everybody was looking for a
white truck. But in the DC case, it was a dark-colored vehicle leaving the
scene without its headlights on. After a time, it became hard to believe
these guys would be using the same vehicle. I think people had started
having tunnel vision for a white vehicle. I remember [then-Arlington
police chief] Ed Flynn came up with the idea of shutting down traffic
whenever there was a shooting. That worked well except for the fact we
were looking for the wrong vehicle.
"There was a report of a white van with a couple of white guys
in it. What probably happened was the guys in the van heard the shots and
got the hell out of there. It just took on a life of its own from
there."
Gary Bald, FBI special agent in charge of
federal investigation: "There was no consensus on talking about the white
van. I wasn't sold on going out with that information. The reality was it
was the only consistent fact we had, that witnesses saw a white van. When
you are faced with people dying, it's hard to say, 'No, let's wait until
we are sure we know there's a white van involved.' "
Around 2:30 pm on October 4, Caroline Seawell, 43, pulled
her minivan into the Spotsylvania Mall, about halfway between DC and
Richmond. She parked in front of a Michaels arts-and-crafts store. (An
hour before James Martin was killed on October 2, a bullet had gone
through the windows of a Michaels in Aspen Hill.) Seawall was shot but
lived. The investigation, once centered in Montgomery County, now moved to
Virginia.
Charles Moose, former Montgomery County police
chief:"I put together a task force [of multiple police and federal
law-enforcement agencies] because I wasn't convinced that as individual
departments we were going to be as efficient. The foundation of community
policing has to be police working with other police agencies."
A Child Is Targeted
The terror was heightened when Iran Brown, 13, was shot as
he walked into Benjamin Tasker Middle School in Bowie at 8:09 am on
Monday, October 7. It was the eighth shooting.
Iran Brown, victim, now 23: "I remember every
detail, down to what I ate for breakfast: chocolate-chip waffles. My aunt
drove me to school, and it was very early because she had to go to work. I
was the first to arrive.
"I got hit right under my left chest. I fell to the ground. A
teacher came out to help me. I had my hand over the wound, but it wasn't
like in the movies with blood gushing out. I explained that I'd been shot
and needed help, but it didn't seem to register in her brain.
"My aunt heard the shot and reversed the car when she saw me on
the ground. I got up on my own and walked to the car. Of course, I'm
panicking and praying. Reality is kicking in. My aunt was a nurse, so she
knew more than the average person. She rushed me to a clinic.
"I had been watching the news. I was aware of what was
happening. I had asked our PE teacher why we were going outside if the
sniper was in the area."
Dr. Martin Eichelberger, then chief of trauma
and burn services at Children's National Medical Center: "The boy's aunt
had the knowledge to get him someplace right away. He was shot just
underneath his breastbone, and it angled up to the left to the region of
the scapula. It pretty much hit the liver, spleen, pancreas, diaphragm,
and lung. Luckily, it didn't hit his heart."
Dr. Kurt Newman, surgeon at Children's
National Medical Center: "I was driving to the hospital, and that was just
a really scary time. Chief Moose had come out on Friday afternoon saying
that at least children hadn't been involved yet. I heard a report on the
radio that there was another shooting. When I got to work, I went straight
to the operating room. It was clear the boy was on his way or may have
arrived."
Dr. Eichelberger: "We had an outstanding
surgical team coordinated by Dr. Newman, who was working with the police.
Everybody in law enforcement wanted to get into that operating room. Our
job was not to be distracted by all the things going on. The problem is
you don't know who shot him, and there has to be a way to track the
bullets. At the beginning, the issue was let's save the boy's
life."
Dr. Newman: I had a sense from having been
through this in other situations that there was going to be a lot of focus
on the legal aspects. We needed to follow some protocol. So I kept an eye
on that, and Dr. Eichelberger concentrated on the surgery.
"If Iran survived, he would have been a potential witness, so
there were security issues. For example, we changed his name so he was
anonymous. You had to have explicit permission to go near his room. This
was such a dangerous time. We thought the people who had done this knew he
was a potential living witness.
"We needed to establish a chain of evidence so that if Dr.
Eichelberger took the bullet fragment out and handed it off to somebody in
a container, it had to be initialed and clear there was a chain of
custody."
Iran Brown: "I was in the hospital for one
month. I was in a coma for one week. I had to learn to walk again. I had
tubes in my stomach, my nostrils, my throat.
"Let me make one thing clear—once you have been shot, you will
never be 100 percent. But I'm just as healthy as the next person. Of
course, I get shortness of breath faster than I did. I believe I only have
a partial pancreas.
"People ask me about it almost every day. They just saw me on
TV—they don't know I had to go through a lot of therapy and try to be a
regular kid. But what happened is not what defines me. Being shot by the
sniper is not half of what I've been through."
When Chief Moose began the news conference about Iran
Brown's shooting, his voice quivered:
"Today it went down to the children. Someone is so
mean-spirited that they shot a child. . . . Now we're stepping over the
line, because our children don't deserve this." Moose faltered and shed a
tear. "So, parents, please do your job tonight. Engage your children. Be
there for them. We're going to need it. . . . Shooting a kid, I guess it's
getting to be really, really personal now."
—from "Sniper: Inside the Hunt for the Killers Who
Terrorized the Nation" by Sari Horwitz and Michael E.
Ruane
Charles Moose: "I don't know if I could say
[Iran Brown's shooting] was a breaking point, but it really demonstrated
the evil. None of the victims did anything to deserve their fate, but
certainly a child didn't.
"When I was in law enforcement, I really cared about what I was
doing. It didn't mean I cared less about any other victim or any situation
I was involved in, but during that time it was very emotional. The people
on the task force worked as diligently and urgently as they could. There
were certainly portions of the investigation that were technically turning
points, but I don't think Iran's shooting was anything that caused people
to start to care. They already cared."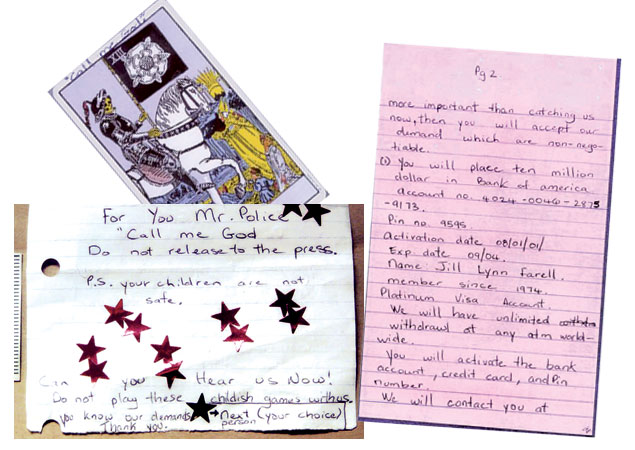 Leaks and Bulletproof Vests
At the scene where Iran Brown was shot, police found a
shell casing and a tarot card inscribed "Call me God." On the back was
written "For you Mr. Police," "Code: 'Call me God,' " and "Do not release
to the press." TV reporter Mike Buchanan broke the story of the tarot
card, which Moose didn't want made public.
Mike Buchanan, then Channel 9 reporter: "I got
a call from a police source, a friend. He said, 'Do you have any idea what
the note said? I understand the sniper is leaving notes.' After about two
dozen phone calls, it turns out to be a tarot card with a message. We
figured the police are going to ask us not to use it. I guess it was 8
that night when I had it confirmed.
"I called the Prince George's public-information officer and
asked to talk to the chief. The officer said, 'That won't be necessary.'
They knew I was coming, that I knew the information. They gave me a
statement that basically confirmed it. So we went with it that night on
the 11 o'clock news.
"The next morning, Chief Moose came out for a news conference
and essentially said, 'If Channel 9 wants to solve this case, fine.' I was
never allowed a rebuttal. It was as if the Montgomery police had no
notification that the story was going to be done. I became the bad guy.
Obviously, the police were not talking to each other. All Prince George's
had to do was notify Montgomery County, and I'm sure they would have
called my boss and said, 'Don't use this.' "
More than 1,300 press credentials were issued to cover the
story in Montgomery County alone. While the task force needed the media to
convey information, the press also posed an enormous
challenge.
Gary Bald, FBI agent: "We had journalists
following our investigators while they were doing surveillance, going up
to the door and asking, 'Why are the police watching you?' There were
leaks in the investigation that caused real problems. The challenge was
there were thousands of journalists. It was a tent city of trucks, towers,
Porta-Pottys. They were sleeping in the parking lot [at task-force
headquarters in Rockville]."
Nancy Demme, then Montgomery County Police
spokesperson:"I didn't think about being a target until some reporter
suggested we might be. We had [police] snipers watching us on the roof
during press conferences. We didn't want anyone taken out while on camera.
We moved the satellite trucks together to eliminate a line of sight. Some
of the media asked if they should wear bulletproof vests. I said, 'You
can, but a .223 would go right through it.' "
On October 9, Dean Harold Meyers, 53, of Gaithersburg was
shot dead while pumping gas at a Manassas Sunoco station near his office.
It was the third shooting at a gas station.
Brian J. Porter, then Montgomery County
Schools spokesperson: "The Washington Post published guidelines
about how to walk down the street, advising people to walk zigzag. You try
walking across the school parking lot zigzagging. You're thinking, 'This
is nuts.' But what if it isn't?"
Ira DeGrood, then athletic director at
Stonewall Jackson High School in Manassas: "The thing I remember more than
anything now seems comical. Things still needed to get done even if we
weren't allowed to go outside, so I was out on the tractor cutting grass
on the football field. My principal, who didn't run a lot, came flying out
running and yelling, 'Put the tractor away—the grass will be there
tomorrow! Come inside!' "
Brian Porter: "The biggest difficulty facing
the school district was keeping emotions in check and the schools
functioning. We didn't do Code Blue just once—it was done repeatedly.
There were eight days where the school system implemented a Code Blue and
20 days when the district prohibited outside activities in the
county."
By October 10, the Montgomery County Reward Fund,
established to get tips that might lead to an arrest, grew to more than
$305,000. On October 11, Kenneth Bridges, a Philadelphia businessman with
six children, was killed while pumping gas at an Exxon station off I-95 in
Spotsylvania County near Fredericksburg.
Jocelyn Bridges, Kenneth Bridges's widow:
"He's still taking care of me and the six children—who are not children
anymore. My husband was a man, honey. He loved us bigger than snipers and
death. It's even giving me comfort to know he was here. My husband loved
people. I didn't have a wonderful attitude about life, but I do now. This
was a gift."
Vickie Snider, victim Sonny Buchanan's sister:
"Each time another life was taken or injured, my heart broke all over
because another family would go through what we were. The day of the
funeral as we arrived at the church, Kenneth Bridges was
killed."
"We Were Winging It"
On October 11, thousands of tips flooded an FBI hotline. On
October 14, the sniper fatally gunned down FBI analyst Linda Franklin
around 9 pm as she and her husband were loading their car at a Home Depot
in Falls Church.
Bruce Guth, then homicide supervisor for
Fairfax County: "There were so many leads coming into Montgomery, they
didn't have enough people, so they wanted a Northern Virginia task force
to run down leads. I became the supervisor. A day or two later, Linda
Franklin gets shot. Everybody was pretty sure Fairfax County would get hit
sooner or later. We had a plan about who was going to do what. It was a
pretty complex operation, in retrospect. We were winging it."
Patty Craley, programmer analyst and mother of
two, McLean: "I was manager of a girls' soccer team, the McLean Rockets.
There was concern about having outdoor practices. We started having indoor
practices as a result. What was problematic was that every other
competitive team in the area was doing the same. Therefore, there was
limited practice space and time for all teams. Some parents took their
kids out of school.
"How did it affect me? Life is short. Get to your bucket list.
I am sure the person who was killed at the Home Depot thought she was
coming home."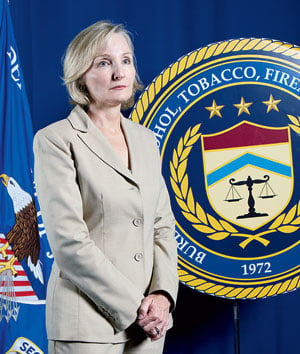 April Carroll, co-case agent for the Bureau of
Alcohol, Tobacco, Firearms and Explosives: "My husband and I are ATF
agents, and we'd just moved from Seattle to Vienna. I had three
elementary-school-age boys. In the past, we could always separate work
from family, but this affected every minute of every day. We'd run through
parking lots. I'd try not to get gas when I was with family. Once while I
was pumping gas, I said to my boys, 'You have to get down on the
floorboards.' "
On October 19, Jeffrey Hopper was shot as he and his wife
walked toward their Cadillac in the parking lot of a Ponderosa Steakhouse
in Ashland at about 8 pm. He survived.
Nancy Demme, then Montgomery County Police
spokesperson: "When Jeffrey Hopper got shot at the Ponderosa, [the
snipers] left a letter on a tree. We took that letter so there would be no
leak. Because Richmond closed its schools and we didn't, there began to be
all this suspicion in the media: There must be something in the
letter. It did leak that there was a letter. The media really wanted
the content, and they wanted it bad.
"At 6 am, I got a call from one of my sisters in Bethesda: 'If
Shannon [Demme's niece] was your daughter, would you let her go to
school?' I went to the chief after talking to my sister: 'I know we said
we are not going to put this information out, but the public believes,
because of what the media are doing, that we are withholding information
that would keep their children safe."
The Cops, the FBI—and Tension
Law-enforcement agencies were having discussions about
whether to try to communicate with the sniper. At the time, they believed
it was one person.
Gary Noesner, then chief of the FBI's
crisis-negotiation unit: "There was a point where the snipers kept leaving
notes for law enforcement to find: 'We want you to say that you caught the
sniper like a duck in a noose.' It was my view and that of the
negotiations team that we needed to respond. I thought the killings had
continued in part due to the fact that we weren't doing what the snipers
asked. The FBI profilers felt that by responding we would further empower
them. My view was that failure to respond would prompt them to engage in
more violence. It seemed to me they felt pretty empowered as it
was.
"The negotiations team agreed that some type of response was
needed. Chief Moose and the ATF commander also agreed. There was a meeting
where I made an argument for our recommendation. Gary Bald, the FBI
on-scene commander, wasn't there. He later overruled our recommendation
without talking to me. He supported the profilers who opposed any
response.
"I have found that law-enforcement officials often have an
inflated belief in what profilers can provide. Too often this is based on
TV depictions rather than a track record of what profilers can do.
Profiling is an important tool, not the be-all and end-all."
Gary Bald, FBI agent: "I don't remember Gary's
role in this or whether I had tension with him."
Gary Noesner: "It was our unanimous belief we
should make a comment. I believe our failure to respond to the snipers'
demand resulted in the final victim being murdered the following night. A
note was found at this scene that said something like 'You didn't do what
we told you to do.' I was furious at Gary Bald's disregard for the
negotiation team's advice."
April Carroll, ATF agent: "Traditionally,
serial-homicide investigations fall under the FBI, but considering the
violence associated with firearms-related homicides, we got involved. The
suspects were smart. Even they knew that by bringing in multiple agency
jurisdictions, that would cause chaos. They knew that the more people they
brought to the table, the more likely it was to cause
difficulties."
Every morning there was a conference call for all the
police chiefs from Baltimore to Richmond. Moose would kick it off, and
Bald would do an operational briefing.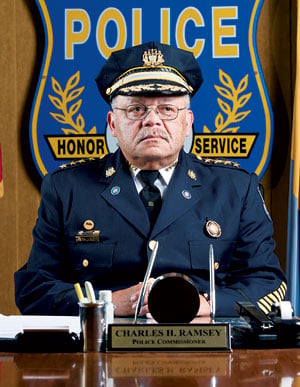 Charles Ramsey, then DC police chief: "One of
the most difficult things in any investigation—and this covered different
states—is keeping people in the loop. Even the chiefs who didn't have a
homicide wanted to know. There was a smaller group who had had a murder.
There was a larger group who wanted to be informed. There was definitely
tension."
There was a push by politicians for the FBI to take over
the investigation from Montgomery County. Criticism was rife over the fact
that Moose was handling a case that extended beyond his
county.
Gary Bald: "The reality was Charles Moose was
in charge, and that was the way it needed to be. If you are the sniper and
the FBI steps to the podium, what do you think the reaction might be? It
would be 'I'll show them.' For me to take over the case, I would have had
to have a good reason. I have so much respect for Charles, and he deserves
100 percent of the credit for a model—albeit with flaws—of how to leverage
the expertise of many police departments and resolve it in 23 days.
Basically, Charles convinced chiefs to join up and let our task force
become the responder even though the shooting was not in Montgomery
County. It cut out so much time to get past egos."
Terror Ends at a Rest Stop
Conrad Johnson, 35, a Silver Spring bus driver, was killed
on October 22 at 5:56 am while standing on the steps of his bus in Aspen
Hill. Johnson was the tenth and last person killed in the Washington
rampage; three were shot and wounded.
Gary Bald, FBI agent:"Malvo placed a phone
call saying, 'You'll never catch us. You didn't catch us in Alabama when
we killed two people.' That was a turning point. We were able to find the
shooting in Montgomery, Alabama, at a liquor store. [The September 2002
Alabama killing had been written off as a robbery and initially not
connected to the snipers. Only one person was actually killed; the second
was wounded.] Among the evidence was a magazine that had never been
processed for fingerprints. It was taken to FBI headquarters, and we
identified Malvo's prints.
"Some things that didn't come out at the trial helped point us
to the snipers. We always had a suspect list. Some would wash out, but
Muhammad and Malvo just kept getting stronger. We found Malvo's prints at
the scene of the shooting in Alabama. Malvo had a link to Muhammad. And we
knew Muhammad had a stolen .223.
"We decided to go to the public to ask for help. Here's the
challenge: We didn't know for sure it was them, but I didn't want to wait
until the following morning and have someone else be dead. You don't want
to put somebody's reputation out there and damage it if you are not sure.
This was a tough decision. It turned out to be the right one."
Whitney Donahue, a refrigerator repairman, heard the pleas
on the radio. Police were looking for Malvo and Muhammad and a car with
New Jersey plates, NDA-21Z. On October 24, Donahue pulled into a rest area
in Frederick County and spotted the blue Caprice. He dialed 911 and stayed
on the phone with dispatchers for two hours. Around 3:30 am, police
swarmed the Caprice and arrested the pair.
Donahue received a $150,000 reward. Robert Holmes of
Tacoma, Washington, got $350,000 for tipping off police that his friend
Muhammad might be the sniper.
Gary Bald: "I arrived [at the rest stop] and
we put on vests and protective equipment. The scene had been secured by
police. The SWAT team pulls Muhammad and Malvo out of the car and has them
under control. They are not resisting. I am looking at the vehicle, going,
'Oh, man. Where is the gun?' These people were living in their car. The
gun was hidden. When they finally found the weapon, that was when you
started feeling that the decision [to ask for the public's help] was
right."
Nancy Demme, then Montgomery County Police
spokesperson: "Somebody called me and said, 'You gotta come in.' I'm
driving in thinking, could we really have these guys? I got to the office
and heard this clip-clop, and it's a woman in high heels running after me:
'I know this is nothing, but can you give it to the officers inside?' It
was a box of doughnuts. She started crying.
"That day the public brought food. They brought thank-you
cards. Some kids made a poster saying, 'Thank you for letting us play
outside again.'
"I never did go to media training."
Charles Moose, then Montgomery County police
chief: "The energy and relief was incredible. Law enforcement tends to be
somewhat thankless. The old joke after the sniper was that we moved into a
period that when everybody waved at us, they used all five
fingers."
Getting a Killer to Talk
John Muhammad refused to speak about the crimes, denying
involvement, but Malvo opened up to Fairfax police.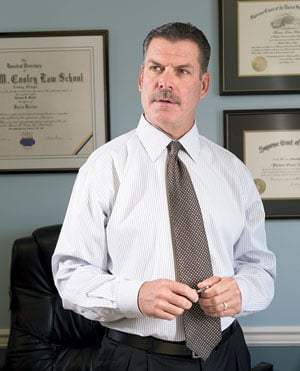 Brad Garrett, FBI agent who was part of the DC
Sniper Task Force and who, with Fairfax County detective June Boyle,
interviewed Malvo for six hours: "June and I go in and ask him if he's
hungry. He says yes but doesn't want anything with meat. So we send an
officer to Fuddruckers to pick up two vegetarian sandwiches. After he's
eaten, we say we want to talk. He just smiled. The thing that struck me
was he wasn't making eye contact."
The usual questions didn't work, but Malvo perked up when
Garrett started talking about the movie "The Matrix."
Brad Garrett: "He gets more comfortable. We
Mirandized him. He asks if he needs a lawyer, and eventually he waives his
rights. Then we start asking about what we believe they have done. He
would not voluntarily give us a narrative.
"You had to tee the ball up: What about Home Depot? He would
smile. Who did the shooting? He told us that he did all the shootings. He
kept referring to Muhammad as his father and was very protective of him
and would not give us any substantive information about him. He said they
planned things together and figured out where and how to shoot together.
He puts Muhammad in all of it but never puts a gun in his
hand.
"The common theme was that no victim was picked for any
particular reason. And the locations were random—they were just trying to
figure out where they could shoot from. He commented that Home Depot was
so easy because they were across the street and it was dark. They could
look down across Route 50 into the lighted garage. He said it was a great
target. Originally, he was going to shoot Linda Franklin's husband, then
they switched places as the Franklins loaded a piece of wood into a small
car. My take was he was a kid who has had a very difficult
childhood."
Tom Walsh, one of Malvo's court-appointed
attorneys: "I had empathy for Lee. He didn't stand a chance once he got
under Muhammad. It's a terrible case because now this young man who is 27
is in jail for the rest of his life. And you have ten families or more who
have lost loved ones. It's all senseless."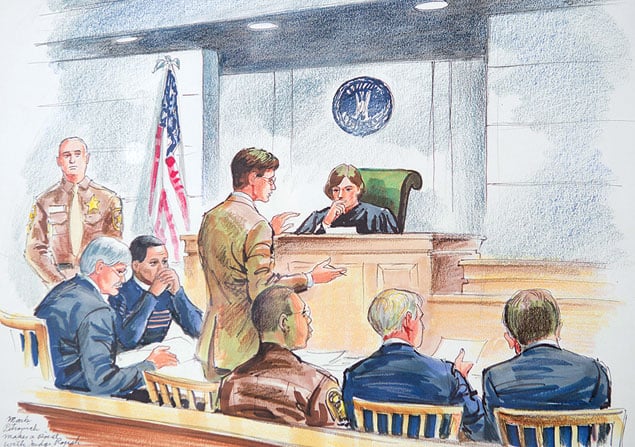 Two Trials, Millions of Dollars
After squabbling among the feds, Maryland, and Virginia
over which jurisdiction would try Malvo and Muhammad, it was determined
that Muhammad would stand trial in Virginia Beach for the murder of Dean
Meyers. Malvo would be tried in Chesapeake, Virginia, for Linda Franklin's
murder. For complicated jurisdictional reasons, government officials chose
to try the snipers for those two killings. Virginia courts were select-ed
because of their vigorous use of the death penalty.
The trials were held in 2003. The courts decided neither
man would get a fair trial in the Washington area.
Bruce Guth, supervisor, Virginia Prosecution
Sniper Task Force: "We rented a building in Centreville and built a
reinforced room with a safe to hold evidence. For Malvo we had 240
witnesses, and over half had to fly in; we had to pay per-diems and
hotels. We took the little circus to Virginia Beach and rented out a hotel
wing. We ended up living at Virginia Beach for the trials for almost six
months. I'd say it cost a couple million dollars between the two of
them.
"We were working 18 hours a day for months. It was the most
professionally challenging thing I'd ever been involved with. We became so
close over that year and a half preparing and the other six months of
trials that I knew about everyone's kids. It was very demanding, though. I
ended up with an ulcer."
Iran Brown, who was shot outside his school at
age 13: "The FBI told me to not look at Muhammad during the trial. They
thought he would try to intimidate me. But I did anyway. I'm not in fear
of either one. It was a crazy time, but I feel like I have handled it as
productively as I possibly can."
Vickie Snider, sister of victim Sonny
Buchanan: "I went away every week and left my family to attend the trials.
My conclusion was, and so many people will differ, but I believe Malvo was
the shooter in most of them. But Malvo confessed to only two—Iran Brown
and Conrad Johnson. And maybe Jeffrey Hopper. Conrad was the only one who
died.
"I don't think we'll ever know why they did it. A lot of people
had sympathy for Malvo because he was young. I don't believe he was
brainwashed. I believe they both enjoyed what they were
doing."
Tom Walsh, attorney for Malvo: "What sticks
out is Conrad Johnson's wife at the trial. Her testimony was so
compelling. She didn't have anger toward Lee. It was more about how it
affected her life. She talked about how Conrad Johnson would write love
things on the mirror in the morning and then was gone forever. She wasn't
lashing out at Lee the way Pascal Charlot's daughter screamed that he was
evil. Linda Franklin's husband's 911 tape was just devastating. The horror
in his voice will never leave me. They were picking up some hardware
stuff, and the next thing you know she's gone.
"For Malvo, our goal was to save his life."
Dr. Caroline Namrow, physician who tried to
save Premkumar Walekar at the scene of his shooting: "I went to both
trials for Muhammad and Malvo. Malvo's was most disturbing. He looked so
young. And he was proud—he described what he had done in graphic detail
for the detectives. At his trial, he was doodling on his pad and was very
detached. It was shocking."
Malvo, now 27, was sentenced in March 2004 to life without
parole after being convicted of two capital crimes. He is in the
maximum-security Red Onion State Prison near Pound,
Virginia.
Larry Traylor, director of communications,
Virginia Department of Corrections: "Malvo is in segregation status.
Because of that, he is not eligible for interviews. About the only thing
you could do is write to him regularly. He has been in administrative
segregation since he arrived. This was done due to his notoriety, crime,
and his young age."
The Execution of John Muhammad
On November 10, 2009, John Allen Muhammad was put to death
by injection at Greensville Correctional Center in Jarratt,
Virginia.
Charles A. Charlot, Pascal Charlot's cousin:
"I went to the trial and then said, 'I'm not going to watch the
execution.' My cousin was maybe suffering when he got the bullet—I didn't
want the memory of seeing that man die peacefully."
Paul LaRuffa, shooting victim: "I told them I
wasn't going to the execution. I wrote a letter to be read to the people
there about why I wasn't there. I understood why they were, but I wasn't
going to let him waste another day of my life. I did not need to see him
die to make me feel better."
Marion Lewis, father of Lori Ann Lewis-Rivera
who, with his daughter's husband, Nelson, witnessed Muhammad's execution:
"As far as I'm concerned, the kid should have died, too. That's not going
to happen—I've accepted that. Maybe he can do something to appease God so
he doesn't burn in hell.
"My wife and I have always been proponents of capital
punishment. My only misgiving was that Muhammad died too easily. They
stuck a needle in his arm.
"Yeah, there was some comfort. Nelson and I watched while he
died, and then we went to dinner and were in a lot better mood. After
feeling justice had been served came the realization this man was no
longer in existence. He wasn't worth the time we spent thinking about him.
I thought about him for a brief moment the other day when they announced
they were going to execute a murderer in Idaho. I think about my daughter
quite often."
Andrea Walekar-Hempstead, whose father,
Premkumar Walekar, was killed: "The execution was creepy. It looked more
like a medical procedure. I was hoping it would bring some closure, but it
didn't. I actually felt bad for Muhammad's kids. These kids don't have a
father, just like I don't have one."
Iran Brown, shooting victim: "I got invited,
but there were so many victims involved that they didn't have a seat for
me, so they offered me a seat in the overflow room. I did not attend. If I
had had a seat behind the glass to see him executed, I definitely would
have. Watching him die would have been part of the process.
"Malvo was the one who actually shot me. I could never wish
death upon anybody—even Muhammad. I feel only God can judge us. From what
I heard from people who have had contact with Malvo, he showed a little
remorse, as opposed to Muhammad, who showed no remorse to me.
"I plan on seeing Malvo one more time. I want to visit him—just
to let him know he couldn't break me. Whatever their goals were, I want to
let him know they failed. I want to let him know I have forgiven
him."
Legacy and Memory
Andrea Walekar-Hempstead, whose father was
killed: "My dad has missed out on so much. He wasn't there to walk me down
the aisle or for the father/daughter dance. I did a slide show of him at
the wedding. There's a Luther Vandross song, 'Dance With My Father,' that
we played. I think I have made peace with his death, but I wonder if he
would be proud of me."
Greg Clontz, who was friends with victim Sonny
Buchanan since seventh grade: "I would not have met my wife, Jodi, had
Sonny not been killed. We met at the funeral. She knew I was real close to
Sonny, and we got talking. After about a year, we got married and have
been together eight years or so. I also got a stepdaughter. Jodi also
helps with Sonny's Kids Foundation."
Vickie Snider, victim Sonny Buchanan's sister,
secretary of Sonny's Kids Foundation: "My son said Uncle Sonny always
wanted to start a foundation, and we can carry out things he believed in.
There was such an outpouring, and people were sending money. I just put it
in Sonny's Kids. So far, around 30 kids have gotten scholarships. As of
last year, we've given $117,590 through our golf tournaments.
"Not a day goes by that something doesn't remind me of Sonny. A
song on the radio. A shooting star. A beautiful garden. Malvo and Muhammad
may have taken his life but not his love."
Charles A. Charlot: "I would like to stop
because I miss my cousin very much, and you are bringing things back.
Please don't call back. It will be the same pain, and I will not get my
cousin back by talking about him."
Alicia Shepard, former NPR ombudsman, is a visiting journalism professor at the University of Nevada, Las Vegas. She can be reached at aliciacshepard@gmail.com.
This article appears in the October 2012 issue of The Washingtonian.