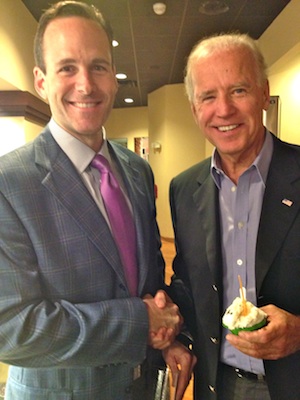 President Obama is known for indulging his burger habit, but Vice President Joe Biden prefers Italian comfort food. The VP dined at Pete's Apizza in Friendship Heights last night with his granddaughter, which is his third recorded trip to the New Haven-style "apizza" eatery.
A source tells us Biden frequents the restaurant every couple of months, and even has a regular dish: spaghetti pomodoro, a vegetarian dish of fresh pasta tossed in a house-made tomato sauce with basil, served with a side of warm focaccia bread. His granddaughter is known to prefer the plain cheese pizza.
Lawrence Calvert, a realtor with Sotheby's International Realty, caught the Vice President as he was finishing up the meal with a small scoop of gelato.
"Is it cheesy that I gave him my business card?" says Calvert. "After [the debate], he may be looking for a house."