Nightlife impresarios Eric and Ian Hilton seem to know exactly what DC revelers want: a moody speakeasy (the Gibson), sprawling rooftop bars (the Brixton), and beer in Mason jars (American Ice Company). With the Satellite Room, opening Tuesday, October 9, they add another winning concept to that list: 1960s-style diner.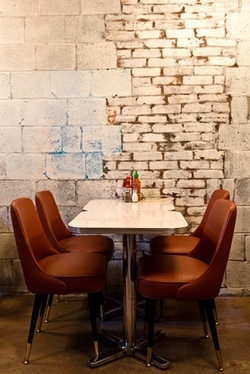 Since it's tucked directly behind the 9:30 Club, you may be able to hear sound checks through the exposed-brick-and-concrete walls as you grab a booth or one of the '60s-style tables. Edit—the design firm behind American Ice and the Brixton—channeled retro diners in Los Angeles for the aesthetic, though the industrial building still feels more U Street than Bob's Big Boy. The lineup of comfort dishes reads more classic, with plates of meatloaf, fried chicken, patty melts, and chicken-fried steak, and sides like mac and cheese and tater tots. Other nods to California comfort food: huevos rancheros and four varieties of taco—grilled skirt steak, chicken, roast pork, and fried fish, all served in corn tortillas.
While the weather is quickly becoming too cool for comfortable outdoor drinking, you can head to the covered back patio year-round, which is kept toasty with the help of industrial-strength heaters. There, you'll want to grab one of the ten booze-infused milkshakes, which range from traditional (the Vincent Vega, with vanilla ice cream and bourbon) to unconventional (the avocado-and-tequila A.C. Slater). In true Hilton style, both shakes and food are on offer until last call.
Satellite Room. 2047 Ninth St., NW. Open Monday through Thursday 5 PM to 2:30 AM, Friday and Saturday 5 PM until 3 AM.