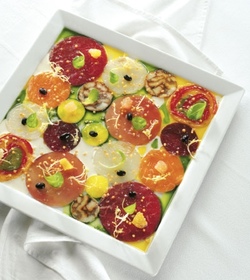 News came from the City Paper this morning that M Street eatery Mie N Yu shuttered this weekend after ten years in business. Best known for its beautiful bathrooms, the restaurant is the latest Georgetown dining destination to throw in the towel. Let's take a look back at some other recent closings.
Papa-Razzi
It was a springtime death for the Wisconsin Avenue location of this East Coast Italian chain.
Michel Richard's flagship eatery in the Latham Hotel at 3000 M Street closed this July due to flood damages. The shutter came months after the closure of Richard's Tyson's Corner eatery, Michel. While every possible scenario surrounding the restaurant's fate has floated around the rumorsphere, its fate remains a mystery—only time will tell whether Citronelle will reopen at the Latham or elsewhere, if at all.
La Madeleine
The Dallas-based bakery's Latham location was also forced to close thanks to damages. It may well reopen—we have a request in with corporate headquarters for an update.
The Guards
Lease disputes reportedly led to the demise of historic M Street restaurant and watering hole the Guards this August.
Georgetown Falafel and Koshery
The short life of this Prospect Street spot ended late this summer.
Uno Chicago Grill
This pizza spot at M and Wisconsin hung up its hat in September after more than 30 years in business, according to Georgetown Metropolitan.
Fino Italian Restaurant
Prince of Petworth reported in September that the restaurant was abandoning its 3011 M Street, Northwest, address for new digs at 1230 Ninth Street in Shaw.