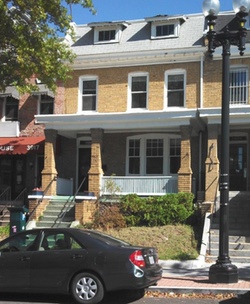 On Monday, Prince of Petworth brought news that the crew behind the Blaguard in Adams Morgan acquired a property in his fiefdom (3911 Georgia Avenue, Northwest, to be exact) for a new bistro and beer garden. We stopped by the Irish pub to get a few more details from co-owners Blaine King and Nic Makris (Elizabeth Makris, Nic's wife, is also a partner in both operations).
The three born-and-bred District denizens are hoping to take the friendly, neighborhood vibe of the Blaguard and apply it to the bistro, with a new emphasis on a chef-driven menu. Given that they just signed on to the space a week ago, many details are up in the air—including who said chef will be. Construction ideas are in the works for transforming the circa-1922 townhouse into a functioning restaurant: There's a plan to level the front yard for a small outdoor cafe and keep the attached walk-in floor accessible through French doors so that diners could still get a view of a 60- to 70-seat beer garden in back. The second story could be used for private event space or for overflow guests.
While the choice of a chef will direct the menu items, King and Makris envision the kind of high-quality comfort food you want in a neighborhood joint, with steak frites alongside specials such as paella. Outside, you may find steins of beer, but the focus will be on American—and specifically Washington-based—craft brews.
"It's part of the larger part of what's going on in DC," says King, of the small, locally owned restaurants, breweries, and distilleries popping up with increasing frequency around his hometown. "When we were growing up, it was all flight. It's cool to see DC locals come and embrace the city." There's hope that the still-unnamed project could be open within a year. Check back here for more details.