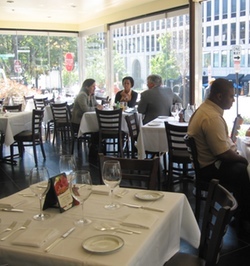 The DC Palm Restaurant has announced its upcoming 40th Anniversary celebration, which will will happen Tuesday, November 20, at the 19th Street, Northwest, restaurant.
The $200-per-person cocktail party will benefit Share Our Strength, a charity that combats childhood hunger. Reservations are on a first come, first served basis, and the restaurant says it will cap the guest list at about 300. (The first notice of the party went out Friday to people on the Palm's mailing list.)
Co-owner Wally Ganzi is expected to come down for the party, which will run from 6 to 9 PM and include an open bar and a special selection of "Palm favorite" hors d'oeuvres. Reservations can be made with Geoff Bosworth by calling 202-293-9091.