On October 29, former BLT Steak chef Victor Albisu debuts a weekly pop-up at Black Jack featuring menu highlights from his Falls Church taqueria, Taco Bamba. Taking over the 14th Street sister bar to Jeff Black's Pearl Dive—usually closed on Mondays—the event requires no reservation.
When the permanent Taco Bamba opens in late fall at 2190 Pimmit Drive, its menu will have three main sections, says Albisu: classic tacos, such as al pastor; "chef-driven" tacos; and "not tacos"—including a Bamba burger, sweet-and-spicy Bamba wings with pineapple and habanero with "our own version of a ranch dressing," ceviche, and wood-grilled corn with mayonnaise, Mexican cream, chile con limon, and cotija cheese. There are also desserts—seasonal fruits dressed in spices, churros, and arroz con leche among them.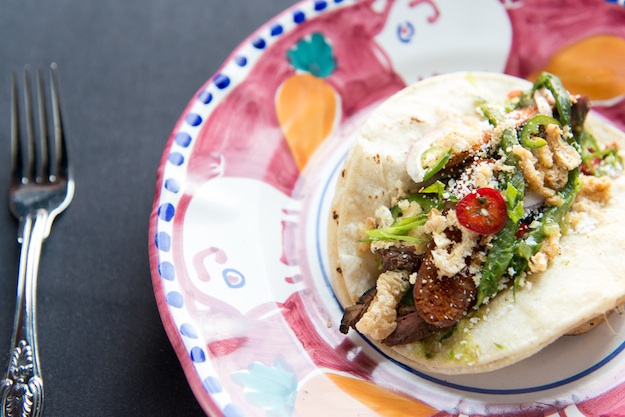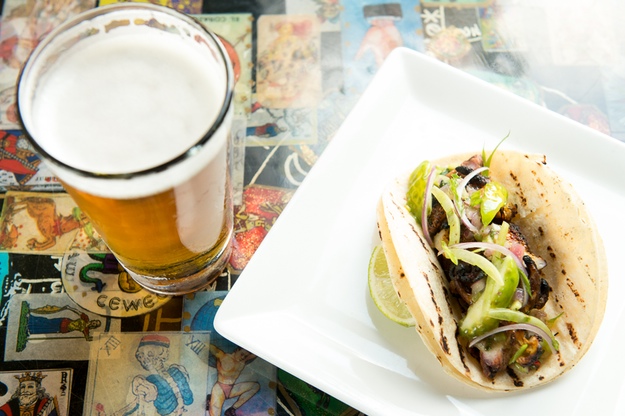 Albisu's signature tacos include the Crispy Kiss, with pork tongue, beef tongue, scallions, and red chili aïoli, and the Duck Tinga, with duck leg, crispy skin, charred endive, and chipotle crema. There's also a portobello mushroom taco and a Surf and Turf. It's these newfangled creations the chef plans to highlight during the preview. "I don't envision myself doing a lot of the traditional stuff during the pop-up. I might take a version of tacos al pastor and do an Ibérico pork or Ibérico pork belly and elevate it," he says. "But that's about as traditional as we're going to get."
One thing you'll see a lot of: grilled guacamole—its ubiquity at Bamba sort of symbolizes the freedom that the classically trained Albisu feels in developing his own casual project. "I remember coming up through the ranks, you couldn't repeat the same thing in any other dish," he says. "So I'm repeating it all over the place."
Taco Bamba pops up between 6 and 11 PM Mondays at Black Jack (1612 14th Street, Northwest) from October 29 through December 17, no reservations required. The menu will be updated weekly on the Taco Bamba website.
Also worth a read:

An Early Look at Fuego Cocina y Tequileria (Pictures)
El Chucho Starts Serving Brunch (Menu)