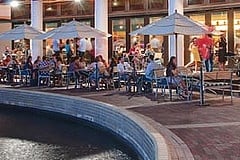 The Georgetown waterfront—where Fabio Trabbochi is planning a seafood spot and the owners of Napoleon Bistro are opening Malmaison—will soon welcome another eatery: Washington Harbour restaurant Farmers Fishers Bakers. Before it was badly damaged in a 2011 flood, the restaurant—a sister business to Founding Farmers—was known as Farmers & Fishers.
We recently laid out much of what you can expect from the revamped spot, which will feature a sushi bar as well as an American menu. Today, a rep sends word that service will resume on Wednesday, November 7.
Eager beavers looking to make reservations can do so starting Wednesday, October 24. Like its coming neighbor Malmaison, Farmers Fishers Bakers was designed by Washington firm GrizForm and showcases locally created art.
Farmers Fishers Bakers. 3000 K St., NW; 202-298-8783.
See also:
Nick's Riverside Grille and Tony & Joe's Now Open at the Georgetown Waterfront
Some New Details About Malmaison