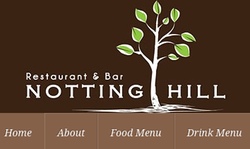 Word came at the end of the summer that a new eatery, Notting Hill Restaurant & Bar—which borrows its name from the famed London neighborhood—is slated to debut in the former Le Gaulois space in Old Town. The name isn't the only thing it has borrowed. While little has been released on the project, the restaurant's website showcases what appears to be details about the space and menu—as well as a tantalizing photo of a tattooed chef you'll recognize as Top Chef winner Michael Voltaggio, featured front and center on the homepage. So is the LA-based toque bound to join brother Bryan in the Washington culinary scene?
"I am in no way involved with this Notting Hill project," says Michael via e-mail. "It's misleading and frustrating that they've used my image without my (or the photographer's) permission on their site. Apparently they have no definitive vision. I hope that they can identify who they are before they start serving guests."
Bummer. So far we haven't been able to reach the reported owner, Shoja-Maddahi Seyed Hossein, for comment—nor have Voltaggio's people, who'd like to see the picture removed. Stay tuned.