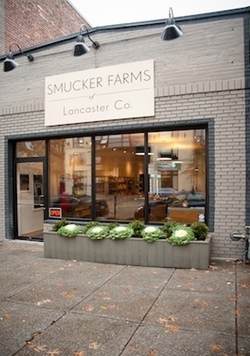 One of our favorite local markets, Smucker Farms of Lancaster County, is in the process of acquiring a license to sell beer and wine. The 14th Street shop sells fresh meats, dairy, and foodstuffs from small farms and producers in Lancaster County, Pennsylvania, as well as local items from the likes of Soupergirl and Blind Dog Cafe.
Owner Eric Smucker is currently tasting around breweries in Pennsylvania such as Troegs and Intercourse (named after a PA town, get your mind out of the gutter), and plans to stock the shelves with Pennsylvania craft beers as well as brews from Maryland, Virginia, and the District (think DC Brau, among others). The wine program, on the other hand, won't hone in on nearby producers, though you'll find award-winning bottles from J. Maki Winery in Elverson, Pennsylvania. Smucker says many bottle will come from southern France, one of his favorite growing regions.
Smucker hopes to start selling booze at the shop by mid-December. Look for regular tastings, as well as a more wine-and-beer-friendly edibles such as blocks of cheese and locally made charcuterie.