The Ward 4 candidate forum at the height of the 2010 mayoral
campaign should have been a rousing affirmation of DC mayor Adrian Fenty's
first term.
Fenty lived in the District's Ward 4 and had begun his rise to
the pinnacle of city politics there. Its precincts are home to DC's
African-American elite in Shepherd Park near the Maryland line and spread
east to the gentrifying neighborhoods of Petworth and Brightwood along
Georgia Avenue. On the evening of August 4, 2010, St. George Church on
16th Street was overflowing. In the parking lot, Fenty supporters traded
taunts with campaign workers for challenger Vincent Gray, the DC Council
chair.
Inside, Sulaimon Brown berated Fenty. A long-shot candidate,
Brown interrupted the mayor, insulted and belittled him. Fenty tried to
fend off the verbal blows. Sweat glistened on his brow. He took off his
sport coat. He slumped at the table. Brown suggested that Fenty "and his
cronies" should serve jail time. The crowd roared with
approval.
Vince Gray eased back in his chair and smiled. Here in Fenty's
home base, the challenger came off as relaxed, confident, and in control.
He joked with the crowd. He winked at four friends in the front row:
Marion Barry, Cora Masters Barry, Rock Newman, and Sharon Pratt
Kelly.
An underlying theme in the campaign to unseat Fenty was that
Vince Gray would resurrect Marion Barry's power base, bring back his
machine, and redirect the flow of city contracts to Barry's friends. Fenty
had tossed many old-guard Washingtonians from his government and its
trough. Encouraged by Barry, they wanted back in. The presence of the
foursome in the front row seemed to confirm that narrative.
Barry had no particular business at the Ward 4 forum except to
cheer on Gray. The former mayor now represents Ward 8 on the DC Council
and lives and works across the Anacostia River.
Cora Masters Barry, his ex-wife, had been his comrade in arms
during his fourth and final mayoral term, and she loathed Fenty for
declining to renew her contract to run a tennis program in
Southeast.
Rock Newman, a successful sports and boxing promoter, had
financed and engineered Barry's return to politics in the early 1990s
after Barry served a six-month jail term on cocaine charges. Now Newman
had put his money and clout behind Gray.
Sharon Pratt Kelly, who succeeded Barry as mayor in 1990, was a
member of Ward 4's elite. She despised Fenty as an upstart who ignored
her.
After the forum, Barry, wearing a Vincent Gray sticker, cruised
the crowd. He joshed with Kwame Brown, who was running to replace Gray as
council chair. Brown's father, Marshall, had served as one of Barry's top
lieutenants during his first three mayoral terms.
Barry also huddled with Vernon Hawkins, the most direct,
back-channel connection between Barry and Gray. Hawkins had been a Barry
stalwart for decades and served as director of Barry's Department of Human
Services until a federal control board forced him out in 1996 for
mismanagement. Hawkins had reemerged to convince Gray to run for mayor and
had stayed on as a campaign adviser.
When Gray defeated Fenty in September 2010 and prepared to
become mayor the following January, Barry was in position to wield
citywide power once again. He'd had a hand in Gray's ascent. He had a
direct line to Kwame Brown, the incoming council chair. Ward 5 council
member Harry Thomas Jr. idolized Barry, who now had close to a working
majority on the 13-member council.
At 74, Marion Barry seemed on the verge of yet another
comeback.
It was not to be.
Instead, Gray's election and the corruption investigations that
have followed could mark the beginning of Barry's end.
Scandal dogged Gray as soon as he took office. His top aides
came under fire for stashing friends in plush city jobs. Sulaimon Brown
accused Gray and his campaign aides of paying him to hassle Fenty. Federal
prosecutors have already pinned felonies on three top Gray aides for the
scheme. The ongoing investigation of Gray's campaign has focused on Vernon
Hawkins for allegedly running a "shadow" campaign that poured more than
$600,000 into Gray's coffers, off the books.
Kwame Brown was forced to resign after federal prosecutors
charged him with bank fraud. Harry Thomas Jr. was forced to resign for
stealing $350,000 in public funds.
Rather than riding the ouster of Fenty and the reassembly of
his machine into power, Barry now seems alone and exposed, according to
scores of interviews with colleagues, admirers, and critics. The "old
guard" revival passed quickly, raising a question: Is Marion Barry finally
on the road to irrelevancy?
"There's a reservoir of good will toward Marion," says at-large
council member David Catania. "But he's fading in the memory of most
people. Since 2004, when he came back to the council, what milestone piece
of legislation can you attribute to his singular advocacy?"
Says a local politician who has worked closely with Barry for
decades: "His profile is so low, he doesn't do much harm. He doesn't raise
the level of discourse; he lowers it. Marion of the civil-rights movement
had passion. I don't see the passion in the brother anymore."
Says John Tydings, a veteran business leader who befriended
Barry in the early days and supported his rise: "Marion led us into the
environment that violating the public trust is allowable and acceptable.
That's awful. Kwame Brown and Harry Thomas have to be forgiven. There's no
accountability, thanks to Marion."
When Barry arrived, DC was nearly 70 percent African-American.
Thousands of new residents have since moved in, and last year the city was
about 50 percent black. To many newcomers, regardless of race or class,
Barry is a curiosity rather than a serious politician—more pathetic than
heroic.
"Marion thrived when race was a central issue," says Catania.
"Afrocentricity is less omnipresent. That's not where we are right now.
Washington is more of a multicultural city."
A lot of Washingtonians share that view, though many
African-Americans are unwilling to state it publicly.
"The man is tired, and his memory is fading," says a retired DC
cop who remembers the vibrant mayor who helped integrate the department.
"It's sad to see."
"He further divides a town that's trying to grow up and become
a major metropolitan city," says a successful African-American
businessman. "He's hanging around too long. I'm not disappointed in
Marion; I'm disgusted he's still around."
Barry likely will be around for another four years. He won the
Democratic primary in April to represent Ward 8 on the city council for a
third term. On November 6, he's all but assured of winning the general
election.
"Marion is perhaps the best manifestation of a survivor I have
ever seen," says Catania, who can swing from derision to worship when
talking about Barry.
Though Barry can come off as a punch-drunk fighter who mumbles
and dribbles coffee on his tie, he can still be larger than life—and
virtually ubiquitous. He tweets. He puts holds on city contracts. He gets
media attention when he issues the occasional racist remark, most recently
about Asians who run "dirty" stores in his ward.
Lost to many of DC's new arrivals is the fact that Barry was
once a great leader. No one since Pierre L'Enfant has changed and shaped
DC as Barry has. If he serves another full term, Barry will have been a
dominant force in Washington for 52 years. The mark he'll leave on a major
city will eclipse that of legendary mayors such as New York's Fiorello
LaGuardia, Frank Rizzo in Philadelphia, Richard J. Daley in Chicago, and
Baltimore's William Donald Schaefer.
Barry has often described himself as a "situationist"—adapting
to whatever situation confronts him. How will he handle his current one,
which finds him losing power on the council and struggling to make ends
meet?
He's spending much of his time tending to his legacy—and
rewriting history along the way. In speeches and newsletters, he's taking
credit for things he was responsible for only when showing up to cut the
ribbons. He calls himself the "job czar" in a ward where nearly a quarter
of the residents are unemployed. He has adopted the "mayor for life"
moniker bestowed as a joke by Washington City Paper columnist Ken
Cummins in the 1990s. His summer newsletter, the Liberator,
paints Ward 8 as a garden spot.
Barry is so intent on promoting his version of Ward 8 that he
has contracted with a film company to make a documentary about it. Barry
paid $12,000 in public funds to May 3rd Films for the 30-minute movie. The
same company made a pilot for a reality show about Barry called Mayor
for Life. No one picked it up.
"Marion's current pathology is that he wants to resurrect
himself as a holy man who brought us to the Promised Land," says a close
adviser. "He's on a one-man crusade to make himself Saint Marion. It's
sad."
"Marion is bordering on delusional," says Phil Pannell, a Ward
8 activist, executive director of the Anacostia Coordinating Council, and
a DC school-board candidate.
The terrible paradox, in the eyes of many political and policy
leaders, is that the residents of Ward 8 who keep electing Barry have
suffered the most with him as their political leader.
Says Pannell: "They would elect him from the
grave."
Barry is still confoundingly popular. A recent Washington
Post poll found that he had the highest favorability rating—52
percent—of any city politician.
Why do people love him so?
"He gave me my first job—at Pride Inc." says Benny Barnes, who
now works the security desk at a downtown DC office building. Pride Inc.
was a nonprofit Barry created in 1967 to put jobless blacks to work as
street cleaners. "I was 20. He treated us like the vanguard for people
coming behind us. He was an inspirational guy."
It sometimes seems as if Marion Barry gave more than half of DC
residents their first job, if not through his summer youth program, then
directly on the city payroll.
I asked Vincent Cohen Jr., now principal assistant to US
Attorney Ronald Machen, whether Barry had been an influence in his life.
Not really, he responded. Barry was more of his father's
generation.
"He did give me my first job," says Cohen, 42. "It was a
summer-job program. We were baby journalists, writing journals in the
Sursum Corda neighborhood, on the back side of Gonzaga High. My dad made
sure I took part in it. Great job. My first paycheck."
Kenyan McDuffie, who won a recent election to fill Harry Thomas
Jr.'s Ward 5 council seat, at first says Barry had minimal sway on his
early life. He then acknowledges his jobs in Barry's summer youth
programs. And his time in the Mayor's Youth Leadership
program.
Barry bestowed jobs. He also remembered your name. Your mama's
name. Where you went to school. Where you voted. He also, long before Bill
Clinton, felt your pain.
"Marion represents the whole black experience for many of us,"
says Denise Rolark Barnes, publisher of the Washington Informer,
a weekly based in Congress Heights. "We're not supposed to make it. But
Marion Barry has, in spite of all his troubles and obstacles. Drug
problems? Women problems? Problems with your kids? Tax people after you?
Tickets on your car? Those are things many of us can personally relate
to.
"Plus," she adds, "Marion takes time with people. He stops. He
talks. He listens."
Benny Barnes listened to the young Barry bark orders to his
Pride Inc. street crews in 1967.
"He was rough on you," Barnes recalls. "He said we had to set
good examples. He showed you how to carry yourself so you could achieve
things, that we weren't just hustlers hanging out on street corners. There
were other ways to get ahead."
Barnes carried Barry's words into the Army and a tour in
Vietnam. Don't hold back your skills! Come out of your shell! Be proud of
yourself!
"He gave me self-confidence," says Barnes.
In a sense, Barry did that for DC's entire black community
through jobs, contracts, and his ability to connect with
people.
"African-Americans have seats at the table at the highest
level," says A. Scott Bolden, managing partner of the DC office of Reed
Smith, a major law firm. "Marion Barry gets credit for that."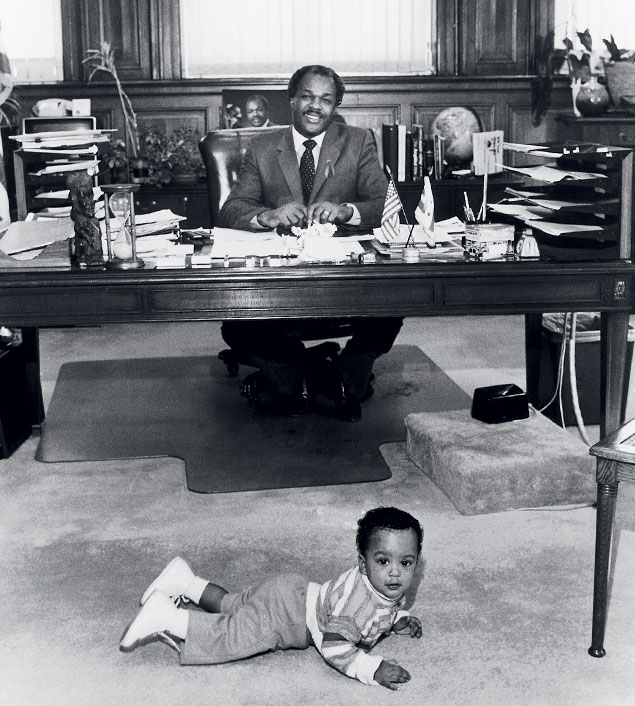 Washington had never experienced a black man the likes of
Marion Barry. When he arrived in June of 1965, the nation's capital was a
slow-moving, segregated Southern town.
Three federally appointed commissioners managed the city.
Residents elected no local officials. None. Blacks were essentially barred
from city hall. The police department was white. The Board of Trade, all
white, controlled business through ties to Congress.
President Johnson made self-government for DC part of his
civil-rights crusade. He established an appointed city council and an
elected school board in the 1960s. But it wasn't until 1973 that Congress
passed the Home Rule Act, giving the city an elected mayor and a 13-member
council.
African-Americans in DC weren't politically organized. Many had
stable, low-level government jobs. Black leaders such as Walter Washington
and Sterling Tucker were smart but passionless.
Barry was the opposite: brash, demanding, and "militant." He
alternately dressed in a dashiki—the garb of African nationalism—and a
dashing white suit and Panama hat. Using tactics from the student
civil-rights movement, he was the first person to attempt to organize and
lead blacks in DC, especially the poor population.
Barry was born March 6, 1936, in Itta Bena, Mississippi, the
son of a sharecropper. He excelled in school and went to Fisk University
in Nashville in 1959 to study chemistry and then entered a doctoral
program at the University of Tennessee. The student civil-rights movement
swept up the budding chemist. Barry was briefly the first chairman of the
Student Nonviolent Coordinating Committee.
He wasn't considered a devoted leader of the movement, like
John Lewis, Stokely Carmichael, or Robert Moses. He was more polished at
public relations. He was dispatched to New York and then DC to run SNCC's
office here.
Barry's analysis of DC, typed on carbon paper shortly after he
moved here, was brilliant. He quickly assessed the fault lines of power
among the white ruling class, the compliant black middle class, and the
simmering black underclass. In the next decade, he would organize the
poor, curry favor with white liberals and developers, and leapfrog the
black middle class to political power.
In early 1966, he founded Free DC, a group that he used for
holding press conferences. He called out villains. Businessmen became
"money-lord merchants." Police were an "occupation army." The feds were
"congressional overlords."
After the 1968 riots, DC's white establishment saw Barry as a
peacemaker, a bridge to the angry black community. He had already helped
establish Pride Inc. with federal grants. He had begun to develop
relationships with white liberals in business and government.
Barry ditched his dashiki and morphed into a politician. He
successfully ran for school-board president in 1971. He accomplished
little but used the post to run for a seat on the first city council under
the Home Rule Act. He won and became chairman of the finance-and-revenue
committee. He sported dark suits, silk ties, and black
loafers.
Ten years after vilifying businessmen, Barry was courting
developers for campaign cash. In return, he used his committee to hold
down business taxes.
The transformation from the streets to the suites was
complete.
In 1978, DC's second mayoral race under home rule, Barry eked
out a win by 1,500 votes, thanks in large part to six endorsements from
the Washington Post, back then a bible for DC's liberal
whites.
It was a moment of hope for a biracial, integrated city and its
government.
It was not to be.
Barry and his adviser Ivanhoe Donaldson, the principal
architect of his political rise, focused their energy, power, and money on
the African-American community. In hiring, contracting, and appointments
to city boards and commissions, Barry favored blacks. He bestowed tax
breaks and city grants on black churches. He promoted blacks in the police
and fire departments.
"You went from blacks not having any jobs or contracts to
having opportunities throughout the government," says Doug Patton, a
lawyer and lobbyist who worked on Barry's first mayoral campaign. "Marion
brought a sense of entitlement. For blacks, it was 'my turn.'
"
Barry attracted competent city managers, especially in his
first two terms. He brought in Elijah Rogers, a star among municipal
managers, from Berkeley, California, as city administrator. Other members
of Barry's brain trust included Carol Thompson Cole, who would go on to
become a leader in the region's philanthropy sector; attorney Fred Cooke,
now the go-to defense lawyer for city officials accused of corruption; and
Tom Downs, who later became president of Amtrak.
But even early on, there were hints of trouble.
Ivanhoe Donaldson, whom Barry had appointed to run his
employment-services agency, got caught embezzling city funds, pleaded
guilty, and served a jail term.
Barry earned a reputation for hitting on women and bedding more
than a few. His then-wife, Effi, brushed it off and said, "He's a night
owl."
By day, Barry opened downtown DC to white developers, just as
he had broken open the government's doors to blacks.
With Barry's blessing, planning director James Gibson set in
motion the real-estate boom of the 1980s. Developers turned downtown DC
into a Monopoly board.
"Back then, Marion was impressive as hell," says John Tydings,
president of the Greater Washington Board of Trade from 1977 to 2001. "He
understood budget and finance. He was perceived in the commercial sector
as highly talented. He gave comfort to the business community that things
were not going to run amok."
The essential transaction went like this: Barry would open the
city to commercial developers; he would then use the resulting tax
revenues to hire public-sector workers and expand government
services.
In concept, it worked. In reality, Barry grew a government that
failed to train its workers, provided lousy service, and spewed cash to
contractors who didn't deliver services. Public schools, public health,
and public safety suffered, especially during his third term, 1986 to
1990.
By then many of the stars who had helped manage the government
in the first terms had left. The black middle class Barry helped create
had moved to Prince George's County. The real-estate boom of the mid-1980s
turned into a bust.
In 1989, the Washington Monthly published an article
that portrayed Barry's administration as the "worst city government in
America."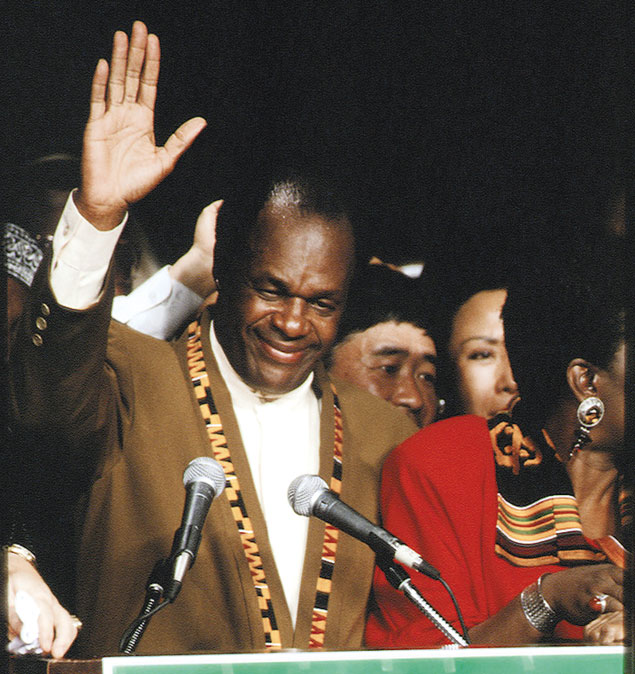 Crack cocaine hit the nation's capital around 1980. Homicides
topped 400 a year in the late 1980s as local and Jamaican drug gangs
battled to control the market.
When cops reported the crack epidemic to the police brass and
the mayor's staff and suggested ways to confront the scourge, they were
brushed off. By the middle of Barry's third term in 1988, the mayor
himself was under the drug's spell and losing his grip on the
government.
"It was common knowledge within the police department," says
retired police lieutenant Lowell Duckett. "It was a crazy
time."
When former city administrator Tom Downs visited his successor,
Herb Reid, he asked how Barry was doing. Reid said: "If it walks, he f—s
it; if it doesn't, he ingests it."
Barry's arrest at the Vista Hotel by DC cops and FBI agents as
he smoked crack cocaine with a girlfriend on January 18, 1990, shocked
Washington. It also set the stage for a year of racial
tension.
Barry went into rehab and returned, in his words, clean and
clear; he announced at a rally, "Barry is back." In June, he stepped out
of the 1990 race for mayor. Prosecutors charged Barry with 14 counts, from
conspiracy to possession. The city cleaved along racial lines: Blacks felt
Barry had been set up; whites believed he was getting his due. You could
feel the animosity in grocery lines and at lunch counters.
The tension came to a head during the trial in federal court
that started June 18 and ended August 10. Effi Barry sat by her husband's
side every day as his paramours testified to trysts and cocaine parties.
Pastor Willie Wilson of the Union Temple Baptist Church in Anacostia
rallied black supporters on the lawn by the courthouse. In the middle of
the trial, Barry and his wife attended a rally with Nation of Islam leader
Louis Farrakhan, one of the most divisive figures in the
country.
The jury deadlocked, black against white. After eight days, it
found Barry guilty of one charge: possession. Though it was a misdemeanor
and Barry's first drug rap, Judge Thomas Penfield Jackson sentenced him to
six months.
From prison in Pennsylvania, Barry spent hours on the phone
planning his comeback. He was far from finished.
When Barry was released, he moved to Ward 8, clothed himself in
African garb—a kufi cap and a kente-cloth scarf. He talked of himself as a
flawed and fallen man—just like so many neighbors who had succumbed to
drugs. He knit himself into the city's most downtrodden community, from
which he would mount his return to power.
In 1992, he ran against veteran council member Wilhelmina
Rolark, a fixture in the DC black community. She had stood by Barry during
his troubles. He hit the streets to take her down.
"His premise is that people have short memories and he can keep
playing the race game again and again," said Ward 8 activist Absalom
Jordan, also a candidate for the council seat. "He says, 'Look at what the
white man did to me.' He wants people to forget that for years he was the
white man, he was the law, he was in control of the city when Lorton
[prison] filled up with black men."
Barry beat Rolark 3 to 1.
Sharon Pratt Kelly was mayor at the time. She had won the 1990
election with promises to clean out city hall with a shovel but she turned
out to be ineffective and unpopular.
"I'll tell you why Marion's running," Ab Jordon said of Barry's
Ward 8 race. "He wants to run for mayor again in two years. It's just that
simple.
In 1994, Barry indeed ran for mayor. The city split along
racial lines. He won.
His advice to the white residents of Ward 3? "Get over it. I'm
going to be the mayor for all the people."
Kelly had run up a $750-million budget deficit. That was bad
enough. When Barry, whom many members of Congress saw as an embarrassment,
won his fourth term as mayor, they essentially took charge. In 1995,
Congress established a financial-control board to run the District's
finances. It had the power to spend money, reach deep into city agencies,
approve and protect a financial czar appointed by Barry.
In essence, Congress neutered Barry. He became a ceremonial
mayor.
At the end of his term in 1998, Barry announced he was retiring
from politics. For the next six years, he attempted to make money as a
consultant and a lecturer. He couldn't make a go of it.
In 2004, he surveyed the political landscape and saw an
opportunity again in Ward 8. With shades of his 1992 defeat of Rolark,
Barry beat incumbent Sandy Allen, a close friend and supporter. He took
office in 2005 and promised to focus the city's resources on his
perpetually poor ward.
It was not to be.
"Even then," says an adviser, "he was too tired to be
effective. He's been running on fumes for the past eight
years."
He's also been running into problems with the law, tending to
his failing health, and putting his foot in his mouth.
DC cops have been known to overlook his indiscretions and get
him home safely. But he's had run-ins with other law-enforcement agencies
and the IRS.
In 2002 a US Park Police officer found traces of marijuana and
cocaine in his car, but no charges were filed. Barry said he'd been
framed. Secret Service agents pulled him over near the White House in 2006
for running a red light, arrested him, and charged him with driving under
the influence. Park Police stopped him for driving too slowly and wrote
him up for operating an unregistered vehicle and misuse of temporary
tags.
When Park Police arrested Barry in 2009 for stalking Donna
Watts-Brighthaupt, one of his on-and-off girlfriends, a Park Police
spokesman explained that the arresting officer was a New York native who
didn't know who Barry was.
In 2005, the IRS charged Barry with failure to pay federal or
DC taxes from 1999 to 2004. Barry pleaded guilty. A judge sentenced him to
three years' probation. Prosecutors returned to court in 2009 and argued
that he had violated his probation by not paying taxes for years. A
magistrate denied their request to send him to jail.
According to two sources in the city government, Barry is still
paying his back taxes, but his probation ended in March 2011.
At the 2009 hearing, Barry's lawyer, Fred Cooke, chalked up the
council member's failure to pay taxes in part to his many maladies: heart
congestion, hypertension, diabetes, renal failure, prostate
cancer.
None of Barry's legal or health problems deterred him from
running for a second council term in 2008, though. Ward 8 elected him
again. He seemed untouchable.
His sole political setback came in 2010. A special
investigation confirmed that Barry had steered a city contract to a
girlfriend and made her use some of the funds to repay a loan to
him.
On March 2, 2010, the council voted 12 to 0 to censure Barry
and strip him of his committee chairmanships, leaving him powerless on the
council.
After the hearing, Barry sought comfort at Matthews Memorial
Baptist Church, high on a hill in Ward 8. His friends and fellow
parishioners greeted him warmly and cheered him on. But Mike DeBonis, then
writing the Loose Lips column for the City Paper, issued this
verdict: "The Marion Barry system of retail politics—or put more bluntly,
patronage—is dying, if it isn't dead already."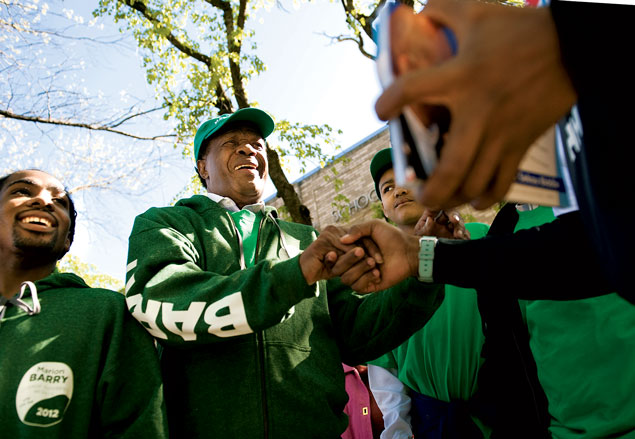 Barry's penchant for giving verbal offense, however, is alive
and well.
In April, shortly after he won the Democratic primary, Barry
came out with this proposal: "We got to do something about these Asians
coming in and opening up businesses, those dirty shops. They ought to go.
I'll just say that right now. But we need African-American businesspeople
to be able to take their places, too."
When he tried to apologize, he said: "The Irish caught hell,
the Jews caught hell, the Polacks caught hell. We want Ward 8 to be the
model of diversity."
He said he had misspoken and should have said "Poles," but
further damage was done.
Weeks later, Barry complained about "immigrants who are nurses,
particularly from the Philippines," who, he insinuated, were taking jobs
from "our own nurses."
The Philippine ambassador called for an apology.
Barry owed his early political success in part to support from
DC's gay community, but when the council voted on same-sex marriage this
year, Barry warned that the "black community is just adamant against
this." At an anti-gay-marriage rally, he said: "We have to say no to
same-sex marriage in DC. . . . I am a politician who is
moral."
Always the situationist, he cast the council's lone vote
against same-sex marriage.
It's July 10, and the DC Council is holding its final
legislative meeting before the summer recess, an all-day affair starting
at 9:30. Barry shows up at 12:15, strolls slowly across the dais, bends
down to peck Ward 3 council member Mary Cheh on the cheek, and settles
into a chair close to the floor. He surveys the room.
"Rod, Rod," he says, cocking his index finger and beckoning Rod
Woodson, whose nomination to the DC Water board is in play. They
huddle.
Barry's hair is gray and fuzzy now. The pants of his pinstripe
suit flap around his legs. His movements seem feeble.
He dispatches Woodson. He sees City Paper columnist
Alan Suderman. He points at Suderman with his index finger. Suderman
sidles over. They whisper.
Barry could get the attention of anyone in the room. In this
chamber—despite the censure, the unpaid taxes, the serial verbal
affronts—he still commands the floor.
But not the dais.
When he was mayor, Barry kept the council under his thumb with
favors. "The Marionettes," members were called. Now, with Kwame Brown and
Harry Thomas Jr. forced to resign and many colleagues keeping him at bay,
Barry is often a loner. When Brown resigned, the council had to choose an
acting chair among the four at-large members. Barry lobbied hard for
Vincent Orange, appealing to his African-American colleagues to vote for a
black chairman.
The council elected Phil Mendelson, who is white.
Barry promoted Orange for the number-two, pro tempore post on a
second vote. He lost again.
Barry has begun to exercise the power of one. When he was
mayor, the legislative body passed a law that any council member could put
a hold on any contract over $1 million. It was a way to curb Barry's
power. Now it's about the only device left in his political tool belt.
Barry puts holds on contracts for reasons that leave his colleagues
scratching their heads. He supported construction of a streetcar line
along Benning Road and H Street, Northeast, but placed a hold on the
design contract until he got commitments that doing so would create jobs
in DC. Council member Mary Cheh said Barry could have raised his concerns
in hearings and was pulling "11th-hour shenanigans."
"He gets press," says one council member, "but I'm not sure he
ever accomplishes anything."
"In the past three years," says Elissa Silverman of the DC
Fiscal Policy Institute, which advocates on behalf of the District's poor
population, "I can't think of one thing Barry has championed to help poor
folks. He's not a reliable vote for us. He doesn't bring his colleagues
along. Economic development? Bringing jobs to Ward 8? I can't think of
anything he's done there, either."
Georgenes Restaurant on Martin Luther King Jr. Avenue has been
Congress Heights' only bar, restaurant, and gathering place for
decades.
On a Wednesday in mid-August, Marion Barry was conducting
business from a booth. Papers were spread across the table. His press
secretary, LaToya Foster, faced him. Both had cell phones on their
ears.
"Mr. Mayor," I asked, "how about that interview?"
"Not now," he mumbled.
The interview I had requested for this article would never take
place.
Barry was preparing for the Democratic National Convention—he's
been a delegate since 1972. He had put a hold on a $4.5-million
construction contract for renovation of St. Elizabeths hospital. He said
he wanted to wring concessions for more jobs. He would release the hold a
few days later with no discernible deal.
For lunch, Barry had the rib tips and greens. Water, no beer.
No dessert. He doffed his Panama hat and walked gingerly through the red
door into the hot afternoon.
He could have been heading home. He lives in a tidy brick house
not far away on Orange Street. Down the street are boarded-up apartments,
rundown houses, and subsidized rental units.
"He's here all the time," Georgene Thompson told me. "Always
with a different woman—not always one he works with."
On that score, Barry at 76 hasn't changed from the man at 56.
He often has a woman on his arm, whether he's at Georgenes, having supper
on Eighth Street, or celebrating the reopening of Tony and Joe's
restaurant in Georgetown, where he grabbed the microphone and tried to
sing before skipping back to a table with female friends. At the
Democratic convention in Charlotte, Barry had to be helped across the
floor in a wheelchair, but he turned up at a hotel bar at 11:30 one night
with a woman on each arm.
Georgenes is located in the middle of a ward that's been
through many cycles and now sits on the precipice of another: A few
hundred yards down Martin Luther King Avenue, the federal government is
building new headquarters for the Department of Homeland Security and the
Coast Guard. They're the biggest federal construction projects in the
nation.
In the decades before the 1950s, Anacostia was home to middle-
and working-class whites, many of them first-generation Washingtonians.
Irish, Jewish, and Greek immigrants grew up together. Anacostia High was
all white. The oldest Jewish cemetery in DC is on Alabama Avenue. Blacks
were a small minority.
But in the last 50 years, Anacostia has become home to
Washington's permanent underclass. Ward 8 leads the city in violent crime,
infant mortality, and unemployment, which stands at 22.5 percent. Nearly
half the children live in poverty.
These statistics applied in 1978 when Barry was first elected
mayor, in 1992 when he was first elected Ward 8 council member, in 2004
when voters elected him again, and now in 2012.
Marion Barry touts the "new Ward 8" every chance he
gets.
"We in Ward 8, under my leadership, have made tremendous
progress in providing countless job opportunities, affordable housing,
home ownership," he writes in the Liberator, his newsletter.
"We've spent billions of dollars on health care. We've given Ward 8 a
facelift—changing the physical look from extremely negative to extremely
positive."
Indeed, things are beginning to change. Old Town Anacostia,
near the Anacostia Metro stop, has new stores, and city-government offices
have set up shop on Good Hope Road. There are pockets of new housing. The
city has demolished notorious housing projects. The ward now has a Giant
supermarket.
"Marion takes pride in taking people around Ward 8, showing
them the new IHOP and Giant," says Denise Rolark Barnes. "But I don't know
how much credit he can take for any of the improvements."
Other city leaders have done much to turn Ward 8 around, with
or without Barry.
Mayor Anthony Williams, Adrian Fenty's predecessor, promoted
new housing developments. He started moving city agencies across the
Anacostia River. His government encouraged development of the shopping
center around the new Giant. His plan to relocate the Department of
Housing and Community Development came to fruition under
Fenty.
It was Fenty who crusaded for rebuilding and reforming the
city's public schools, an effort that has resulted in millions of dollars
in improvements to Ward 8 schools.
When it came to reviving United Medical Center, the ward's only
full-service hospital, it was David Catania, not Barry, who came to the
rescue.
And it was DC's congressional delegate, Eleanor Holmes Norton,
who lobbied for years to land the DHS and Coast Guard projects on federal
property that was the campus of St. Elizabeths. She has held countless
community meetings, and she monitors the hiring practices of the
contractors to try to get jobs for DC residents.
Barry's role has been to complain about the lack of jobs for
his residents. He calls himself the job czar, but has he created any jobs
or job-training programs?
"We simply do not see it," says Ward 8 activist Phil
Pannell.
Therein lies the problem.
With the man in eclipse, the city thirsts for a new leader. A
Cory Booker? Someone like Philadelphia's Michael Nutter or Chicago's Rahm
Emanuel?
Jauhar Abraham might remind you of the Marion Barry of
1965.
Abraham is a rabble-rouser. He speaks for the disenfranchised.
He's a street activist legitimized by a nonprofit funded by the
government. Barry's was Pride Inc.; Abraham cofounded Peaceoholics, which
helped broker truces among rival gangs before it ran into criticism over
management and finances.
Abraham wants to take his activism to the political level. He's
running against Barry in the November general election.
"Marion is selling these people out," Abraham says of Ward 8
residents. "He doesn't have answers to fix their problems. He doesn't have
the energy. What he has is rhetorical skills. He has no real relationships
with these people, but his name is so big, he gets by."
But for all their similarities, Jauhar Abraham is no Marion
Barry. He lacks Barry's charisma, his political genius. Barry is truly sui
generis, never to be replicated.
Abraham, 45, has little chance of beating Barry at the polls.
But he was born and raised in Ward 8, and he hopes to rally the poor and
disenfranchised—just as Barry did.
Abraham started out in DC schools, and most of his friends are
products of the system.
"Many of my classmates are either addicted to drugs, in jail,
or dead," he says. "The one thing we had in common? We went to DC public
schools since the 1970s, when Barry had a leadership role.
"I'm not mad at Marion," Abraham says. "I love Marion. He just
doesn't operate in the best interests of his people anymore."
This article appears in the November 2012 issue of The Washingtonian.