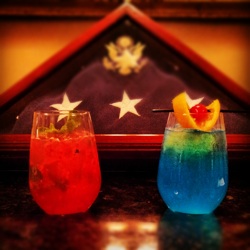 One thing we can all agree on in this partisan town: You'll need lots of booze and
tasty eats to get through election day. Washington restaurants and bars are stepping
up, offering all-day (and night) happy hours, presidentially inspired plates, and
plenty of giveaways as you bask in the warm glow of NBC. Also don't forget to get
out for election-themed specials
(and more specials)
between now and Tuesday.
All-Day Beer Happy Hour
If drinking beer for 13 hours seems like a good way to calm election-day nerves (or
just spend a Tuesday), then take your shaky self to Capitol City Brewing Company
in downtown DC or Shirlington Village from 11 AM to midnight. The brewpubs are pouring
their four main beers at happy hour prices and serving up $5 appetizers, and the Arlington
location is dishing out half-off wings. Just don't forget to stop watching the returns
on the big screen and go vote.
All-Night Wine Happy Hour
If the election makes you want to take Chianti to the face, head over to Vinoteca
starting at 5. Anyone with an "I Voted" sticker can pick from the 15-deep list of
$5 wines by the glass, Peroni drafts, and food specials like pan con tomate topped
with Serrano ham and Manchego. And added perk: bocce on the back patio to keep you
occupied as the results roll in.
Cotton Candy and Deejays
You can expect no less from the folks over at Brightest Young Things,
who're partying over at Bohemian Caverns starting at
5. Look for a patriotic eating contest, cotton candy, and a Champagne toast if Obama
wins. (Conservative types, you may feel a little, uh, conservative for this shindig.)
Tickets start at $10.
Discount Menu
It's better than restaurant week: Jackson 20
is offering a $20 three-course menu for all stickered voters. The dishes are all inspired
by those President Andrew Jackson fancied, so forget burgers and expect the likes
of shrimp escabeche and roast lamb chop with hoppin' john. Call 703-842-2790 for reservations.
The Elephant and the Donkey
Get super-presidential at Lincoln,
which is hosting a viewing party with nods to commanders in chief past and present.
The evening lineup includes two election-themed cocktails, the Elephant and the Donkey,
and menus
inspired by each of the candidates (can you guess which one is the meatloaf?). You
may even get a visit from Teddy "& the Bully Bar"
Roosevelt.
Free Burgers
Z-Burger
is offering a gratis burger to anyone boasting a voting badge, because presumably
if values or the economy won't drive you to the polls, free meat will. The offer is
valid at the Tenleytown, Columbia Heights, and Southwest Washington locations.
Nominee-Themed Noshes
Show your party pride on the plate at Cashion's,
which is serving two (and only those two) menus
on election night, styled after Obama or Romney. On the blue side: dishes like a Chicago
dog and tuna poke. On the red: items such as "Romney family" chicken tacos and oysters
with caviar. Those who want to stay glued to the television should post up in the
bar, where results are running until a decision or last call.
Partisan Shots
Though tequila has long been known to start moves across the aisle (and elsewhere),
Del Frisco's Grille is pouring Sauza Silver-based
"partisan shots" during its viewing party (the first is complimentary for all voters).
If you're not too bleary-eyed, the restaurant promises a view of large LED screens
from every seat in the eatery.
Ritzy Returns
Watch the election results like the 1 percent at the Ritz-Carlton in the West End,
Georgetown, and Pentagon City, with each property mixing up cocktails themed after
the candidates (Mint Rum-ney or Obama Care-Acao, anyone?). You can also get a vice
presidential combo of beers and sliders at the West End location, such as the Biden-style
Dogfish Head brew and Delaware rockfish slider with pickled fennel and Old Bay remoulade.
Swing State Sips
Art and Soul
hosts a viewing party starting at 4, where those with the "I Voted" sticker get two
cocktails for the price of one off the Swing State menu—the idea is to give one to
a friend, but do you really want to share? Also look for happy hour prices on other
drinks until the decision, specials on bubbly, and election-themed cookies from Sticky
Fingers.