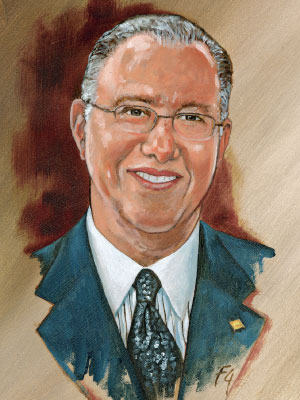 At a time when consolidation was the watchword of the banking industry, Ron Paul bucked the trend and helped found EagleBank.
"Banking was getting impersonal, dominated by 800-number banks," Paul says. "I saw a huge opportunity for us to start a community bank that would build on personal relationships and be able to support local growth."
Founded in 1998, EagleBank was profitable within 14 months. Despite the recession, its earnings have increased in every quarter for the past four years. Today it has 17 branches and assets of $3 billion.
Paul takes the concept of community banking seriously. In 2008, when the Whitman-Walker Clinic had significant money troubles, other banks wouldn't even meet with the health group, the clinic's executive director, Donald Blanchon, says. "It was Ron Paul who worked tirelessly to help us solve our immediate financial crisis."
In addition to EagleBank, Paul is head of the Ronald D. Paul Companies, which develop and manage residential and commercial properties in the area.
A Long Island boy who graduated from the University of Maryland, Paul started out as a real-estate firm's bookkeeper. He went on to build the Ronald D. Paul Companies and RDP Management and, before EagleBank, to serve as a director of Allegiance Bank.
"I fell in love with banking right away," he says. "Being an accountant, I loved the numbers side. Also, much of banking in this area involves real estate."
A two-time kidney-transplant survivor, Paul is a major supporter of the National Kidney Foundation and last year helped organize a golf tournament to raise funds for local cancer centers, among other charity work.
Echoing a philosophy sometimes attributed to Winston Churchill, he says: "You make a living by what you earn—you make a life by what you give."