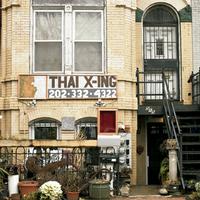 Taw Vigsittaboot's Thai X-ing has a fiercely loyal customer base that cannot get enough of the chef-owner's curries and green papaya salad—seats are notoriously hard to come by at his Florida Avenue restaurant.
For the past year or so, Vigsittaboot has been working to expand the concept to a two-level restaurant at 2020 Ninth Street, Northwest—a building permit, listing the new space's name as Thai-ger, was first noted back in May by an eagle-eyed Prince of Petworth reader. Reached Friday, Vigsittaboot says he was attracted to the building for its exposed-brick walls and proximity to so many other popular new businesses that draw crowds.
Vigsittaboot said he hopes to open the new place—which he says will share the same dishes and informal approach as Thai X-ing—by the beginning or end of January, and that he will temporarily close the Florida Avenue location in order to get the new spot up and running. The 99-seat restaurant will have an open kitchen downstairs and an area upstairs for larger parties. In addition to dinner it will have a daily lunch service beginning at 11 and will stay open and serving drinks until 10 or 11 in the evening—possibly as late as 3 AM on weekends, depending on the crowd. There will also be a garden with seating available in the summer. Vigsittaboot has installed a pond and will grow basil and other herbs there, as well. Look for more details as the opening date approaches.