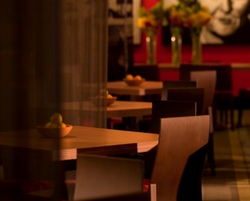 Southern-leaning Capitol Hill restaurant Art and Soul goes on hiatus January 22 for a makeover, according to a press release sent out Wednesday. Restaurateur and former Oprah chef Art Smith—who memorably stripped down to a Speedo on the last season of Top Chef Masters—has entrusted Seattle-based Dawson Design Associates with the remodel; the plan is to create an "indoor urban market feel" in the roomy, window-lined restaurant.
Carpet
in the dining room, bar, and lobby will be pulled up and replaced with
herringbone wood flooring. The firm is also replacing the current Art
and Soul light fixtures and adding wall treatments and graphics for an
outdoorsy look. Some regulars may lament one design development: Dawson
is nixing its cozy banquettes in favor of freestanding tables to fit
with the market-y new ambience. There will also be a wall sculpture made
of beans. Look for a new website and menus, folk art, and painted farm
signs in the restaurant­—part of a rebranding dreamed up by New York
firm Love & War.
Art
and Soul is just one of a number of local hotel restaurants playing up
the farm-to-table approach. Jardenea,
the new restaurant in the Melrose Hotel, emphasizes local, seasonal
ingredients and looks to invoke an indoor-outdoor feel with its design.
The new Caucus
Room
at the Westin Georgetown touts fresh ingredients, house-made sodas, and
other homey/local whatnot. Edgar Bar &
Kitchen—slated
to debut in mid-December in the former Thomas Pink space at the Melrose
Renaissance Hotel—is also working with area farms to create a menu
"with local ingredients and trend-driven flavors," as one press release
puts it. That restaurant's menu will list cheeses from Firefly Farms in
Maryland, local seafood, and other nods to the region. But Art and
Soul's Wes Morton—a
Southern-born chef and Againn alum whose approach seems to have little
to do with trends and everything to do with a legitimate passion for nuanced but pretension-free cooking—embodied the style way
before its maxims became corporate buzzwords. The decor may have
reflected a sort of early-aughts sense of urban and modern, but the menu
has long been farm-focused and down-home. Art and Soul will reopen on
February 22.