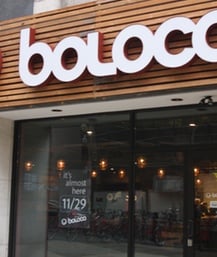 We've been closely watching the downtown shopfront of Boloco since the Boston-based "globally inspired burritos" chain hung signage last fall. (Yes, we like burritos, but we can also see the restaurant from our office windows.) Good news for everyone else who's been patiently awaiting a debut: The doors officially open at noon on Thursday, and they're giving away free burritos until 7.
The
launch of the 19th Street fast-casual restaurant marks the second
Boloco in the area; another opened in Bethesda this summer with a
similar promotion. So why should you head there instead of your beloved
Chipotle (besides comped eats, of course)? We've heard from several New
Englanders that the international array of flavors can be pretty tasty.
After picking your meat—or non-meat; there's also tofu and sautéed
veggies—you can customize the meal by world destination (think Memphis
barbecue, Bangkok Thai, or Indian-spiced tikka masala)
and size, which ranges from regular to mini. There are also breakfast
options, salads, and shakes, like the presidentially themed Jimmy
Carter, with peanut butter, bananas, and nonfat frozen yogurt.
Boloco. 1028 19th St., NW.