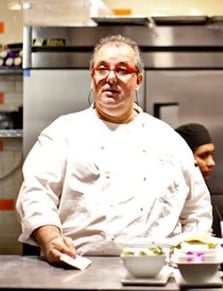 ARLnow has published an interview with Arlington treasurer Frank O'Leary, and reports that O'Leary's office is seeking increased power from the Virginia state legislature to shut down restaurants that are deeply delinquent in their taxes. According to ARLnow, the public servant is also prepared to fight the failing restaurants by shaming them in the media and on the county website.
Per the article: "This month, the treasurer's office is sending a mailing to tax delinquent restaurants, warning the owners that their tax delinquencies will be publicized in the media and on the county's web site should they not agree to a repayment plan." Collectively, Arlington County restaurants owe more than $900,000 in unpaid meals taxes, according to Arlnow.
The article brings Roberto Donna, local poster child for indebted restaurateurs, back into the spotlight. The Al Dente chef (who recently won a big accolade, amidst much controversy, from Esquire
magazine) is paying off the $140,000 tax debt he owes from back in the Bebo Trattoria days in $500 monthly
installments.
See also:
Why Esquire's John Mariani Chose Roberto Donna for Chef of the Year
"Esquire" Names Roberto Donna Chef of the Year
Is Java Green Getting Evicted?