As 2012 draws to a close, we're spending a lot of time reflecting here at the Washingtonian offices. For the fashion team, which consists of the associate fashion editor (yours truly) and our fashion editor with a capital F, Kate Bennett, that means a lot of time strolling down Instagram memory lane, sussing out the highs and lows of each product pull, fashion shoot, and regular days investigating the style scene here in Washington. We love what we do on a day-to-day basis, and we thought it'd be fun to share with you. Scroll down for a behind-the-scenes look at the sparkles, stilettos, and stylish folks that make our jobs so great. (Captions run left to right, top to bottom.)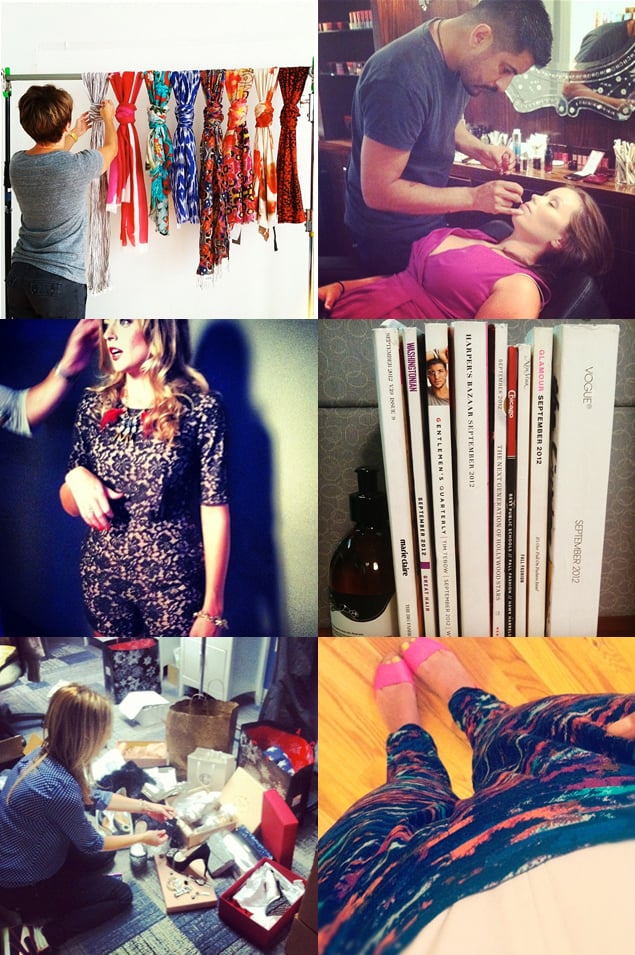 1. Prop stylist Marcie Dawkins arranging scarves for an October Great Finds story.
2. Nectar Skin Bar makeup artist Adrian Avila works his magic on makeover subject Amy Markopoulos before she goes in front of the camera to show off her new hair. (Check out the full story.)
3. Becca Thorsen at our September Style Setters shoot. This lace romper was awesome, but ultimately didn't end up making it into the final story.
4. Six full inches of September fashion magazines stacked on Sarah's desk, all in the name of trend and story inspiration.
5. Sometimes the floor is the best place to start piecing a spread together.
6. One major perk of the job: It allows for a pretty creative interpretation of "office-appropriate" attire, like these printed silk pants.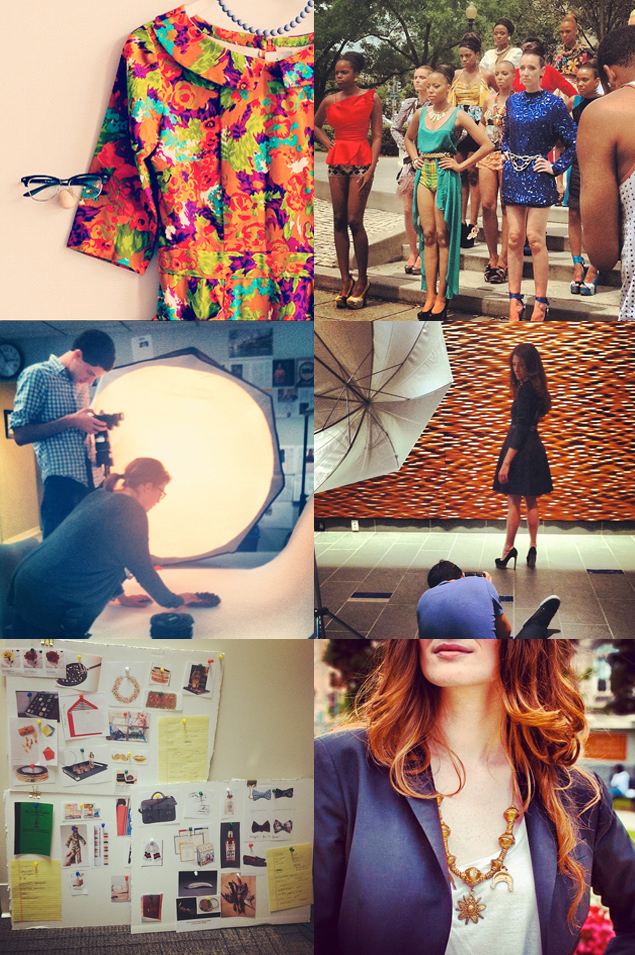 1. A close-up of a fun Halloween story we worked on with Meeps (you can see the full outfit in our earlier post).
2. Another awesome perk of the job: finding out about super cool fashion events (like this Jezabelle shoes flash fashion mob) and sharing them with you.
3. Sometimes it takes an awfully big light to shoot a small necklace. Here, Washingtonian photographer Andrew Propp and photo editor Kelci House set up a makeshift studio in our art department.
4. Photographer Sebastian Marin gets down low to score a close-up shot of Annie Evan's killer work party shoes (see the full story).
5. How we plan for our annual gift guide: old-school Pinterest, a.k.a. foam boards and thumbtacks.
6. A beautiful close-up of KC Ellis Sledd's feature in our popular What I Wear to Work column (check out the full story).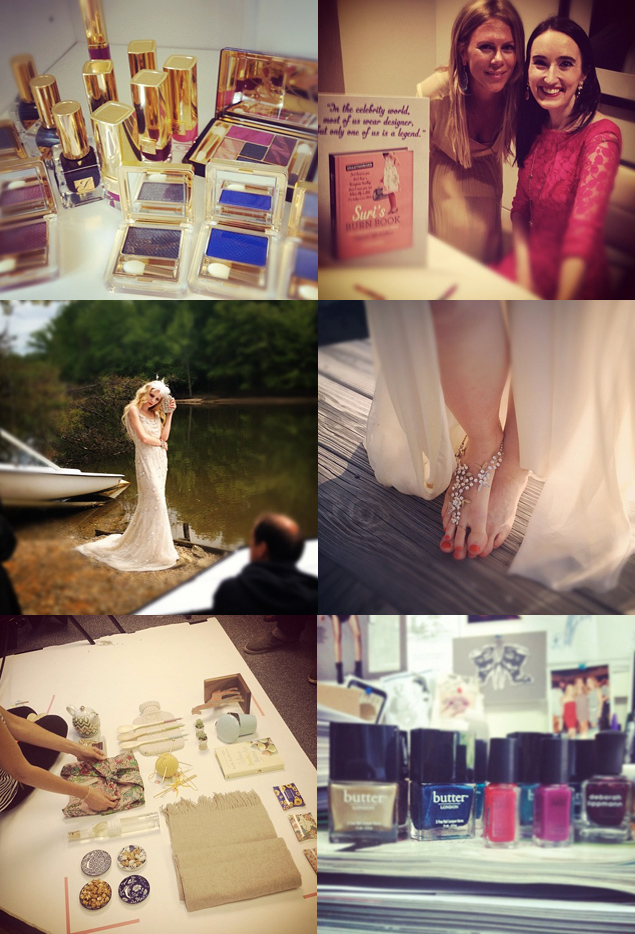 1. Test-driving new makeup lines is one of the best parts of the job. This smattering of Lancôme products came in for consideration for our October jewel tones story.
2. Kate with Allie Hagan, the DC-based author of Suri's Burn Book.
3. Another pretty behind-the-scenes shot on a Bride & Groom shoot.
4. Showcasing unique accessories (like this bridal foot charm) in an accessible way is a top priority on Washingtonian fashion shoots.
5. Prop stylist Polly Ippolitas straightens a bow at our Gift Guide shoot.
6. Nail polish samples come to our office by the dozen.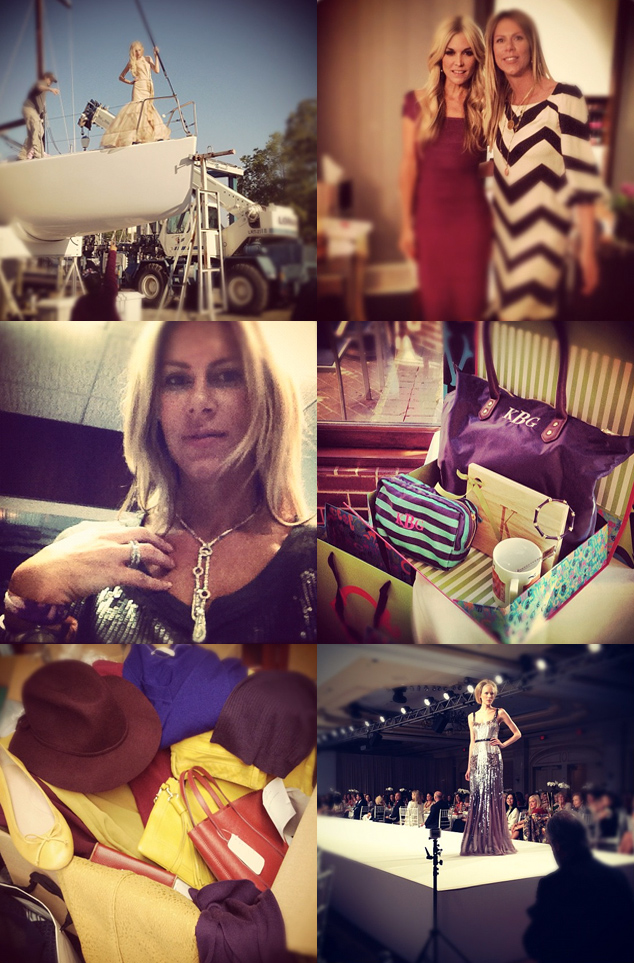 1. Kate also serves as editor in chief of Washingtonian Bride & Groom—here she is directing a bridal model on land before she sets off to sea for the actual shot.
2. Kate with Tinsley Mortimer at her May book signing in DC.
3. Trying on Graff diamonds so valuable they came with two bodyguards.
4. A swag bag (or rather, box with multiple bags in it) from C. Wonder's influencer luncheon.
5. When making product requests for trend and fashion stories, some companies send more than enough. This bounty of Banana Republic accessories came for our October jewel tones story.
6. A sparkly fall 2012 Carolina Herrera gown presented at a luncheon at the Ritz-Carlton.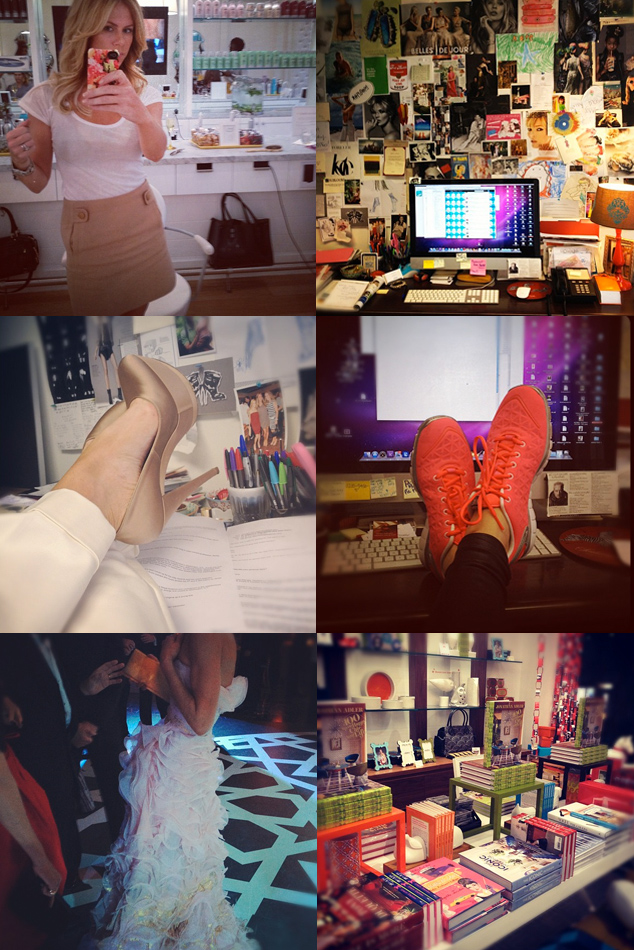 1. Test-driving the Georgetown Drybar before its grand opening.
2. The massive (and constantly changing) inspiration board behind Kate's desk.
3. Lots of people think the life of a fashion editor involves four-inch heels 24/7. And some days, it does—like these silk Casadei platforms.
4. But other days (like photo shoot days) you just need something you can stand around in all day. Like these pink Nikes.
5. On-the-sly iPhone party pics are a necessary part of the job—how else would the rest of the world get to see Capricia Marshall's gorgeous ruffled Oscar de la Renta gown?
6. Store opening parties are a fun perk—Kate took this pic in the new Jonathan Adler store a few minutes before interviewing the designer himself.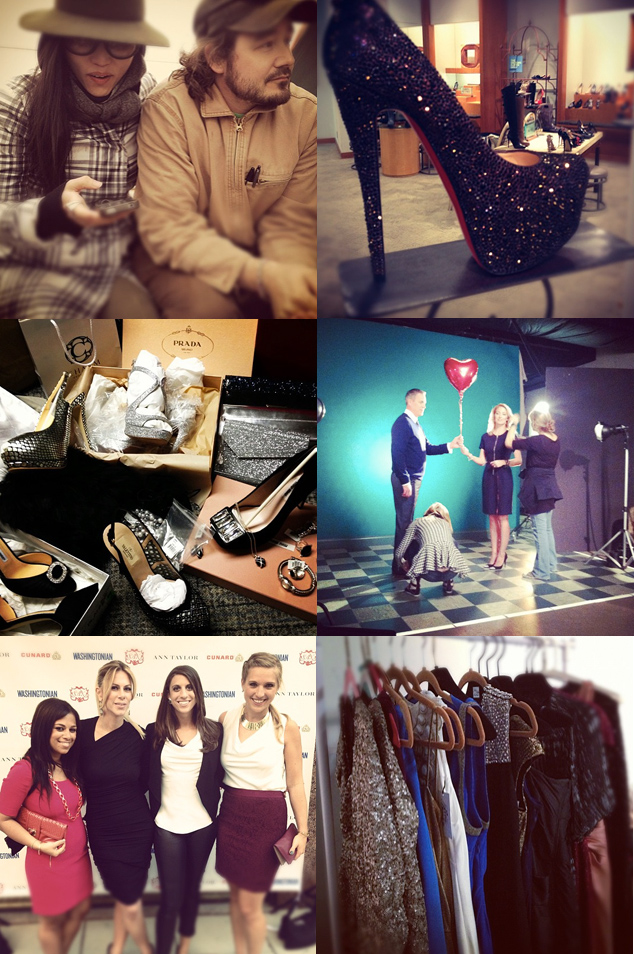 1. We work with Pum and Jake Lefebure of Design Army to create our dreamy bridal fashion stories.
2. Spotted on a Neiman Marcus product pull: this $6,400 bejeweled Louboutin platform. Crazy.
3. Sorting through heel options for an inaugural accessories story. More thought goes into this than some people think—when you only get one shoe to convey a trend, you have to make sure it's the "right" shoe on more than on multiple levels. Price? Material? Brand? Detailing? Everything has to feel right for the moment.
4. Making hair and wardrobe adjustments between shots at our December cover shoot. Fun fact: The background and floor were green at the shoot, and we turned them blue in post-production.
5. Kate (second from left) with Eleni, Rebecca, and Katharine of Washingtonian's events and marketing team. They plan all the fun parties, whiskey tastings, and luncheons we put on, including our annual Style Setters party, where this photo was taken.
6. A pull rack filled with black-tie gowns for an inaugural fashion story in our January issue.
You might also like: