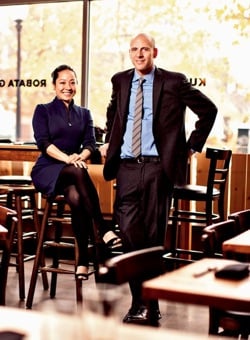 As if 14th Street needed any more highly anticipated openings in 2013:
Darren Lee Norris says his new project, Black Whiskey, will debut in about 90 days.
Word came in the fall that the Kushi
chef-owner signed a lease at 1410 14th Street, Northwest, and is
transforming the two-story space into a whiskey bar and mixed-use art
gallery. Here are five things to expect there.
Robust eats and drinks: While Kushi is known for delicate slivers of sashimi and
flowery sake, Norris is taking a heartier direction for the Logan Circle
spot. You'll find a selection of whiskeys focusing on small-batch
American producers like Smooth Ambler, Old Scout, and Corsair, around 20
draft beers, and cocktails from former Passenger barkeep Mick Perrigo.
The fare, which Norris refers to as "19th century Scottish bar food,"
is inspired by the United Kingdom's carvery pubs, where bartenders shave
slices of large roasts and serve them alongside traditional sides like
Yorkshire pudding. Here you'll find the likes of roasted leg of lamb,
baby pig, or other cuts of local meat, which are carved to order and
served with a variety of sauces and seasonal vegetables.
Lunch: While many 14th Street spots only cater to the dinner
crowd, you'll eventually be able to drop in to Black Whiskey during the
day. Lunch plates will be similar to the
evening eats, with items like house-roasted beef and turkey sandwiches
on freshly baked bread. Norris says meats will also be sold by the pound.
Food truck fare: Norris and business partner-wife Ari Kushimoto recently launched a mobile spinoff of their popular izakaya called Kushi-Moto. The food truck, which could roam the streets or cater during the day,
will find a semi-permanent home in the evenings behind Black Whiskey, where it
will sell a variety of sushi rolls and donburi, or rice bowls,
topped with proteins like pork belly, tuna, and shrimp. Guests will be able to take the Japanese offerings into the bar.
Arty entertainment: The first floor of Black Whiskey is set up to be a
flexible art space, with exhibits featuring or curated by the prominent
local street artist Kelly Towles. You may also find deejays spinning on
certain nights, or Norris cooking a special dinner for a group of 25
inspired by a show that's running.
Other amenities: Bar people can never have enough pool tables or warm-weather decks for outdoor drinking. Black Whiskey will have both.